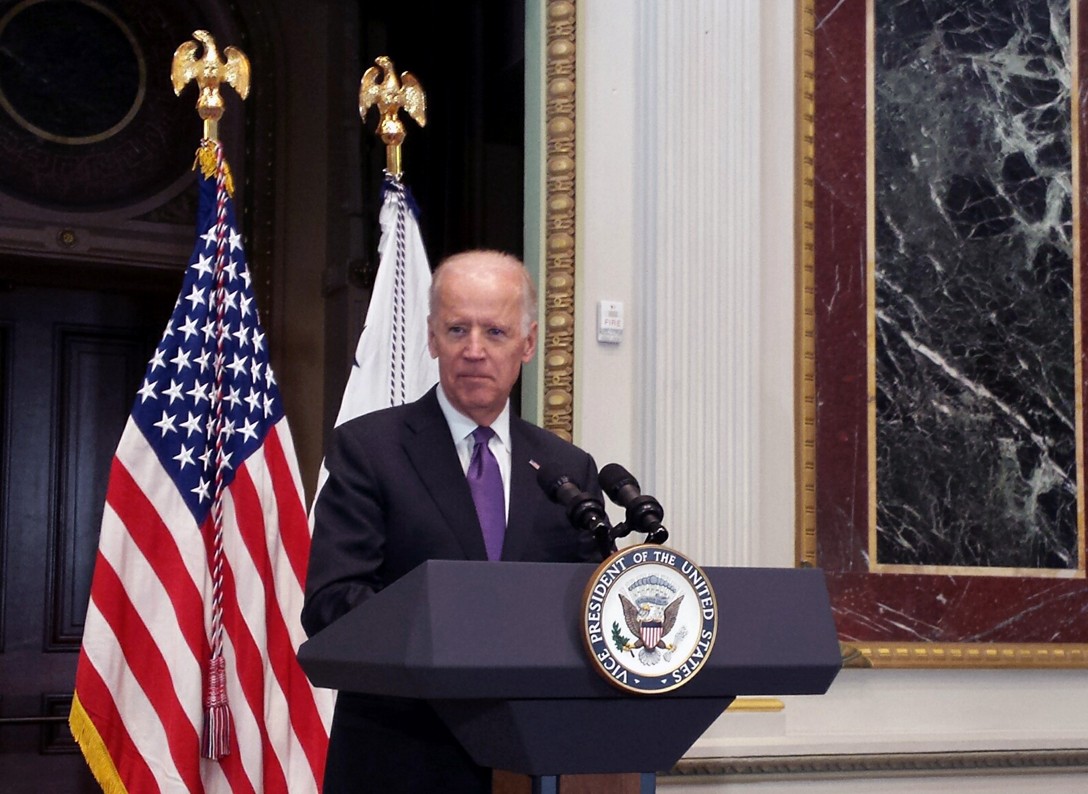 Incoming BCSSW Assistant Professor and current U.S. Department of Justice fellow Jessica Shaw brings a strong scholarly background investigating sexual violence to her first full-time university position. She has published widely on the criminal justice system's response to sexual assault, and recently, she added an impressive note to her resume, when she was asked to present at a meeting convened by Vice President Joe Biden designed to address domestic violence and sexual assault.  
Shaw was one of three speakers at the event hosted by the White House and held in the Eisenhower Executive Office Building. Following an address by Biden himself, Shaw presented research findings related to her dissertation "Justifying Injustice: How the Criminal Justice System Explains its Response to Sexual Assault."
She was joined on the program by Roberta Valente, Vice President of Policy at the National Domestic Violence Hotline, and by Sandra Park, Senior Staff Attorney for the American Civil Liberties Union (ACLU) Women's Rights Project. Valente presented on the domestic violence survivor's perspective, while Park spoke on behalf of the victim's advocate.
"It was good to see that Vice President Biden is very passionate about the issue of domestic violence and sexual assault," says Shaw. "He spoke for a significant amount of time, and you could tell that this initiative meant something to him. It was a great event. I look forward to contributing to similar conversations moving forward as we seek to create positive change in how we address these issues in the American criminal justice system and beyond."
For her dissertation, Shaw pored over hundreds of police documents filed in response to reported instances of sexual assault, in order to better understand common investigational practices and police decision-making in sexual assault case inquiries.
"Relying upon actual police reports as the data source, complete with narratives written in the actual handwriting of the assigned officer, is very powerful," explains Shaw. "It tells the story of how police responded to these cases in a way that would not be possible through other means."
The criminal justice system seems reluctant to prosecute sexual assault; studies show that only about 10-20 percent of those cases that are reported ever move past initial police screenings and have the opportunity to be prosecuted. This reality is made even more alarming in a landscape where the majority of cases of sexual assault are likely never even reported to begin with.
Shaw's research aims to understand why reported cases don't move forward, and she hopes to be able to draw on the science to create interventions to help responding officers to get past their biases and more effectively conduct full investigations of sexual assault.
According to her dissertation, police provided three different types of explanations for their lack of investigational effort and/or their decision to not move forward with a case. These included:
It didn't look like a "real" rape (victim not injured, victim not upset enough).
The victim "couldn't really be raped" (sex workers, "mental" victims).
The police couldn't investigate because of the victim (uncooperative, no phone).
Shaw was then able to tie specific characteristics, such as race and age of the victims, and number of perpetrators in the crime, to each of the aforementioned explanations police tended to provide. Remarkably, she found that race, age, and number of perpetrators had a direct impact on why police said they decided not to pursue a case.
This reality is what excites Shaw moving forward.
"Of course, we can't change the age or race of survivors," she says, "but what this research shows is that we don't have to. Instead, we need only target and then change our reaction to these characteristics. In so doing, I'm convinced that we can absolutely create interventions to help our police to better serve those who have been sexually assaulted, in turn bringing more people to justice."