UPDATED: August 19, 2022
Over a decade ago, the Carroll School leadership began mapping out a big-ideas course for all first-year students—a course with small sections, and with the professor serving also as academic advisor for each student. That course is Portico, which continues to embody the Carroll School's unique brand of management learning, inspired by Boston College's Jesuit approach to both professional and liberal arts education.
On August 29, every member of the Carroll School class of 2026 begins their introduction to the interdisciplinary qualities of a management education at Boston College. Learn more about the course at the Portico page. See the class in action in a video about the program. Read further about these innovations in an article that summarizes findings about Portico published by the Journal of Jesuit Business Education.
And here, from the Carroll School News archives, is a story about one facet of Portico—future leaders learning the art of self-reflection.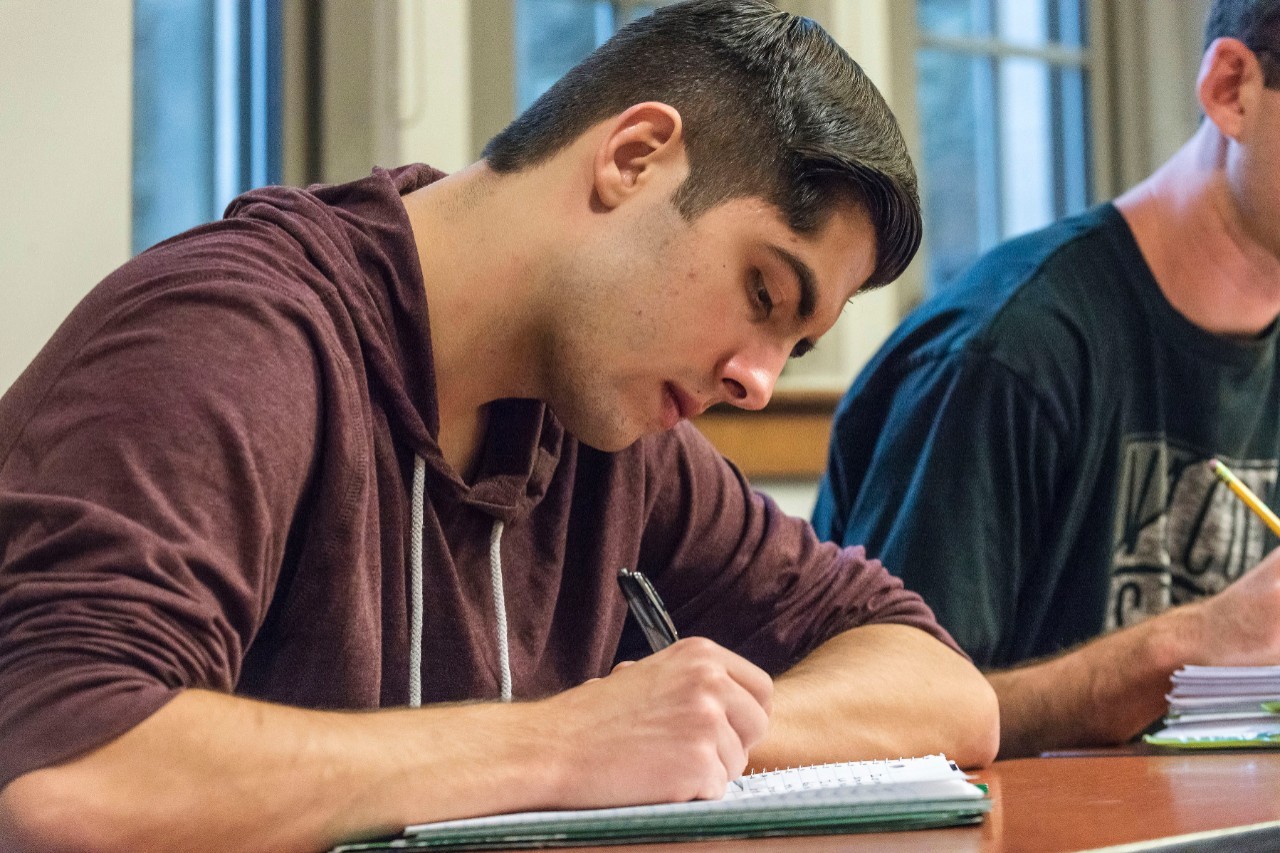 It is 4:00 p.m. on a Friday in Fulton 310. The lights are soft, and the whispery vocals of British singer-songwriter James Bay ("Let it Go") are playing in the background. Twenty first-year students are at their desks in the small classroom. Some are writing steadily in their journals. Others are pausing, pen to lip or chin resting on one hand.
The first-semester students in Professor Ethan Sullivan's Portico class are not taking a test. They are engaging in a version of "the Examen," a centuries-old Jesuit meditation. At the start of class each Friday, the students jot down their thoughts about what they're grateful for and what went right or wrong during the week. They end by setting personal goals or considering what they ought to do in the coming week.
"A lot of people would be surprised to see that this is going on in a business school," Sullivan points out in a subsequent conversation.
Self-reflection is a signature of Portico, a required class launched seven years ago and taken by all entering students at Boston College's Carroll School of Management. With 34 sections taught by seven faculty members, the course offers a port of entry into the world of management as seen through a broadly interdisciplinary lens. Philosophy, ethics, and the social sciences are stirred into the mix.
Recent scholarship has turned attention to the value of personal reflection. Researchers have highlighted the connection between leadership and self-awareness, with some singling out the so-called "twice born" leaders. These are managers and executives who failed during their first leadership incarnation precisely because they lacked such awareness.
"The best thing leaders can do to improve their effectiveness is to become more aware of what motivates them and their decision-making," venture capital advisor Anthony K. Tjan wrote in Harvard Business Review (July 2012).
By its nature, Portico is in no small part a reflection course. The message is clear enough to anyone entering the Portico office on the 2nd floor of Fulton Hall. Hanging on a wall is a poster featuring the maroon-and-gold Portico logo and three essential questions: "How shall I live? How shall we work together? What kind of world shall we shape?"
Loosely speaking, the class teaches business ethics, but Sullivan, who is the Carroll School's associate dean for undergraduate curriculum, says it has a broader mission. "It's really grounded in what philosophers call the good life," the life of meaning. All aspects–including classroom discussions, case studies, group projects, reflection papers, course-based advising, and evening events featuring outside speakers–help plow that ground. All are geared to getting students to think deeply about management and their calling to that world.