UPDATED: December 15, 2020
In the classroom, students are carrying on lively exchanges with their professors and classmates—faces partially covered, at a distance from each other. They're also engaging one-on-one with their academic and career advisors—frequently under the sun, outside Fulton Hall. Meanwhile, faculty collaborate closely on the art of teaching during a pandemic and the promise of research—virtually. In other words, things are normal, but needless to say, not quite.
It has been 15 weeks since our students took their assigned seats for the start of classes in the fall semester. Fifteen weeks and one day, but who's counting?
"Over the summer, we had prepared all day, every day for this new academic normal, but we really couldn't have predicted exactly how the first couple of months would go," said Andy Boynton, John and Linda Powers Family Dean of the Boston College Carroll School of Management, who recently wrote a detailed account of those preparations. "What we keep hearing from our students is that they're grateful, and maybe a little surprised, that they've had a real experience of learning and engaging inside and outside the classroom."
Post-Thanksgiving, Boston College students have the option of finishing out the semester remotely at home or remaining on campus until the Christmas break. "And so, we're pivoting again. We're keeping up the in-person learning that we've had since the beginning of the academic year, but also making sure that our students returning home will continue to have a dynamic academic experience," the dean added. He was alluding to the mix of offerings that have included courses taught fully in-person; those using the hybrid model (with students "hopscotching" between in-person and online learning); and fully online classes (synchronous and asynchronous).
What follows is a selection of dispatches from the Carroll School News team, including coverage of the fall student experience and a behind-the-scenes view of how faculty members are rising to the unprecedented occasion. See the links at the end of each one for fuller accounts or related items.
"Lucky to Be Here and Not at Home"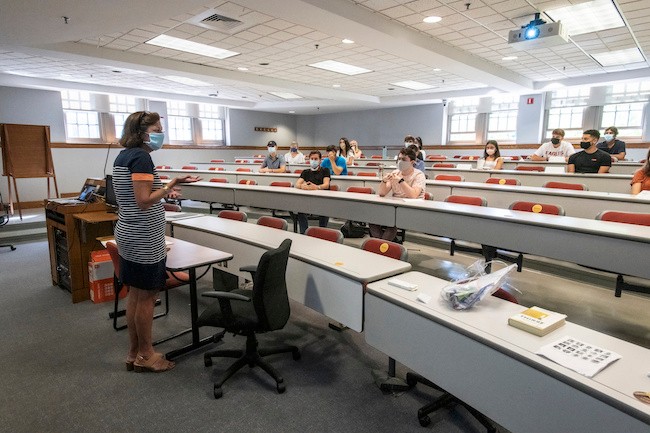 When asked about the fall of 2020, Adriano Barilla '21 doesn't skip a beat. "First of all, I think we are lucky to be here and not at home. It's kind of a privilege," says Barilla, who is from Parma, Italy. He has that feeling every time he's with first-year students in the required Portico class, in which he serves as a teaching assistant in a section taught by Professor Amy LaCombe. "That has been great because it's in-person. I get to know all the students," the senior explains.
And, whenever Olivia Batt '24 has a friend over to her freshman dorm room on the Newton Campus, she can't help but think of the limitations of college life in 2020—COVID protocols have restricted guests to one-per-room for much of the semester. But most of all, her mind turns to something else. "I am just grateful to be able to come to college. A lot of my friends at home are taking classes online," says Batt, of Stafford, Virginia. "So, I'm very, very happy we were able to have an in-person aspect [to classes]."
What's New (and Not So New) about Classes This Fall

On a lunch hour in late October, as an early snowfall accumulates outside, nearly 75 Carroll School faculty log onto a Zoom call to talk about how "hopscotching" in a pandemic has been going. That's the hybrid learning model in which professors teach their classes in person, but students alternate between in-person and virtual attendance to reduce classroom occupancies.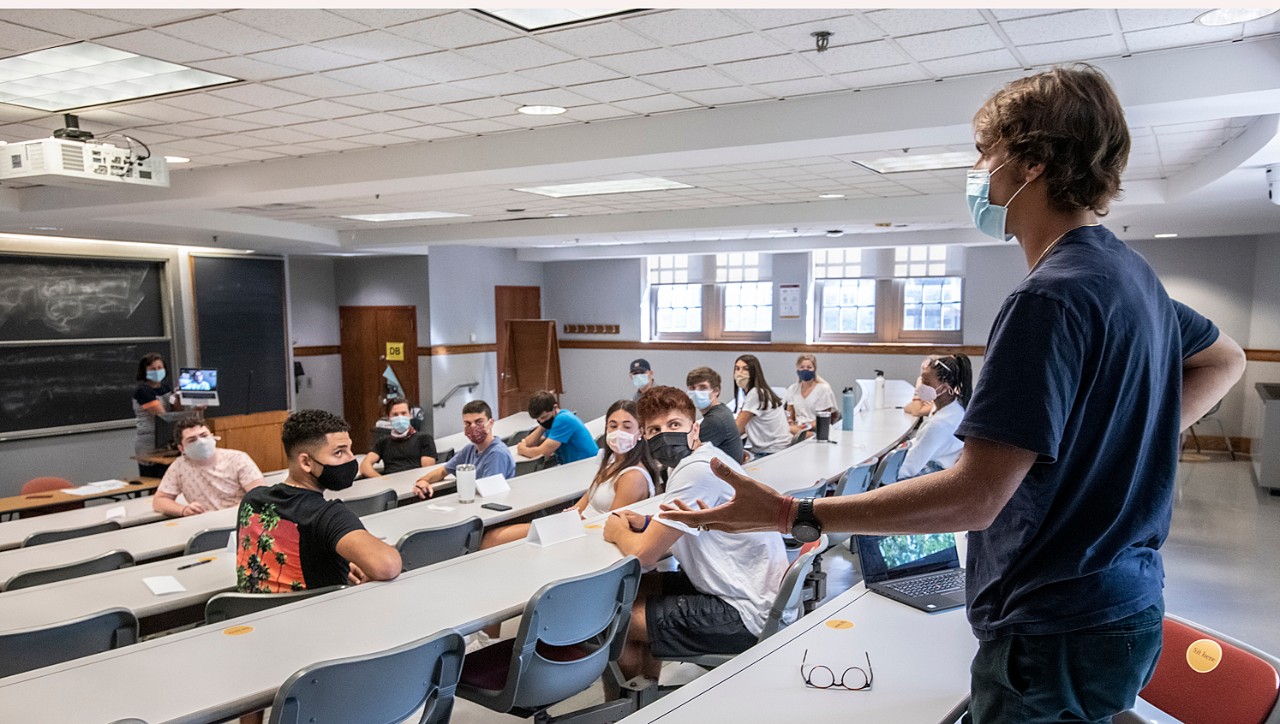 The Zoom conversation picks up quickly. One by one, faculty chime in with the tricks each has come up with for juggling the many technologies involved when teaching two audiences at once—simultaneously attending to students watching online and those seated in desks in front of them.
Juan Montes, associate professor of the practice (Management & Organization), describes how he lugs a large monitor to each class meeting along with his laptop, so he can see the faces of his remote students clearly even as he lectures to the other half of the class in person. Mary Ellen Carter, an associate professor of accounting, swears by her iPad for simulating a whiteboard; the app she uses projects her notations in real time online as well as on the actual whiteboard behind her—and saves what she's written as PDFs for students who miss class entirely or need a refresh later.
Read the full account, including how faculty are addressing multiple challenges faced by their students—and how the new academic normal is preparing students for a more digitized workplace.
During the before times, when Fulton's hallways were buzzing with students, the doors to the Undergraduate Dean's office were constantly swinging open as students dropped by to ask a quick question or connect with their advisors. As they started planning for a return to campus this fall, the academic advising team was concerned that, despite their fully revamped website, the shift to virtual appointment-based advising would mean sacrificing those brief but valuable connections with students. Cue the advising office's latest innovation: "Fresh Air" advising! 
On a sunny Tuesday afternoon in late September, Academic Advisor Ally Galati unfurled a maroon tablecloth over a folding table and set up shop in front of Fulton Hall. "Fresh Air Academic Advising: Skip the Zoom and Ask us Here!" proclaimed a small sign on the table.
As the bell tower tolled to announce the hour and masked students flowed through Fulton's doors to head to their next class, one broke away from the rush and made a beeline towards the table. After a quick exchange with Galati about course registration dates, he waved a socially distanced goodbye and headed off to his next class. Over the next two hours, students detoured towards the table to ask questions about selecting pass/fail, adding a class, declaring a concentration, and more. The next day would bring more of the same: Four days a week, two hours a day, academic advisors were stationed in front of Fulton Hall to answer questions and offer quick advising suggestions to students. They continued through September and October, before introducing drop-in Zoom hours.
Read more of this dispatch, which includes reporting on innovations in career and peer advising.
New Normal for Co-Curricular Life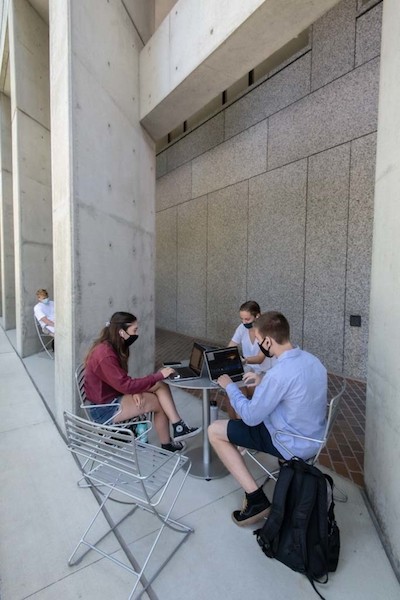 Student activities are hardly a luxury: They're part of the learning, which is why these days they're called "co-curricular" activities, not "extra-curricular." This fall, there have been plenty of opportunities along these new-normal lines.
A signpost of co-curricular life at the Carroll School is the weekly undergraduate newsletter This Week in CSOM, which is tailored in different versions to each class year and distributed via email on Sunday evenings. The e-letter amounts to one-stop shopping for those looking to get involved and stay connected at the Carroll School, featuring dozens of items about events and opportunities in the coming week. In addition to listings of mostly virtual workshops, meetings, and panels (and the accompanying Zoom links), This Week includes information about advising hours, spotlights on different Carroll School courses, leadership opportunities, and more. These days, the newsletter also provides weekly wellness tips to encourage students to take care of themselves during particularly stressful times. 

A full course load and multiple textbooks per class can weigh down a student's backpack, but for high-need students, the cost of textbooks and other expenses that aren't covered by financial aid can also be a heavy burden. Luckily, Boston College's Montserrat Coalition, which works to support students at the highest level of financial need, was ready to fill gaps worsened by the economic disruption of COVID-19.
At the Carroll School, the Leo V. Sullivan Fund for Montserrat students has helped over 60 students purchase textbooks as well as access codes for online classroom resources. Professors included references to the fund in their syllabi and the Undergraduate Dean's office connected students with financial support for textbooks, working together to support students during a time of heightened financial need.
Although much of the funding was for textbooks, the Sullivan Fund also helped with other expenses—including a suit for a student's job interview. In addition to financial support, this fall the Montserrat program also provided virtual mentorship and community meetings to keep students connected in a time of social distancing.
Maintaining a Vibrant Research Culture

For many years, Carroll School faculty members have gathered together in Fulton Hall for a buffet lunch and cross-disciplinary discussion at the Bartunek Research Forum. Held three times over the course of the academic year, each of these meetings features one faculty member who presents their current research to their colleagues across all departments at the school. This hallmark of the Carroll School's research culture—which, alongside its teaching excellence, has remained a central focus at the school this fall—was yet another major event to go virtual in accordance with COVID-19 guidelines. 
On November 3, 57 faculty members logged onto Zoom on their lunch hour to hear Francesco D'Acunto, assistant professor of finance, present his research on the promises and pitfalls of robo-advising technologies.
Read the full dispatch, with news about this and other faculty events aimed at fostering a collaborative research culture.
Connecting with the Community

In addition to the connections being formed on campus, Carroll School students are also creating new ties to the broader community. One example: an undergraduate course, Machine Learning and Artificial Intelligence, taught by Professor of Information Systems and William S. McKiernan '78 Family Faculty Fellow Sam Ransbotham.
The class has partnered with the Massachusetts chapter of United Way, a national nonprofit, to provide data analysis. The partnership gives students real-world experience while providing United Way with a variety of machine learning models that the organization could use to guide its nonprofit and fundraising work. The Carroll School's December News & Ideas will include a story about both undergraduate and graduate students who are forging the collaboration with United Way.
See another story—about how the Joseph E. Corcoran Center for Real Estate and Urban Action is promoting socially distanced service through its new Community Engagement Awards.
---
—Writing and reporting by William Bole, Leslie Ganson, and Rachel Bird. Photography by Lee Pellegrini and Rachel Bird.