Blacks in Boston Conference
Blacks in Boston is a conference series conceived of by former Boston College Black Studies Director Amanda V. Houston. These conferences addressed subjects such as blacks in metropolitan Boston, the struggle for equal education, the relationships between Irish and black Bostonians, and the role of immigrants of African descent in the development and evolution of Boston's black communities.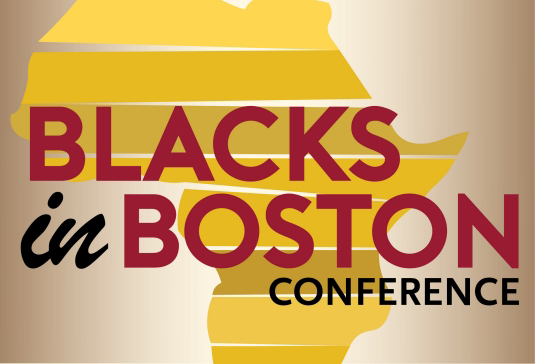 2022 Blacks in Boston Conference
"Fifty Years of Black Studies in Boston"
April 9, 2022
Boston College, Gasson 100
FREE and open to the public. Deadline to register is April 4th.
Panel 1 Reflecting on Black Studies At and Beyond Boston College
10:00–11:30 a.m.

Aminah Fernandes Pilgrim, Faculty of Women's, Gender & Sexuality Studies, Critical Ethnic & Community Studies, and Africana Studies, University of Massachusetts-Boston

Faith Smith, Associate Professor of African and African American Studies and English, Brandeis University

Cynthia Young, Associate Professor of African American Studies, English, and Women's, Gender and Sexuality Studies, Pennsylvania State University

Moderator: Martin Summers, Professor of History and African and African Diaspora Studies and Director of AADS, Boston College
Virtual Walking Tour of Blacks at Boston College
11:30 a.m. – 12:00 p.m.

Professor Rhonda Frederick, Associate Professor of English and African and African Diaspora Studies, Boston College
Panel 2 Remembering Black Studies at Boston College
1:30 – 3:00 p.m.

Ufuoma C. Abiola ('06), Executive Director, Diversity, Equity, and Inclusion, Columbia Business School

Darcel Denise Clark ('83), Bronx County District Attorney, Member of Boston College Board of Trustees


Juan Concepcion ('96), Director, Senior Legal Counsel, Boston Scientific

Rui Gomes ('96), Operational Leader for Secondary School Regions, Boston Public Schools

Zebulon Miletsky ('06), Associate Professor of Africana Studies and History, Stony Brook University

Moderator: Karen Miller, Associate Professor of the Practice, History, Boston College
Keynote Address
3:30 – 5:00 p.m.

Régine Jean-Charles, Dean's Professor of Culture and Social Justice, Director of Africana Studies, and Professor of Women, Gender and Sexuality Studies, Northeastern University
"Black Bostonians and the Media"
Friday, April 6, 2018
Corcoran Commons, Heights Room
10:45 a.m. to 7 p.m.
The 2018 theme is designed to encourage an examination of the media and Boston's black communities from historical, contemporary, and prospective angles. At a time when the media as foundational sources of information are being buffeted by ideological and political assaults, new economic realities, and rapid technological change, it is important that we examine the effect of these changes on both traditional and cutting-edge forms of news delivery and the consequences for black Bostonians.
This year's speakers include:
Jamarhl Crawford, Editor and Publisher, Blackstonian
Callie Crossley, Host and Commentator,WGBH
Kimberly Foster, Cultural Critic and Editor-in-Chief, For Harriet
Renee Graham, Associate Editor and Columnist, Boston Globe
Martin Henson, Activist,Black Lives Matter Boston
Yawu Miller, Senior Editor, Bay State Banner
"Black … and Immigrant"
Saturday, April 2, 2016
Gasson Hall 100
9:00 a.m. to 7 p.m.
The 2016 theme is designed to engage current issues in the US immigration debate, and to explore what black immigrants and immigration bring to this conversation.
This year's speakers include:
D. Feraiya Williams, Trina Jackson, and Luz Zambrano, Network of Immigrant & African American Solidarity
Dr. Violet M. Showers Johnson, Texas A&M University 
Dr. Chrystal George Mwangi, UMass Amherst
Shelvia English, University of Maryland, College Park
Ester Shapiro, University of Massachusetts
Yvette Modestin, Encuentro Diaspora Afro
Tyesha Maddox, New York University
Tatiana M. F. Cruz, University of Michigan