Minors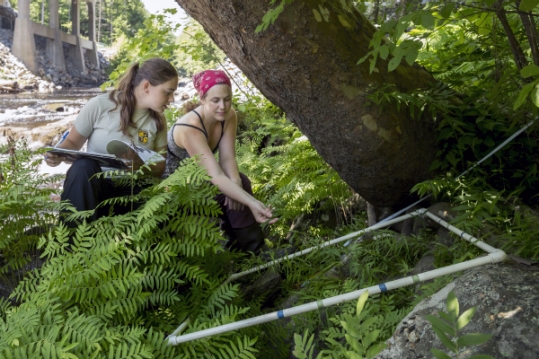 The Environmental Studies minor uses an interdisciplinary approach to understanding the science and policy of the Earth's environmental challenges and is designed to complement any undergraduate major.
The goals of the Environmental Studies minor are to provide undergraduate students with: (1) an awareness of the scientific, political and cultural aspects of the world's environmental problems and paths toward sustainable solutions; (2) a background for environmentally related careers in business, education, law, policy or research; and (3) preparation for graduate study.
The ES minor requirements include four credits of laboratory Environmental Systems science courses (EESC2201–EESC2208), a policy foundation course chosen from a short list of options, a senior seminar (ENVS4493), and at least ten credits of electives offered from departments across the university. For further information or to register for this program, contact ENVS Program Director Tara Pisani Gareau, see the program website at www.bc.edu/envstudies, or stop by the program office in Devlin 213.
Minor in Geological Sciences
In addition to the two major programs, a student may choose to minor in Geological Sciences. The minor is designed to be flexible and to allow the interested student to explore an area of interest in the Earth sciences without the formal commitment of a major. Students interested in declaring a minor in the department should contact the Director of Undergraduate Studies (Prof. Jeremy Shakun) to ensure they receive advising about course selections.
A minor in the Department of Earth and Environmental Sciences consists of a minimum of six courses in the department structured as follows:
(A) Two required courses (8 credits):
Exploring the Earth I (EESC1132) with laboratory
Earth Materials (EESC2220) with laboratory
(B) At least seven additional credits from departmental courses numbered 1000 or higher
(C) At least three additional credits from a departmental course numbered 2000 or higher
(D) At least three additional credits from a departmental course numbered 3000 or higher
Each student's minor program must be approved in advance by a faculty advisor in the Department of Earth and Environmental Sciences. Students should be aware that many upper-level courses have prerequisites in geoscience, mathematics, physics, or chemistry. Consult this catalog or a departmental advisor, and keep in mind that these prerequisites must be considered in designing a specific minor program. The minor program allows students flexibility in their choice of courses. Minor programs can be designed to emphasize specific areas of concentration within the broad range of subjects in Earth and Environmental Sciences.