Praying with Other Catholic Educators
"I live more fully and with more joy when I'm intentional in how I spend my time. My priority is to always choose things that are going to bring me closer to God, and to seeing God more in myself and others." —Dora Arredondo-Marron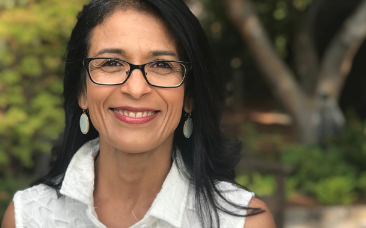 Dora Arredondo-Marron, transitional kindergarten teacher at St. Raymond Catholic School in Renlo Park, California, admits that if you asked family and friends to describe her in one word, "playful" would not have made the list.
Yet, "playful" is how Dora describes herself and her relationship with God after completing the Lenten Retreat for Catholic Educators, which was offered by the Roche Center in the spring of 2021 and coincided with the one-year mark of teaching during the pandemic. 
"Playfulness with God is one of the greatest gifts I received from this retreat," she shared. "I have always trusted in God, and I always say I have faith, yet there is a part of me that wants to know and control. So the idea of letting go, and trusting God and where I am allows me to be more gentle with myself and others."
The six-week Lenten retreat gathered 10 Catholic educators from across the country for an hour each Sunday afternoon, during which they explored and reflected on the themes of Jesus' time in the desert: wilderness, temptation, sustenance, liminality, and hope. Participants discovered that each of the topics had personal and professional significance, especially as the topics related to their experience of teaching during the pandemic. 
For Dora, the topic of liminality was particularly powerful, because it helped her understand the process of transition — of moving from where we once were or currently are to where we are heading — in a new way.

"One of the people in our small group shared the concept of 'order, disorder, reorder,' which was really meaningful," she said. "You're in this phase of transition and you're on this journey. If you allow yourself to have that frame of mind even in disorder, you know that at some point, things are going to be reordered. This mindset also helps you come back to this place of knowing … that God is right there with you in whatever you're facing."
Dora shared that she has attended other retreats and engaged in other formation experiences. However, what made the Lenten retreat different was the intentionality and intimacy.
"The beautiful thing is that after being in community with other educators who were seeking the same thing, there was healing that happened in me just by listening to other people's experiences," she said. "There was a relationship of trust, and we were able to open ourselves up and trust that God was guiding each of us where we needed to be, as we prayed for each other  week after week."
While Dora knows that she is her best self when she is most open with God, she shared that making time to be still and silent, and to create a sacred space where she can hear God is sometimes a struggle. Which is why she makes her personal spiritual formation a priority.
"I live more fully and with more joy when I'm intentional in how I spend my time," said Dora, who also participated in the Roche Center's summer book club reading of Racial Justice and the Catholic Church by Fr. Bryan Massingale. "My priority is to always choose things that are going to bring me closer to God, and to seeing God more in myself and in others."
This healthy and holistic approach continues to permeate how she navigates her days.
"Before (the retreat), my spirit, body and mind were not connected," she explained. "Now when I feel my body tightening up, I know it's a time when I need to expand and grow. The word Heaven means to expand, and so if the kingdom of God is in me, I need to expand and let things go and become more playful and trusting. The gratitude of knowing that God is in me, lives in me, and is always present to me, means that every day I have the opportunity to have Christ resurrected in me. I can experience Easter daily if I spend time being present to God."