Bringing the Joy of the Gospel in a Time of Crisis
"Setting the foundation for children to love their faith and to think critically about their faith and the world around them is so special. Getting to see it through their eyes is really magical." —Anne Krane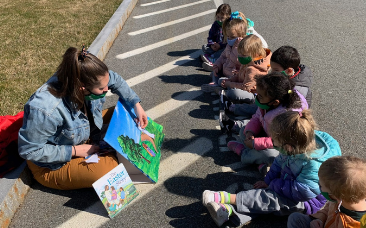 Romans 8:28 reminds us that even in the most unexpected of situations and circumstances, God can bring good. And that includes a global pandemic.
In spring 2020, as Catholic (arch)dioceses across the United States began suspending in-person Mass in response to COVID-19, two forward-thinking creatives at Boston College began brainstorming ways to reach out to families in an effort to keep the Sabbath sacred. Melodie Wyttenbach, executive director of the Roche Center for Catholic Education, and Karen Kiefer, director of The Church in the 21st Century Center, approached Anne Krane, a PreK teacher at St. Columbkille Catholic School in Brighton, Massachusetts, about starting an online ministry.  
"Families were feeling frustrated," Anne explained. "They were looking for a structure that would come from the Church, and that would center their week around the Gospel message."
After a few initial conversations with Anne — who at the time taught Melodie's second son — and collaboration with Fr. Quang Tran, S.J., Breakfast with God was born.
The virtual ministry, which was designed and delivered collaboratively by Anne and Fr. Tran, met from 9:00 to 9:30 a.m. EST every Sunday for nearly 15 months. The young participants prayed and pondered together, reflected, sang, and even danced. While not originally intended for adults, Anne shared that she was both surprised and inspired by the parents' participation.
"At a time when everyone had a lot on their minds and plates, to see the families sitting together on their couches eating breakfast, smiling, singing, praying along, and clapping with the kids … it was really powerful," she admitted. "We are there for the children, but we try to give a nod to the parents, too."
For Anne, the biggest challenge wasn't the virtual platform, but the difficult topics often addressed in the Gospel as well as the Gospel's inaccessibility.
"The Gospels are important stories that are written in a time period and language that doesn't always meet the needs of very young children," she explained.
She provided the parable of the wicked tenants as an example.
 "There is a lot of murder in that story," she said. "So Fr. Tran and I had to figure out how to tailor this particular Gospel to an audience of 3- 4-, and 5-year-olds. We decided to sing 'Little Bunny Fu Fu', which focuses on consequences because the mission story is about consequences — something children can relate to."
A grace of the virtual ministry was that it allowed for cross-country and even cross-continental connection. Anne shared that throughout the 15 months, Breakfast with God averaged 40 participants who hailed from Wisconsin, Massachusetts, Connecticut, Denver, and even Africa. What was particularly special was the way the virtual platform connected grandparents distanced geographically from their grandchildren. Anne noted one grandparent shared that the saddest thing about living away from her grandchildren was being unable to attend church with them. 
"With Breakfast with God, the woman felt like she was going to church with her grandchildren!" Anne emphasized.
Anne is quick to point out that Breakfast with God was never meant to replace Sunday Mass attendance. Rather, it was an opportunity to be together and celebrate faith. 
"We wanted to deliver a message of hope and not just have catechesis for kids," she said. "We wanted it to be fun and relaxing for parents as well, and for them to get something out of it, too."
Ultimately, Anne hopes that Breakfast with God makes the Gospel and Mass more relatable and accessible for young children. 
"I would love for kids to return to Mass and feel like an expert," she said. "As they listen to the Gospel, I hope they say, 'I know about this. I understand.'"
She also hopes that Breakfast with God gives parents a language to explain things that might have been intimidating.
"I think that faith topics can be challenging to talk to your children about," she shared. "This family ministry gives enough structure and vocabulary to say, 'It's not as hard as it seems, we can do this together.' It provides a service for our families, a service for ourselves, and ultimately, it builds a community. That's what has been really great."