What happens when a business owner takes a long, critical look at the ways they make money, and wonders if the system they're profiting from should be dismantled? That question was at the heart of a recent talk on campus given by Anastasia Cole Plakias, co-founder and chief impact officer of the literally and figuratively groundbreaking business, Brooklyn Grange.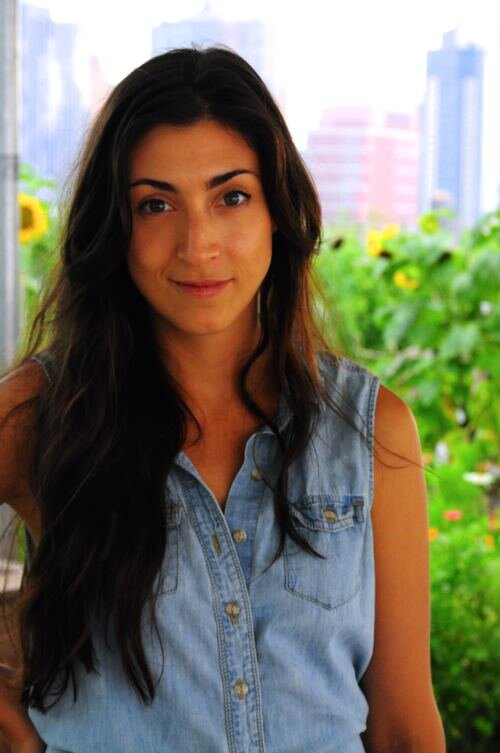 Plakias shared the story of the founding and evolution of her New York City-based rooftop farming company at the annual Jane Jacobs Lecture hosted by the Winston Center for Leadership and Ethics. The early November lecture brought around 50 students and faculty members to the Devlin Hall auditorium, where Monetta Edwards, director of the Winston Center, introduced Plakias to the crowd as a "passionate, outspoken crusader" and expert on circular economies and sustainable cities.
"We're basically a startup," Plakias joked of the organization which just completed its 13th year farming rooftops because her team "had to unlearn as much as we learned about running a business" in the last few years. Referencing her 2015 book The Farm on the Roof: What Brooklyn Grange Taught Us About Entrepreneurship, Community, and Growing a Sustainable Business, Plakias mused that she should re-release it and call it, "What Culture Taught Us About Running a Business That We Later Learned to Forget."
Founded in 2009, during the Silicon Valley tech boom, on the heels of Obama's hope-fueled presidential win—and in the wake of an explosive recession—Brooklyn Grange was started energetically, with a mission to create a fiscally sustainable model for urban agriculture, and to do it with the triple bottom line in mind: people, planet, and profit in balance. Even with this mission, the company was always intended to be for-profit, and the main source of income came from selling to high-end restaurants looking for fresh, locally grown produce.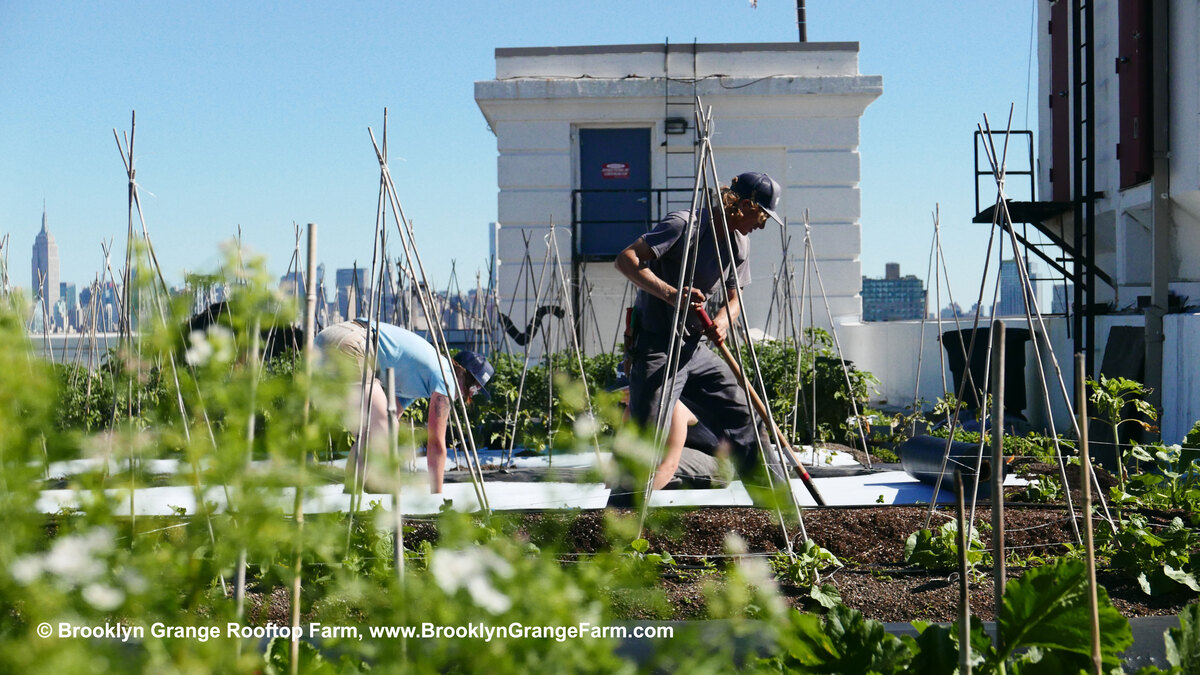 Despite the name, Brooklyn Grange actually started on a rooftop in the Long Island City section of Queens, due to an earlier broken lease agreement in its namesake neighborhood. The team prepared the nearly one-acre roof themselves, lugging tons of soil up by hand, one wheelbarrow at a time—you can't get a tractor up on a roof. They quickly realized their plan to rapidly expand the number of Brooklyn Grange rooftop farms wasn't going to work. 
"Farming is back-breaking work," Plakias—a born and raised New York City dweller—elaborated. Instead, they considered growing through private events, public programming, landscaping, and designing green roofs. Pre-pandemic, 58 percent of Brooklyn Grange's profits across its three major rooftop farms—which span over five-and-a-half acres of roofing across Long Island City and Brooklyn—came from selling food wholesale to some of Manhattan's finest restaurants. Just two percent of their business in early 2020 was related to equitable food distribution.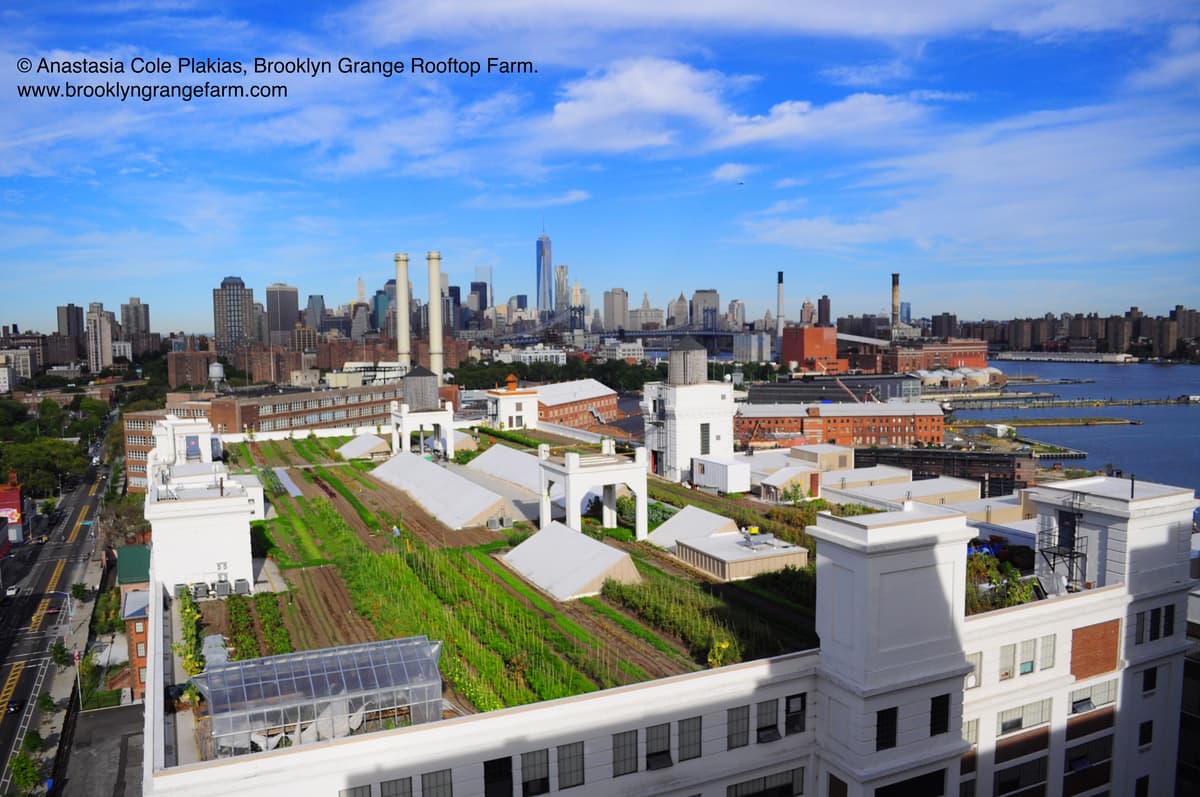 The COVID-19 pandemic changed everything. With no restaurants to sell their food to, Brooklyn Grange was ready to temporarily shut its doors. But the farmers pleaded to keep working, both due to the need for a paycheck and for relief from the monotony of sitting at home. What started as emergency food relief programs soon transformed into a new, powerful arm of Brooklyn Grange. Plakias says it wasn't rewarding "to sell our food to Michelin star restaurants where none of our team could afford to eat." The business model transformed, from supplying restaurants that feed the wealthy to growing food for the community members in their own backyard. 
These days, Brooklyn Grange gets just 13 percent of its business from selling wholesale to restaurants—equitable food distribution now makes up 39 percent. The rest of the business includes selling directly to customers. 
"I think food should be free," Plakias shared. She knows that's an unexpected position for someone who owns a food-based company to take. "So what happens if you run a farming business and you start to question the whole concept of profiting off of food?"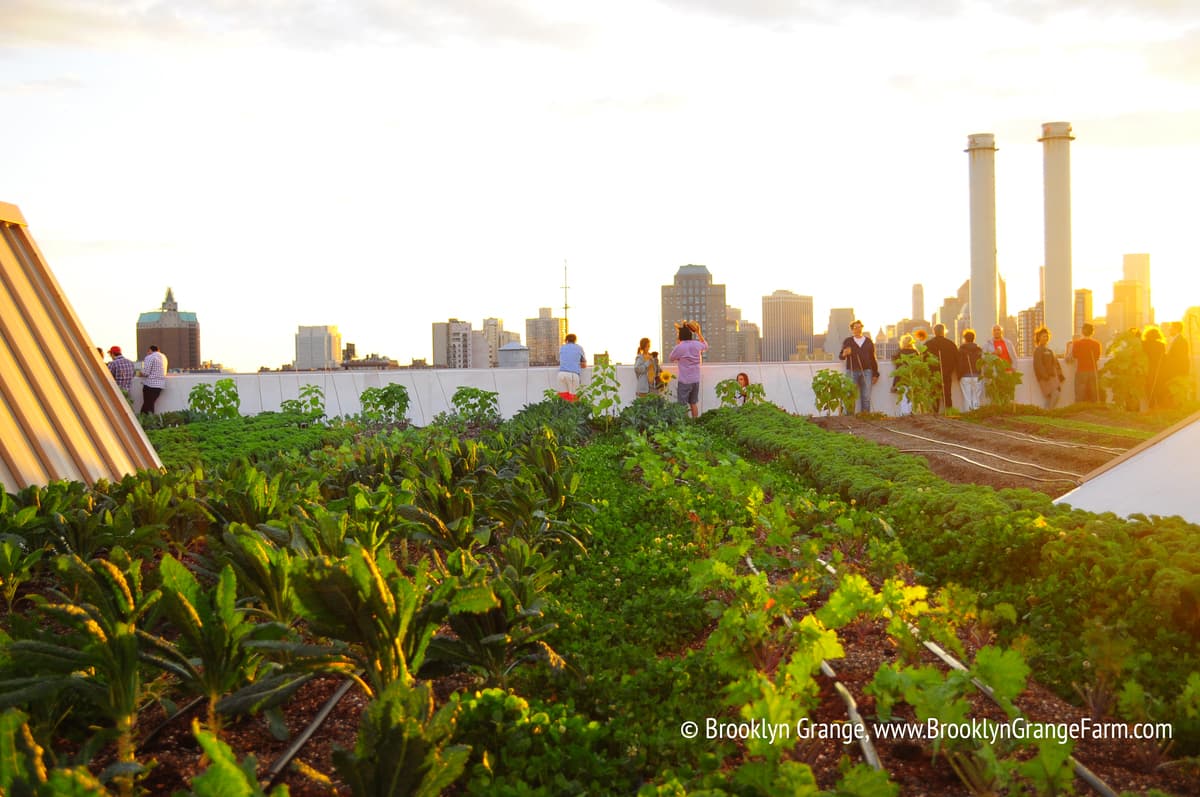 Plakias acknowledged that there is no easy answer to this question. One example she gave was the value of planting lettuce versus sweet potatoes. Lettuce is easier to grow and harvest quickly. Sweet potatoes, conversely, take longer to grow, are frost sensitive (a challenge in New York), and can't be harvested as frequently. Yet sweet potatoes are the more nutrient-dense vegetable. She realized that the greatest value you can provide your community from a nutritional standpoint isn't always aligned with financial gain.
As the lecture turned into a Q&A segment, students in the audience were curious about the idea of farming on a roof. Danny Garcia, a junior in the Carroll School, asked how Brooklyn Grange keeps its soil healthy. Plakias explained that they pushed the soil too hard in the beginning, and later had to amend with compost and irrigation systems, which is how they keep the soil healthy. There's no subsoil on a roof, just about twelve inches to work with, making it more challenging to keep healthy. 
Similarly, startups push hard in the beginning, and often need to take a step back. "There is always a moment of self-doubt when your soil is bare, and you need to trust that, in time, the seeds will germinate, and the buds and leaves will come back again," Brooklyn Grange says on its website, drawing a farming analogy. "There is a pause before the regrowth occurs, and patience and trust are key to this work."