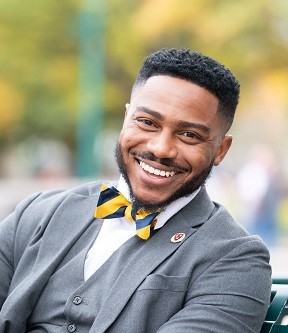 There is no one right way to be a leader. Boston College students are called to serve others in whatever ways they can: in their classrooms, in their careers, and in their communities. But what does it mean to specifically be an empathetic leader? That is the lesson that Brandon P. Fleming, an acclaimed educator, public speaker, and founder/CEO of the Harvard Debate Council Diversity Project, brought to the annual Brennan Symposium for Inclusive Leadership.
On an unseasonably warm February night, students from across all Boston College schools filled tables in Gasson Hall as Fleming took the stage. He notes that these types of speeches, ones about leadership, often go hand-in-hand with data and Powerpoint presentations. His speech has a different tactic entirely—it's about lived experience. 
"Stories change people more than information ever will," he says, before launching into his tale, a harrowing journey from childhood abuse at the hands of his addict preacher stepfather and an adolescence dealing with gangs to the educational transformation that ultimately brought him to the Harvard Debate Council staff. His story also includes Fleming landing on lists like Forbes' "30 Under 30" and The Root's 100 most influential African Americans, and speaking at the inaugural International Day of Education at the United Nations General Assembly. Add to that list: leading underserved Atlanta youths to victory in Harvard's annual summer debate residency tournament four years in a row.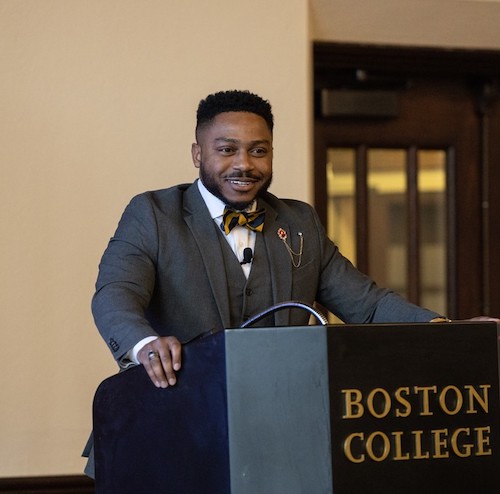 Fleming himself could be a poet the way he captivates a crowd in his three-piece suit and striped bowtie. He can go from exuberant to deadly serious in seconds flat, taking his audience with him as he recounts his story. The audience can't help but lean in. They stop flipping through the yellow and black copies of Fleming's memoir Miseducated in their hands and tuck their phones away—they are immediately along for the ride. 
As Fleming says, every single person in the room is there for the same reason—a kindred desire for "impact." No matter the field, no matter the role, we have a moral imperative to be empathetic leaders. It's the perfect lesson for the Brennan Symposium for Inclusive Leadership, which was launched in 2007 by the Winston Center for Leadership and Ethics. The annual event was devised to bring together student leaders across the Boston College community and foster dialogue on what it means to be a leader. Past speakers have included Ben Rattray, CEO of Change.org, and Pulitzer Prize-winning journalist Tina Rosenberg.
Although Fleming now takes his role as a teacher and mentor seriously—he is currently the Assistant Debate Coach for Harvard University—it's clear that being an educator was not always his dream job. Growing up he resented teachers and felt shuffled along, knowing that those around him were unconcerned with what went on in his life after the last bell rang. In reality, by the age of 12 he was dealing drugs and joined a gang at 14. A promising basketball player, he was recruited to play for Liberty University, but quickly dropped out after a devastating tear to his patellar tendon. At 18 he was working a factory job, bottling vitamins. He did eventually return to college—graduating from Liberty University in 2013 with a Bachelor of Arts in English—but not before surviving a drug overdose.
Fleming wishes he could say that his life was smooth sailing from there, but when he did go back to school, he was especially aware of what he didn't know. He resorted to cheating his way through classes, hanging on by the skin of his teeth. All it took was one teacher seeing beyond his troubled grades and frustrated demeanor to change his outlook completely.
After plagiarizing an essay, his professor called him into her office. Instead of failing him, she did something Fleming had never experienced before: she asked to know more about him. 
"All of a sudden this wall started to come down between us—this wall that represented my disdain for teachers," he says. That professor made it her mission to help him. Not only did they work on class assignments together, but she also introduced him to the works and words of great thinkers like Malcolm X and Frederick Douglass. For the first time, he saw Black scholars in his world. 
"Having a young Black man in front of her, she understood what it would take to reach me and show me something about myself that I did not know," he says. "The entire trajectory of my life changed when I was met with compassion."

Finding Your Place in the World Through Empathy
This lesson extends well beyond the world of education. With the portraits of past Boston College leaders watching on, the students in attendance asked questions that embodied the Jesuit value of "men and women for others," and the calling to interact with the world in ways that embody justice and empathy. They asked about faith, burnout, and education, but also about finding their purpose as they prepare for life after college.
"What would you suggest for someone who is stuck in the rabbit hole of what they want to do…and want to find value in what they do?" one student asks, clearly weighing professional choices as graduation inches ever closer.
"The best way to figure out what your purpose is, is to be for someone else what you once needed," Fleming says. "It's not just about making it to the top, but reaching back and pulling others up too."
When he ultimately returned to Liberty University, Fleming joined the school's debate team and relished the process. But he quickly realized that his desire to mentor others outweighed his own need to participate. Dropping from the debate team, Fleming began to mentor at-risk teens in his free time, teaching them about leadership and academics through debate. Those skills became the foundation of his career.
He went on to coach middle school debate at Ron Clark Academy in Atlanta. It was from there that Fleming was recruited to join the Harvard Debate Council at the age of 26. All the while, he was dreaming up how he could use his opportunities to serve those same demographics of at-risk teens he had then been guiding for years. This is where the idea for the Harvard Debate Council Diversity Project flourished. 
Since the project's inception, more than 100 students from the Atlanta metro area have been enrolled in the program free of charge, participating in 10 months of rigorous debate training in order to participate in the annual Harvard summer debate residency alongside an international cohort of young scholars. The residency concludes with a debate competition—one which HDCDP participants continue to win year after year, thanks in part to Fleming's vision and unwavering support. These students have gone on to secure sizable scholarships and gain admission to top colleges.
There is an inextricable link between love and impact. While Fleming speaks, he frequently pauses and asks those assembled to imagine the sheer number of people out in the world who would be better off if they were also shown love and empathy. 
It's a memorable image, and one that he hopes stays with the audience long after he leaves the stage. As the night winds down, Fleming offers a crucial reminder to those assembled—now is not the time to sit back and wait for your turn to lead. "You're not up next," he says. "You're up now."