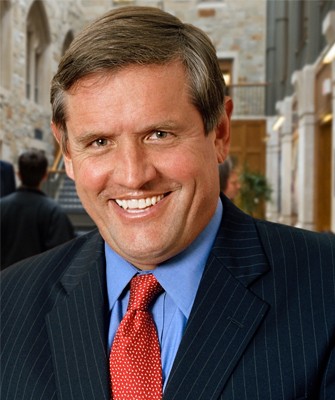 Dear Friends,
As I've often told our students: change should be embraced, not feared. It'll be your ally, as you seek new paths of personal and intellectual exploration. In a similar spirit, we are in pursuit of changes at Boston College and the Carroll School, and I'd like to bring you up to date on a few of them as we celebrate a new academic year.

The most eye-popping alteration has to do with the lay of the land around Fulton Hall. Cushing Hall immediately to our east has vanished from sight. Students returned to Chestnut Hill in late August to find a mass of rubble in its place and a sign on a construction fence: "Future Site of the 150,000 SF Science Building Housing the Schiller Institute for Integrated Science and Society."

What does a business school have to do with such a project? A lot, as we're discovering (Schiller is due to open in fall 2021). Take entrepreneurship, for example. Our Edmund H. Shea Jr. Center for Entrepreneurship will take up residence in the new facility, in recognition of the simple fact that any successful scientific or tech venture has to get off the ground.

We, and our friends, are investing significantly in entrepreneurial studies and programs. My recommended reading for today includes a profile of one alum, with a compelling BC story, who has recently stepped up in that regard.

Meanwhile, we're in the midst of the most far-reaching expansion in Carroll School history. Last year, we dramatically upped our offerings of minors to non-management students. Since then, the number of such students with management minors has ballooned to 1,145. The Carroll School now has the three largest minors at BC (finance, management and leadership, and marketing). Fulton is teeming with all kinds of students.

That's part of the bridge we've been building between management and the liberal arts . Many of the liberal arts students have come through our Summer Management Catalyst Program, a nine-week deep dive into the functional areas of management. Another item of recommended reading is an engaging story about the 2019 Catalyst cohort—the largest ever.

Naturally, the bridge goes both ways. Because we've made it easier to do so, more than 40 percent of Carroll School students are majoring or minoring at the Morrissey College of Arts and Sciences. And, every one of our first-year undergraduates already began their dive into the liberal arts this fall—by taking Portico, the required multidisciplinary ethics course.

You can read about all this and more—including the scholarly achievements of our world-renowned faculty—at www.bc.edu/bc-web/schools/carroll-school. Yes, change is all around us, but some things never change. That includes our deep gratitude for all who support, engage with, and stay in touch with our University and our School.
All my best,
Andy Boynton '78, P'13
John and Linda Powers Family Dean
Carroll School of Management