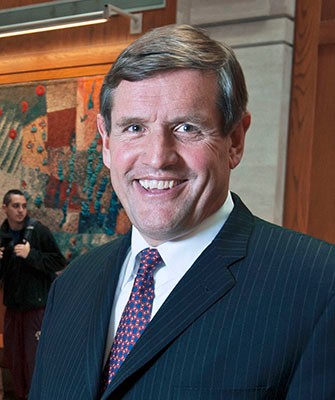 Over the years, there has been much talk about the need to build a bridge between management and the liberal arts. And many of us have put on our hard hats and helped construct that bridge—by integrating the liberal arts into our undergraduate management programs. At the same time, we know that any bridge has to go both ways. Which leads to an interesting question: What about the arts and sciences students and their path to management studies?
First, a quick look at the more familiar part of the equation—the focus on broadening the education of business school students, which has received extensive attention in recent years (and rightly so).
Case in point: the Aspen Institute's study, "Charting a New Course for Next Generation Business Leaders," issued last spring. Noting that many have struggled to find ways of injecting the liberal arts into management education, the study examined exemplary courses at institutions nationwide. These courses and programs give students "the chance to address varied and big questions and find their place in the world, while gaining skills and knowledge that will prepare them for their work lives."
For example, under the heading of "Start at a different place," the study held up seven models of gateway courses at seven colleges and universities around the country. Among these were the Carroll School's required first-semester Portico course, which spans both the liberal arts disciplines and management specialties, looking at business from global, ethical, historical, and social perspectives. Aspen's study also alluded to Portico's emphasis on self-reflection, noting that the course provides students with opportunities to "explore personal aspirations and the opportunities available in the world of work."
I would add that a business school with an integral role at a liberal arts university has still more options when it comes to encouraging students to pursue passions in the humanities and sciences. For example, at our School we have provided incentives for students to cross the bridge—by letting them skip some of our management core-course requirements, if they major or minor in a subject at Boston College's Morrissey College of Arts and Sciences. The changes are helping: In 2018, 39 percent of the Carroll School graduating class had completed a major or minor at Morrissey.
Another Side of the Bridge
That's one way that the bridge between management and the liberal arts goes. There's another direction, however. At Boston College, we found ourselves increasingly asking: How can we also bring arts and sciences students to management studies, as a way of broadening their own horizons and opportunities? Furthermore, how do we create a more engaging and academically diverse mix of students for those majoring in management disciplines?
And that's where the bridge clearly starts leading in both directions. For us, a far-reaching development in the current academic year has been the rolling out of four new management minors geared mainly to arts and sciences students. Just in the past year, approximately 850 of those students have declared a management minor. The four new minors are Finance, Marketing, Accounting for CPAs, and Accounting for Finance and Consulting, adding to two pre-existing ones: Management and Leadership, and Managing for Social Impact and the Public Good. Altogether, there are now well over a thousand non-management students in our midst, walking our halls and pursuing a minor at the Carroll School.
Such an approach will not be the best fit for every business school, but it works for us, at a Jesuit Catholic liberal arts university that puts a premium on integrating the various schools and academic disciplines.
It also helps that across academic units, our senior leaders are on the same page with a shared vision of undergraduate studies and its central role at Boston College. Indeed, part of the impetus for our minors came from an initiative seven years ago to renew Boston College's undergraduate core curriculum (I was one of the four initiators); the effort involved forging a core vision document approved by senior leaders together with the various schools and departments. Another experience along the way has been our five-year-old Summer Management Catalyst Program, a nine-week deep dive into the major disciplines of management, designed for liberal arts students.
The integration—of liberal arts students into a school of management—is already reinvigorating our learning environment. Carroll School professors are seeing fresh and different dynamics in the classroom, by virtue of the skills and perspectives brought in by arts and sciences students. And our own management students are seeing the benefits as well, as they sit alongside and work on management-related projects with fellow Boston College students. They're learning from students majoring in philosophy, biology, theater, communications, and many other disciplines.
Our Bridge Goes Both Ways
Overall, the bridge between management and the liberal arts is needed now perhaps more than ever. A study released this past November, based on more than 100 million social and professional profiles, had a message for those who believe that "hard skills" will be most critical in the future, and for others who disagree and contend that the "human" skills are most important. "We say, 'both, and': It is the integration of human and technical skills that will provide the best preparation for the future of work," said the report co-sponsored by the Strada Institute for the Future of Work and the labor market analytics firm, Emsi.
I echo that finding. For our students as well as the organizations they will lead and serve, the skills and passions necessary for the future are not best understood as an either/or—they're both/and. The bridge goes both ways.
---
Andy Boynton is the John and Linda Powers Family Dean of Boston College's Carroll School of Management, a position he has held since 2005. He is also a Boston College alumnus, Class of '78, as well as the author of several books and many articles about innovation, teamwork, and strategy.