What is Situational Leadership?
Situational Leadership is a model for developing individuals so they can reach their highest level of performance on a specific goal or task. It is a process that supervisors can use to help individuals ultimately become self-motivated and self-directed. In this model, the supervisor learns skills to assess an individual's development level.
Situational Leadership Model at Boston College
Since  June 2008, over 200 managers representing a cross section of business units have taken part in the two-day training. They include Dining, Facilities, Police, Residential Life, and University Advancement, among several others. Follow-up sessions are also scheduled to reinforce learning. Several HR staff members have received national certification to train others in the Situational Leadership model.
Learning Outcomes
---
 Supervisors and managers trained in this model learn to:
establish clear goals and objectives for performance (S.M.A.R.T. goals);
diagnose an employee's level of competence and commitment for a designated task;

agree on a performance plan with an employee on assigned work; and

give performance feedback in ways that are appropriate to the employee's development level.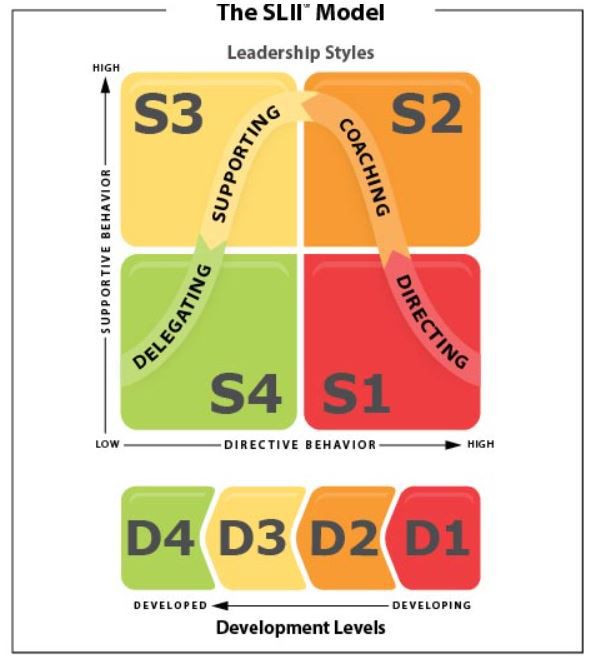 "

After taking this course, I feel I have better tools to use to enhance the way I lead.

"

"

I plan to share the model with my team. I will focus on creating smart goals and diagnosing my staff so that I can match and utilize an appropriate leadership style.

"

"

This workshop really gave me the tools to lead more productive conversations with my team, my co-workers and my supervisors.

"

"

I look at my co-workers in a new light thanks to this program. It really helped outline and define the roles of people working in a matrix and how best to help those working for you by using the appropriate response.

"