Professor Ann Wolbert Burgess was on the dais, and Robsham Theater was packed on a late afternoon in September. But this crowd wasn't there for one of Burgess's typically oversubscribed forensics classes. Students, faculty, administrators, and law enforcement officials had turned out to witness a reunion, of sorts, between two of the minds behind Mindhunter. The hit Netflix crime drama features fictional representations of Burgess and retired FBI Special Agent John E. Douglas, her longtime colleague, co-author, and a criminal investigator with whom she helped develop the theory and techniques of criminal profiling.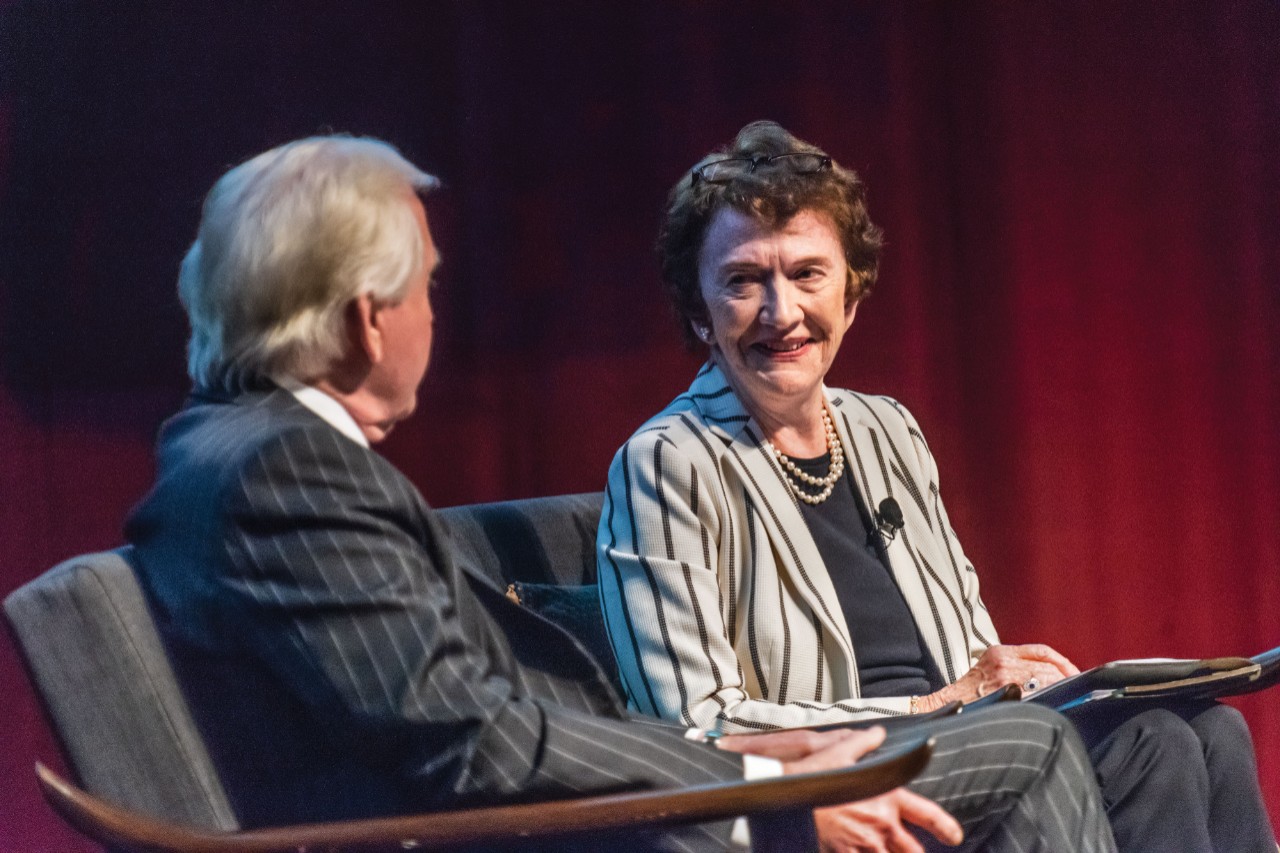 Known for years among fellow expert crime-solvers for their work revolutionizing the way law enforcement and health professionals understand deeply disturbed criminal minds, Burgess and Douglas have gained unexpected notoriety as the bases of fictional characters Wendy Carr and Holden Ford in Mindhunter. The show, which has been renewed for a second season, drew a large viewership and significant fan base in its first year. (Indeed, interest in attending the Connell School's The Minds Behind Mindhunter program was so high that it live-streamed the event on the Boston College Facebook page.)
The criminal profiling approach to serial killers developed by Douglas and Special Agent Robert Ressler (grizzled, chain-smoking agent Bill Tench in the show), originated in the Behavioral Sciences Unit of the FBI. It was depicted first in the novel The Silence of the Lambs (1988), the source of the 1991 Academy Award-winning movie. But Netflix's Mindhunter sticks close to real life, drawing heavily from a 1995 true-crime book by Douglas and Mark Olshaker, Mind Hunter: Inside the FBI's Elite Serial Crime Unit (Pocket Books).

Neither the books nor Mindhunter acknowledged the role of Burgess's foundational research in the 1970s, when she and Boston College sociologist Lynda Lytle Holmstrom conducted a study based on 146 interviews with rape victims ranging in age from 3 to 73, and published their findings in the American Journal of Nursing. The study caught the attention of FBI brass, who were under pressure to improve police rape investigations amid a wave of unsolved sexual assaults and homicides.
Criminal motivation was largely a mystery and the field of forensics comparatively primitive when then-FBI Director William Webster issued a mandate to provide police and agents with training in investigating rapes and interviewing rape victims, Burgess said. At a time when rape victims were not coming forward and convictions were elusive, the FBI hired Burgess as a lecturer at the FBI Academy in Quantico, Virginia, where she helped advance the FBI's understanding of violent sexual crimes through her pioneering research on rape trauma syndrome.
Webster told the investigators he wasn't looking for "shoebox research," Burgess recalled. He didn't want notes collecting dust without links or follow-up. Burgess would become the principal investigator on the Criminal Personality Project, helping to move criminal profiling out of the shoebox and into a database.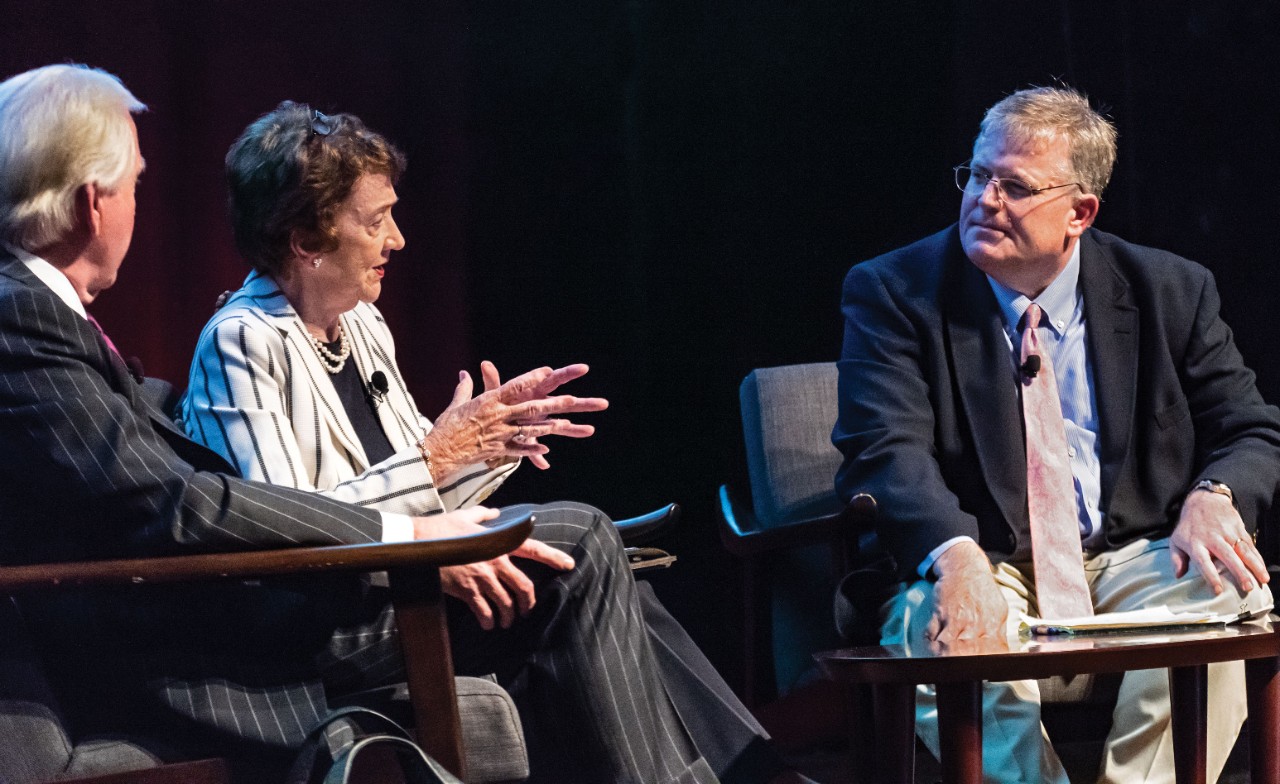 Responding to a question from moderator Brian D. Griffin, a former prosecutor who helped convict Patriots tight end Aaron Hernandez of first-degree murder, Burgess recalled the day she first met Douglas and Special Agent Ressler in Quantico.
"They were sitting around the classroom talking about unsolved cases," she said. Douglas and Ressler's conversation showed that they did not have much use for psychology, she recalled. Their attitude was: "How can I go out and find someone who has an Oedipus complex?"
Douglas said that psychologists' notes from court and corrections files offered few insights to apply to future investigations. "If you go through records classified by psychologists throughout [the killers'] lives, they don't mean anything."
He said that he and Ressler were soon impressed by Burgess's insights from interviewing rape victims and her forensic scientist's eye for patterns of behavior. They were struck by the applicability of Burgess's study of heart attack victims, which profiled the characteristics of those who returned to work the fastest.
"We have to reverse the engineering," and interpret the profiling variables in a homicide, Douglas recalls saying at the time. They eventually came to look at the offender.
Burgess and Douglas determined that the experts—the convicted killers whose crimes had defied understanding—ought to be interviewed. It was a game-changing idea.
The team began to analyze crimes for signs based on what was left behind: The criminal acts were either organized and preplanned, or disorganized, impulsive—apparently carried out by someone under the influence of alcohol or drugs, he said. They determined that the experts—the convicted killers whose crimes had defied understanding—ought to be interviewed.
It was a game-changing idea.
At the time, Douglas was traveling the country with Ressler doing training with local police departments. "Bob and I had downtime so we decided to go to the prisons. Let's go talk to Charles Manson about his victim selection; let's find out why they confess if someone confesses to a crime," Douglas said.
"Ann was very interested in what we were doing going into prisons," he added. Burgess said she thought the idea had promise: The highly intelligent convicts, after all, had little to do in prison but reflect on their crimes. And some of them might want to gloat.
Notably, the show changes the identity of Burgess, a psychiatric mental health nurse, to that of Wendy Carr, a no-nonsense psychologist and a closeted lesbian who moves to Quantico, Virginia, to be close to the FBI Academy and the agents she was working with. Burgess—who has used the mischaracterization of her character as a psychologist to educate people on the forensic role of nurses—said that she and her husband, Allen, were raising four children in Boston at the time the series is set. A pilot, he would frequently fly her down to Quantico, and would sometimes transport her and the FBI investigators to crime scenes.
But Mindhunter accurately portrays Burgess's instrumental role in helping the profiling program secure its initial funding—and giving it scientific legitimacy, according to Douglas. "If it weren't for Ann we wouldn't have this program," Douglas told the audience. He credits Burgess for "pushing us or we never would have gotten" initial grants of $200,000 and $185,000.
Perhaps more important, "We learned from Ann how to conduct an interview," he added.
Burgess developed a 57-page computerized notebook the agents started filling out before they went to a prison interview. Each included family histories and police, court, and corrections records. Burgess wanted them to tape record everything, but the investigators had to gain enough trust of the convicted serial predators to record them. So in the beginning, they took good notes and filled out the rest of the answers after returning to the hotel after the interview, Douglas said.
Burgess, for her part, remembered those early days when the agents' families and hers carried some of the workload. "Before we had funding, our children did data entry," Burgess said. "That is," she quipped, "if they wanted to have supper that night."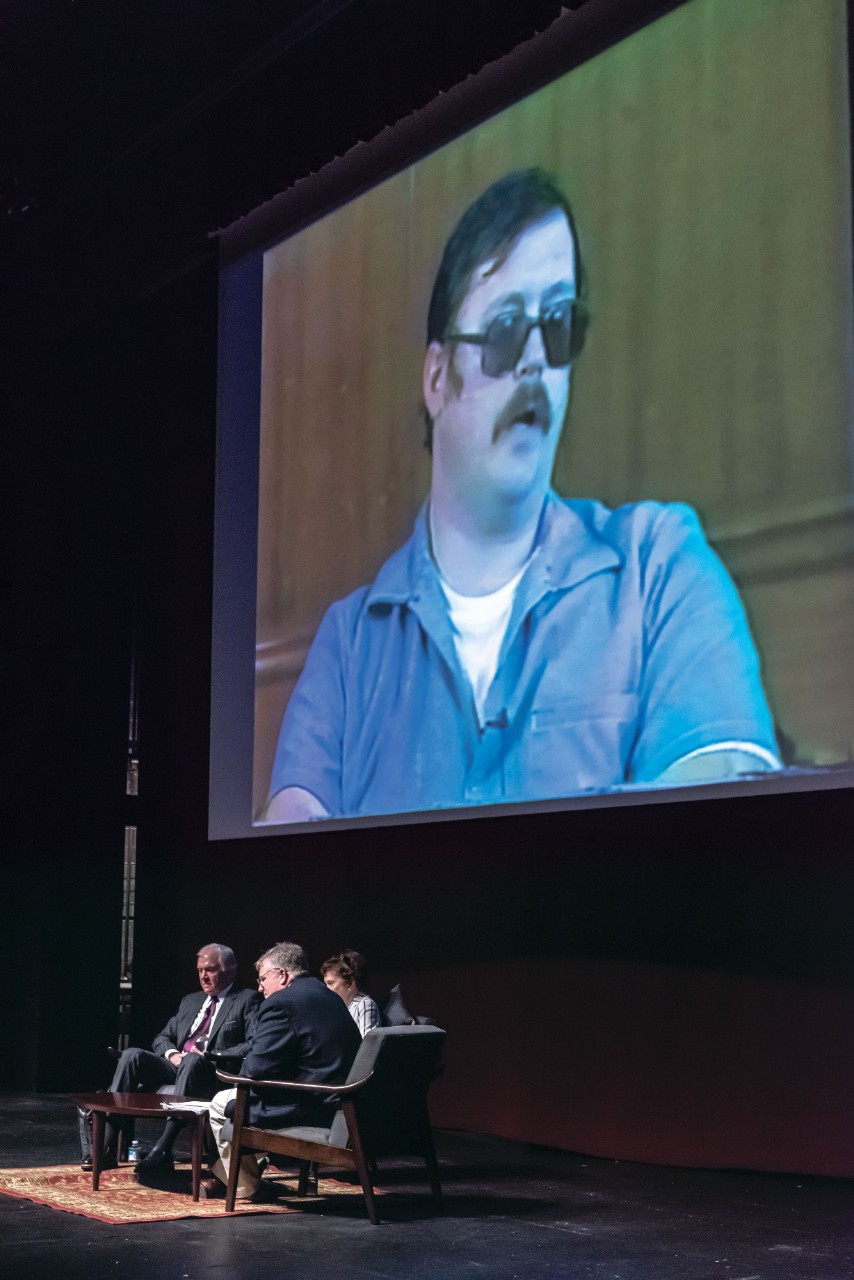 In addition to details of the real beginnings of Mindhunter, Burgess and Douglas's recollections were paired with riveting film clips of actual prison interviews, some presented in tandem with their Netflix recreations. One clip screened was an excerpt from a prison interview Douglas conducted with Ed Kemper, a clever, garrulous, and eerily engaging serial killer who stands at six-feet nine and weighs 300 pounds. Kemper graphically described luring female college students into his car for the last ride of their lives; how he knew a week in advance that he would murder his mother and abuse her corpse.
The 36 prison interviews the team conducted, Burgess said, helped investigators develop a database that was the basis of a book, Sexual Homicides: Patterns and Motives (Free Press, 1988), which she co-authored with Ressler (who died in 2013) and Douglas.
In the four decades since, Burgess has studied, taught, written, and testified about crime from the point of view of the victim and the criminal. She continues applying her research to new areas, such as the study of school shooters and elderly abuse, while teaching a full load of courses.
"It's amazing that something you have done decades ago is in the spotlight again," she said. "I never imagined the work going into a TV series."
Netflix has renewed Mindhunter for a second season with the same cast: Anna Torv plays Burgess's character and Jonathan Groff plays Douglas.
---
WATCH: The Minds behind Mindhunter