The annual Finance Conference returned in person to Boston College this spring, bringing together alums, students, and leaders from across industries to engage with big ideas.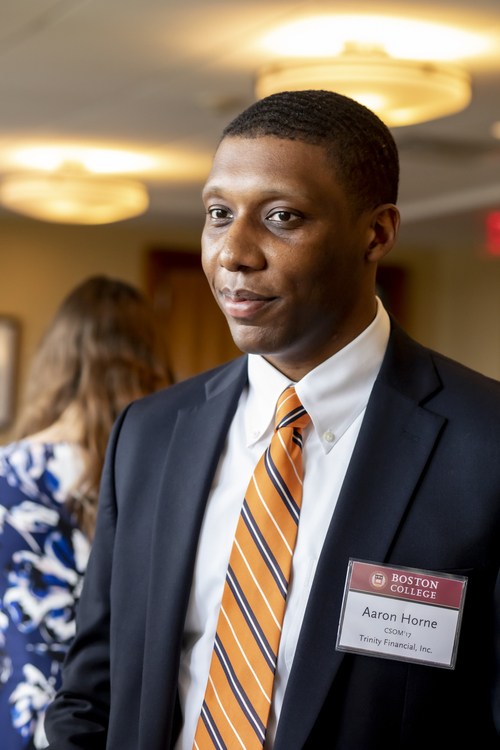 Aaron Horne '17, a project manager for real estate development firm Trinity Financial, was eager to consider points that overlapped with the world of real estate. Learning more about financial markets and economics helps him "to not only be better informed in my job, but just as a person engaging with the world."
For some attendees, the May 6 conference was a family affair. Husband and wife duo Bob McAuliffe '76 and Mary Anne McAuliffe, MBA '78, enjoyed former Council of Economic Advisors chair Christina Romer's ideas on the bumpy but ultimately positive direction the economy is heading in, as well as the talk given by Richard Bernstein, CEO of Richard Bernstein Advisors. "I came for investment ideas," Mary Anne says. "I'm following him on Twitter now!"
Mary Anne also shared that former U.S. Secretary of Defense Ash Carter's talk was a big reason for her deciding to attend the conference. "I was a political science major in undergrad," she says. "I like that global look at the world."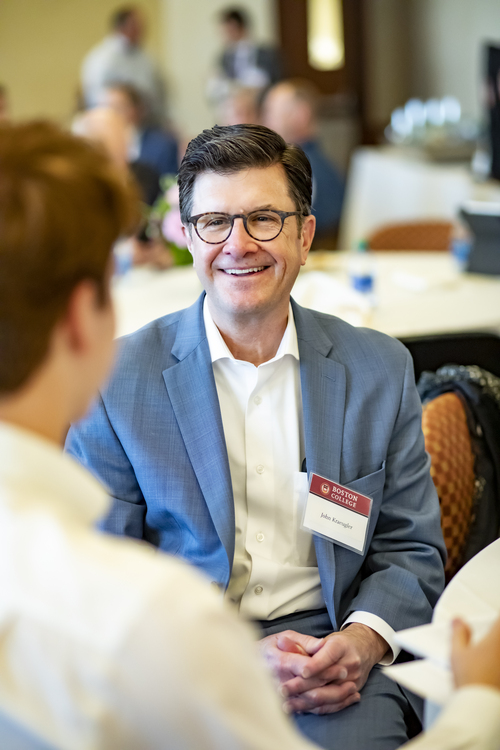 Chase Kraeutler, a sophomore in the Carroll School studying accounting and finance, attended the conference with his father John Kraeutler, founder and CEO of Kraeutler Financial, who drove up from New Jersey to join. John has seen Paul Romer, recipient of the 2018 Nobel Prize in Economics, interviewed on Bloomberg, and was especially interested in what he had to say. He was also digesting the data and findings presented by Carroll School Assistant Professor of Finance Simcha Barkai, about how workers, over the past 50 years, have received a declining share of the overall economic pie.
What stuck out to Chase? "When Rich Bernstein spoke about cryptocurrencies, I thought that was very interesting," he says. "Everyone, especially my generation, is so bullish on crypto. Everyone's rushing to get it. I like to hear the opposite side of it where he's more conservative on the idea of it."

"

I also thought it was just such a great opportunity to be back on campus—I'll never say no to that!

"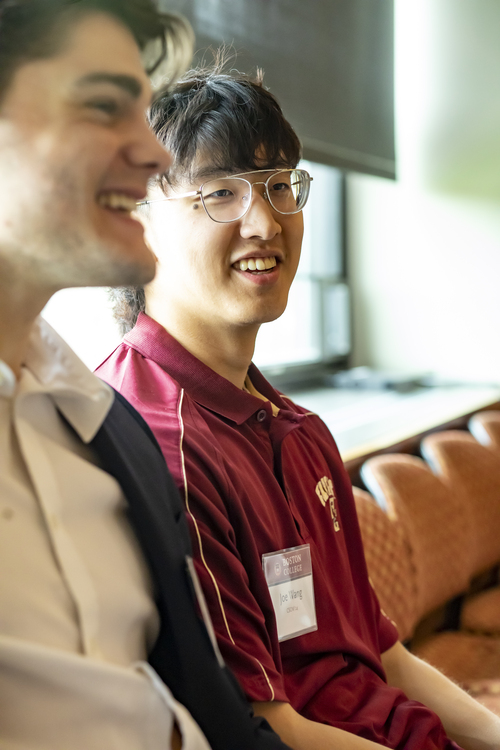 Chase wasn't the only one mulling over Bernstein's cryptocurrency thoughts. As they sat in the Murray Family Function room in Yawkey Athletics Center, Joe Wang '24 and Nathan French '24 were deep in conversation on the topic. French, a finance and computer science double major, mentioned that El Salvador had made Bitcoin legal tender in 2021. "I think we both agree that it's not the best time for them to do that because there's a lot of risk involved with it," he says, noting that he will be taking a Carroll School class on cryptocurrency in the fall that he's looking forward to.
Wang, who is majoring in finance, with an additional major in math and a minor in computer science, decided to attend after his mom heard about the event. "Growing up she would always bring me to conferences just to expose me to new material," he says. "I think it's really interesting just to be exposed to some of these [ideas] and hear the applications of what I'm learning in classes too."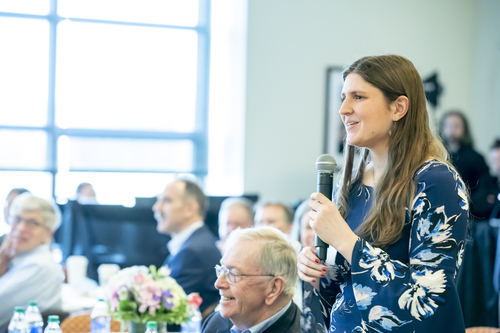 Sophie Fonseca '19, a business control and risk management associate at Santander Bank, also made a point of mentioning Barkai and his findings on how industries are becoming more concentrated, with less competition (which is related to labor's declining share of income). "I like how he tied it back to something that's a little bit less theoretical, which was the wages of Americans," she says. "He offered some tangible solutions and . . . tackled things that I'm more personally interested in."
Echoing a sentiment heard throughout the day, Fonseca commented, "I also thought it was just such a great opportunity to be back on campus—I'll never say no to that!"