More than a hundred students clapped and slapped together inflatable thunder sticks while chanting, "3…2…1…go!"
At the word go, Jacob Small '20 began.
"Forty percent of American adults don't have $400 in savings for emergencies," Small announced from his perch on a stage in the Heights Room, while an oversized digital clock counted down the 60 seconds he had to describe his startup in a compelling way.
"This means that a car breaking down, an unexpected student bill, or a medical expense can cause financial ruin for tens of millions," Small continued as four judges took notes. "But this is also an issue for employers, because it costs $15,000 on average to replace each employee who's forced to leave due to financial instability.
"This is where my company, EmployMint, comes in."
Small was one of eleven finalists in November, out of an initial 35 entrants, competing for a total of $1,750 in cash prizes in the fifth annual Elevator Pitch Competition of the Edmund H. Shea Jr. Center for Entrepreneurship. Student business ideas, in various stages of development, ranged from DEET-free bug spray to upcycled tote bags to alternative, college-based online platforms that help users meet new friends or buy and sell artwork or textbooks on campus.
Each student, standing alone on stage (though often with the vocal moral support of their business partners in the audience), hoped to hook the panel of expert judges in one minute. Then each had to field probing, pertinent follow-up questions for two minutes.
BC and Business in the Blood
In a way, when Joe Popolo first came to the Heights, he was picking up where his grandfather left off. Find out the whole story on the Carroll School News site. 
For more on the Popolos' gift naming the Shea Center's directorship, visit the Shea Center newsletter.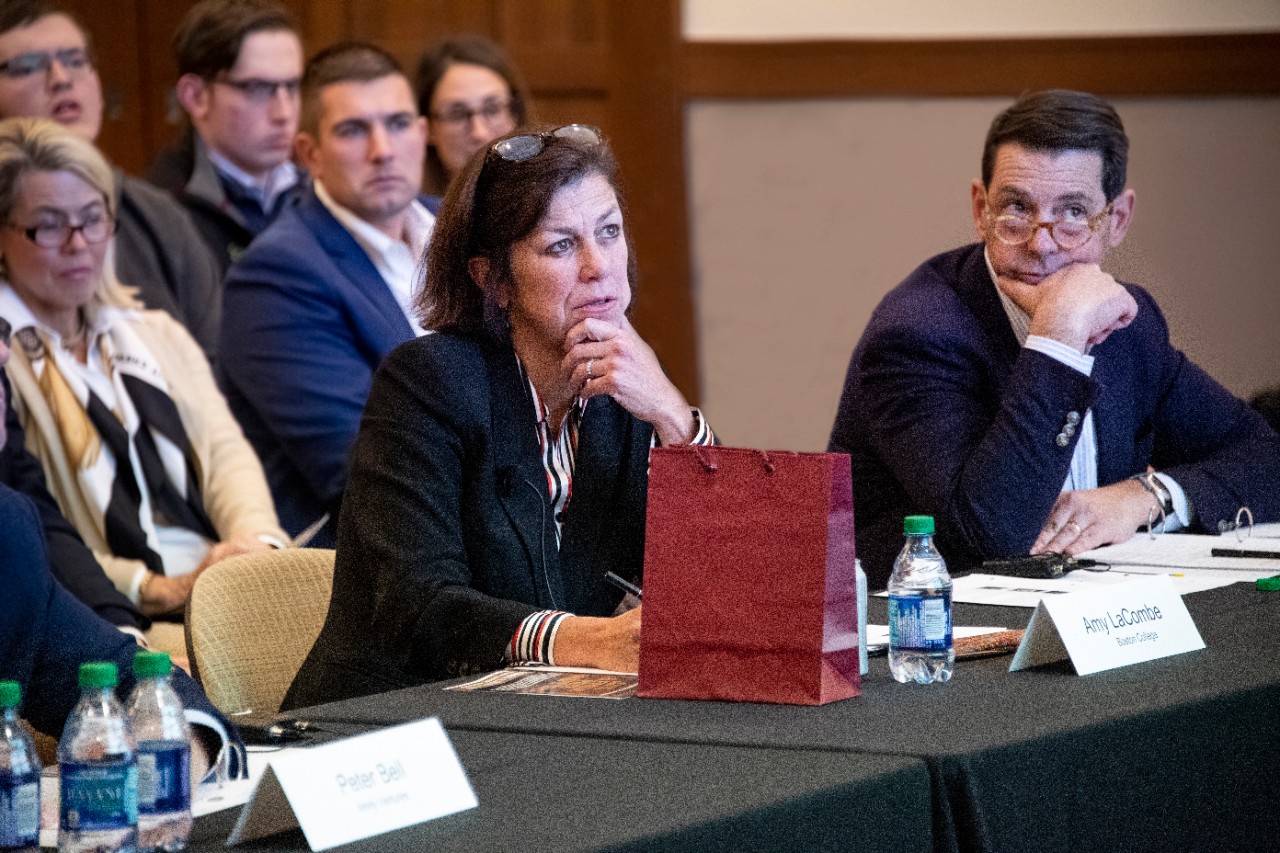 "How do you attract customers?" asked Peter Bell '86, general partner at Amity Ventures.
"What's unique about your product, versus the competition?" wondered Amy LaCombe '90, associate dean for undergraduates at the Carroll School (and recipient of master's and doctoral degrees from Boston College as well).
"How effective is your product?" inquired Meredith McPherron, venture partner at Glasswing Ventures.
"Why wouldn't I just use eBay?" asked Joe Popolo '89, CEO of Charles & Potomac Capital, and prominent supporter of athletics and entrepreneurship at Boston College.
And again and again, Popolo peppered the would-be investees with the critical query, "How do you get paid?"
Be Prepared
It was clear that all eleven students had done their homework. Yes, the presentations were pithy yet detailed. Yes, the speakers declaimed with energy and confidence. But more than that, the high level of preparation was evident during the subsequent interrogations, when the young entrepreneurs tackled the hard questions head-on. Many of the students led with "I'm so glad you asked that question," or some variation thereof, without missing a beat. One presenter sparked titters among the crowd of his peers with his chummy reply, "Here's the thing, Amy LaCombe..."
Indeed, the contestants were also competing for the title of crowd favorite, on top of the judge-awarded first, second, and third prizes. That may in part account for the direct approach taken by Linda Chen, Morrissey '20, in pitching her chat platform, Mac Daddy, which seeks to foster genuine connections.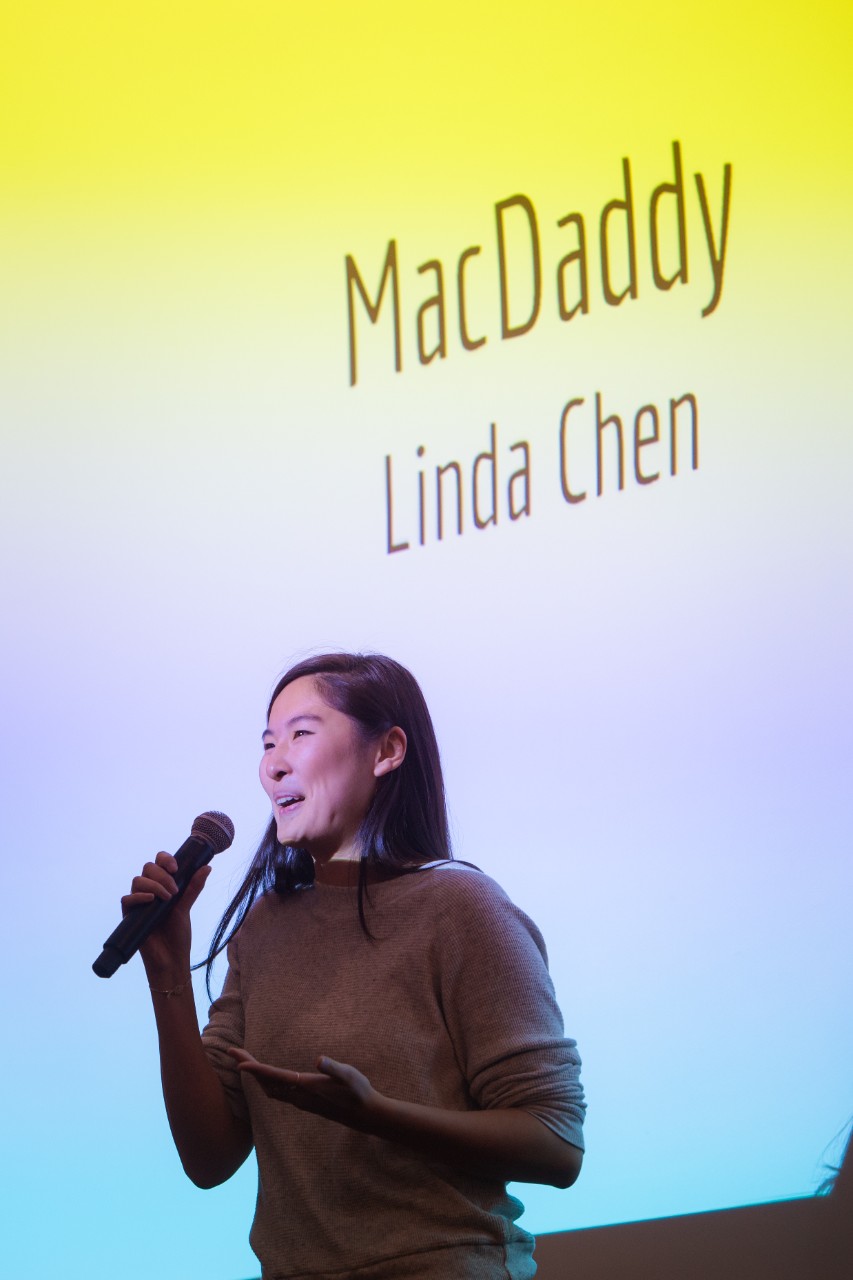 "I party, like, every day, and have 500 likes on my pictures, so everyone knows it!" Chen began, before pausing. "That was me, freshman year," she explained, offering an example of less-genuine connections on social media. "Kind of a fake b---."
The crowd favorite would be determined not by applause volume but rather quietly, with voting held online.
As to deciding the three main winners, once the judges had heard all the pitches, they adjourned to a side room to confer. Poring over the forms they'd marked up during the presentations, the judges considered criteria such as the product—its target market, the problem it would solve—as well as the presenter's delivery, including eye contact, voice projection, and poise.
The most important criterion, explained the evening's MC, Jenny Chu '21, was the answer to the question, "Would I invest in this company?"
The Winners
At last, the quartet filed back into the Heights Room, and Popolo announced the winners.
The first prize, and $700, went to Small's EmployMint. An incoming deal advisory associate at KPMG, Small proposes his online platform as an alternative to payday loans. For example, in Small's native rural Maine, a freezing cold day might put your car out of commission. If you're one of the millions of Americans without a rainy day fund, you might turn to a usurious payday lender—or you might not be able to go to work, period.
"This is a huge cost," said Small, who studies accounting and international studies. And not only for the employee but also for the employer. EmployMint would work with small and mid-sized companies who lack HR infrastructure to offer low-interest, short-term loans, as well as financial coaching, to keep workers working—and out of bottomless debt.
Meghan Schlageter, Morrissey '22, earned second prize ($500) for her DEET-free bug spray, Sucker Punch. Most bug spray, Schlageter said, "smells awful." The film studies major has developed a unique bug repellant using grapefruit oil, which smells pleasant and repels ticks. She's tested the product during her summer job at the Martha's Vineyard Film Festival, giving patrons free samples and receiving positive feedback. Moreover, Schlageter and partners plan to sell the spray in aluminum bottles and use discounts to encourage customers to return the bottles, for sustainability.
Third prize ($300) went to Palette, an online platform that international studies major Zier Wang '21 is developing as an alternative to sites such as Etsy. Palette "cuts down on the complexity of e-commerce," Wang said, allowing student artists to sell their work in the community, while making it easy for art patrons to buy local.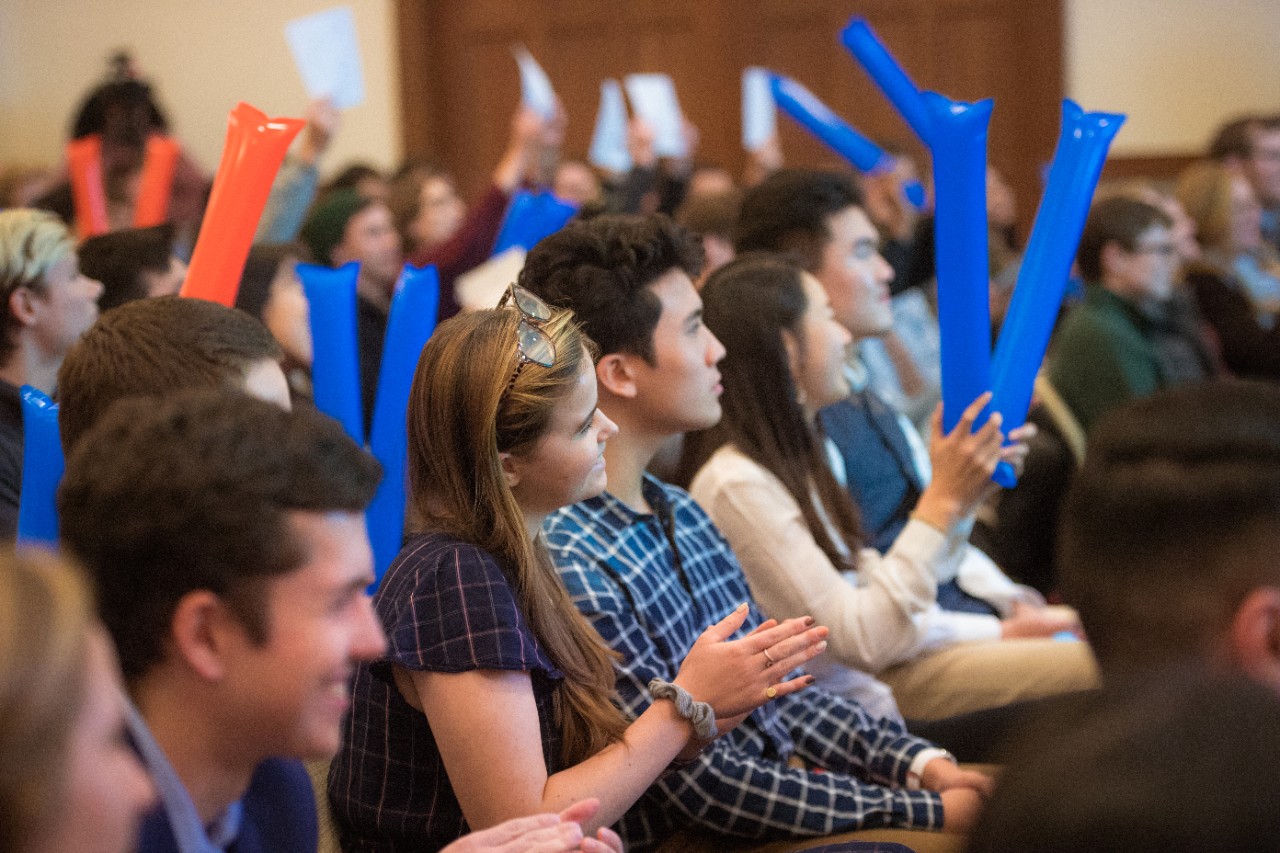 Chen's Mac Daddy was the crowd favorite, earning her $250. "It's a huge problem for our generation that social media makes it so hard for us to be real," Chen said during her pitch. Mac Daddy pairs anonymous users (verified by institutional email address) based on common interests, and encourages them to meet up safely for in-person conversations. "Make a new friend—a real friend," Chen said in her pitch.
The Entrepreneur's Mindset
Popolo, it should be noted, not only was one of the judges but also—along with his wife, Chris—is the donor behind a change in the title of the Shea Center's director: As Dean Andy Boynton announced at the start of the proceedings, Jere Doyle '87 is now the Shea Center's Popolo Family Executive Director.
"Things like the Shea Center don't just happen," said Boynton, the Carroll School's John and Linda Powers Family Dean. "We need to have resources for it, and it's terrific when alumni and their families step up and give back to BC. This is a tremendous step forward for Boston College and the Shea Center."
At evening's close, Popolo—who is also the parent of two BC students—spoke a bit about his motivation for the gift.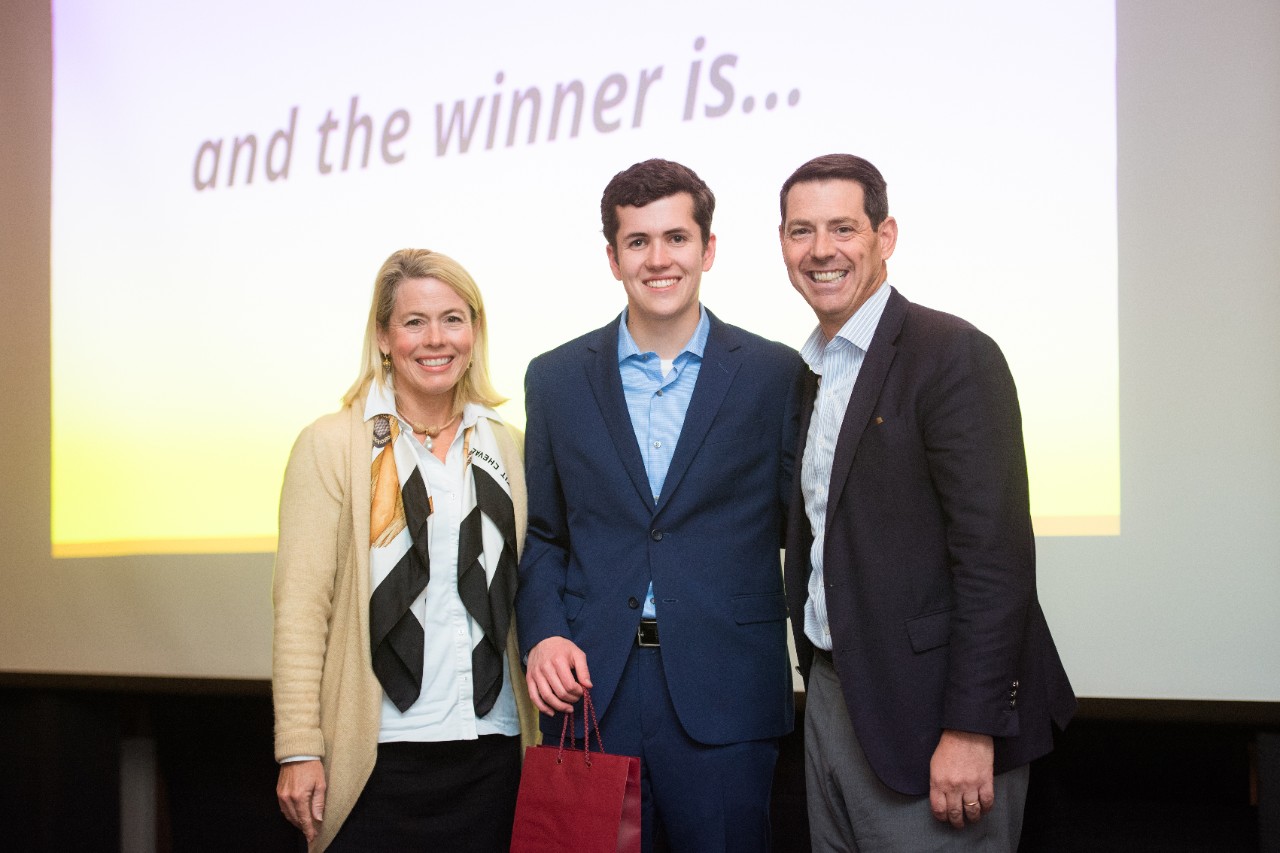 "I truly believe that entrepreneurship is the lifeblood of our country, and to be successful, we need people like you to go out and create new ideas and create jobs and launch successful businesses," said the Dallas-based Popolo, who was the 2013 Ernst & Young Entrepreneur of the Year for the Southwest Area North region.
"By supporting the Shea Center, Chris and I hope we can continue BC's upward trajectory," Popolo continued. "This is a resource not just at the Carroll School but across BC. There are business entrepreneurs, social entrepreneurs, entrepreneurs who work within larger companies—entrepreneurship really is a mindset."
Patrick L. Kennedy, Morrissey College '99, is a contributing writer at the Carroll School of Management.