Seasonal Fare on Corcoran Commons Plaza
The Shack and The Farmers Market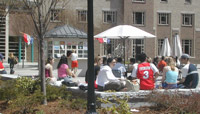 Located on the plaza just outside of Corcoran Commons, The Shack is home to Meatball Obsession. Open seasonally, and as weather permits, The Shack attracts those who enjoy a quick bite outside. On the plaza there are tables and chairs with umbrellas to provide a wonderful outdoor dining experience, and a great opportunity to people watch.

Corcoran Commons Plaza is also home to our Farmers Market which takes place on Thursday afternoons in the Fall, and goes as long as the weather holds out. The Farmers Market features locally grown produce and locally prepared bread and other products. We always advise getting there early, because some items are limited and go quickly.
Please join us this fall for a chance to get some locally grown fruits and vegetables, artisan breads, and education. Recipes are available for free to help you figure out how you can use these great items.