Sustainability
BC Dining places a high priority on sourcing food from producers who share our Jesuit values of integrity, care, and earth stewardship. We foster a culture in which the interwoven benefits of growing, cooking, and sharing responsibly and ethically grown food become an integral part of the University's community experience.
The University has working relationships with local growers, manufacturers, and vendors who respect and promote ecologically sound agricultural practices, and food distributors who can trace their products to responsible sources.
Our Dining team is committed to continuing a business strategy based on high-quality food service that focuses on the principles of long-term sustainable and equitable development. We're a proud member of the Menus of Change University Research Collaborative. In the fall we host a weekly farmers market outside Corcoran Commons.
Green2Go program allows students to opt for a reusable to-go container instead of paper or plastic when they are eating on the go. Green2Go containers are sturdy, easy to carry, BPA free, and made out of 50 percent recycled plastic. The program is now available at Lower, McElroy, Stuart, Addie's, and Hillside dining halls. For a one-time fee of $9 on the mandatory meal plan, students can use Green2Go all year long. Plus, students save 10% their purchase when using Green2Go!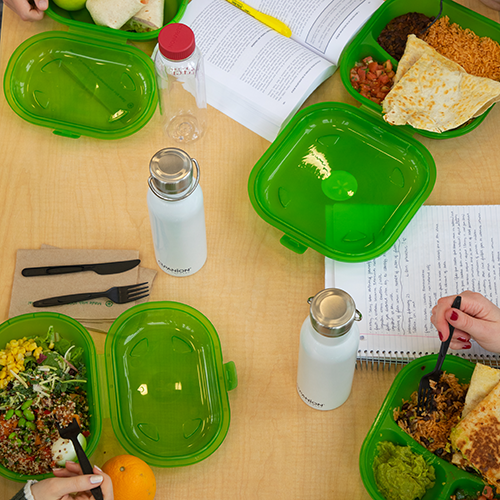 FRESH to Table promotes fairly traded, regional, equitable, sustainable, and healthy food through our purchasing, outreach, and menus. FRESH to Table encourages students to eat intuitively while focusing on growing community awareness for regional food systems, food literacy, and food justice. We partner with student sustainability groups like EcoPledge and Real Food and participate with them at Harvest Fest and the Earth Day Fair.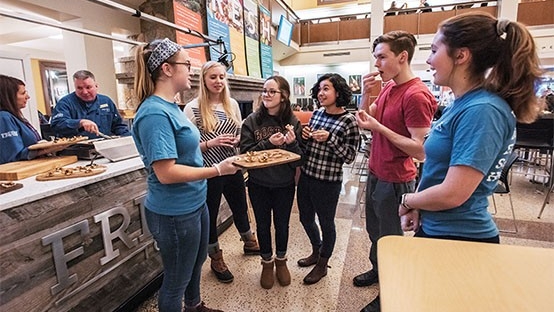 Funded by the Henry P. Kendall Foundation 
The FRESH to Table initiative was launched in 2017 thanks to generous funding from the Henry P. Kendall Foundation.The Kendall Foundation's goal is to create a resilient and healthy food system in New England by increasing the production and consumption of local, sustainably produced food. Only 13 percent of food in New England is grown regionally; the Kendall Foundation seeks to increase this to 50 percent by 2060.
BC Dining makes great efforts to reduce our waste footprint. Initiatives that reduce single use plastics and combat unnecessary food waste are not only good for business, but the right thing to do as stewards of the Earth. Learn more below.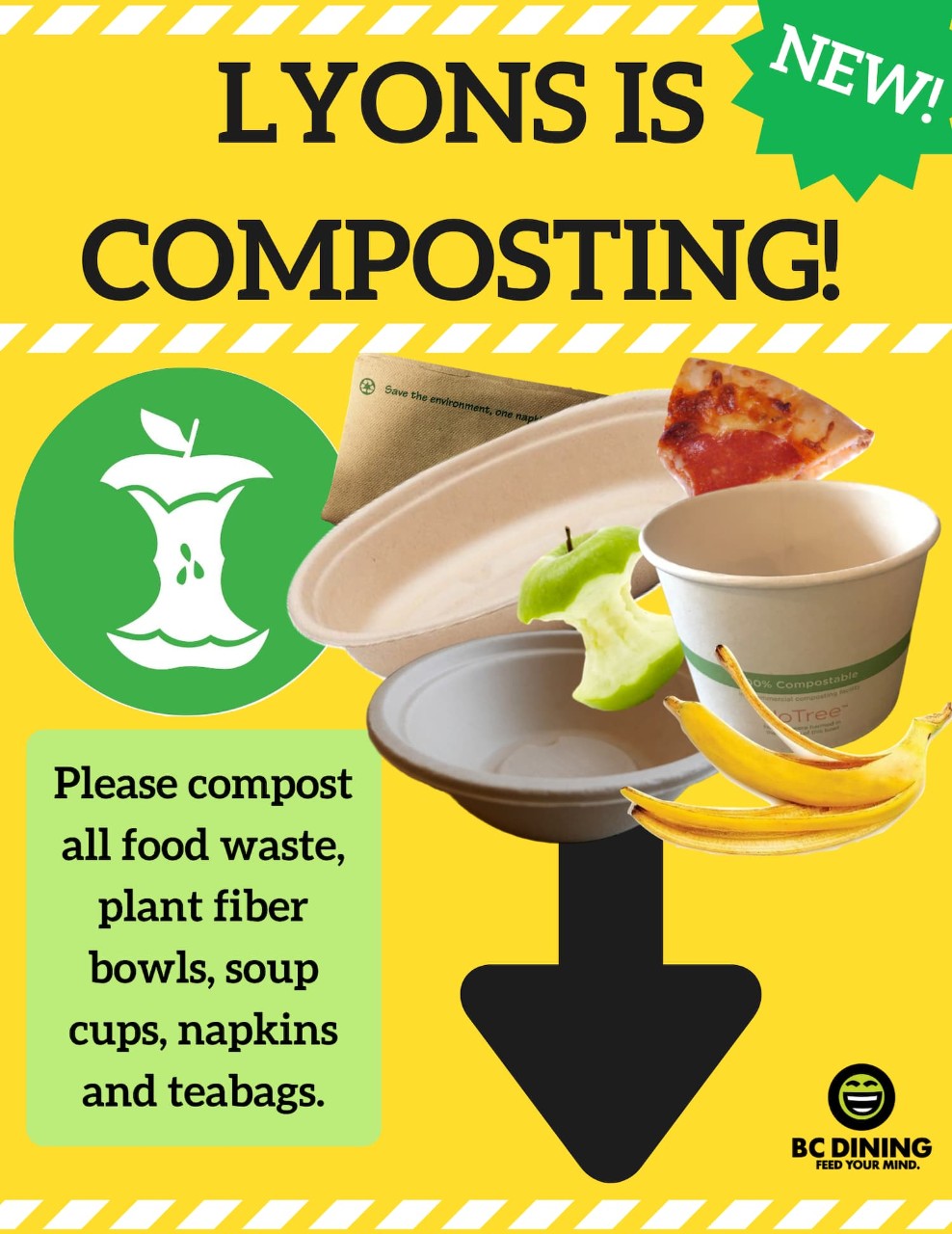 Composting
Every dining hall has a composting bin for students to separate food and compostable dining ware as we transition from plastic to compostable. 
BC Dining composts 100 percent of back-of-house kitchen scraps and has expanded front-of-house composting to all main dining locations, including Eagle's Nest and Lyons. We partner with Save That Stuff, a Boston-based waste provider devoted to minimizing waste.
Our food scraps and compostable containers are anaerobically digested at Save That Stuff, then used to produce renewable energy and fertilizer pellets through a zero-waste process. Our plant-fiber bowls and soup cups sourced from World Centric, a B Corp working towards poverty alleviation, are fully compostable within this system.
Leanpath and Food Waste Reduction
Each dining hall on campus features the Leanpath program, which allows extra food to be weighed regularly in order to keep data on sources of food waste. Using Leanpath, we cut salad bar waste in half in just two weeks and have diverted 580,116 lbs from the landfill.
Food Rescue
BC Dining is proud to support Every Bite Counts (eBC), a student-led volunteer group, in its efforts to donate food to over 40 nonprofits in Greater Boston. eBC was started in 2005 by Associate Director of Food and Beverage, Michael Kann, and Molly Murphy, a freshman at the time. Throughout the years, eBC has worked with a variety of organizations including the Greater Boston Food Bank and the Veterans' Shelter. 
Although we encourage students to Choose2Reuse by eating on reusable dishes and using the Green2Go program, we understand that many students still use disposable products when taking food to-go. In order to minimize the environmental impact of paper and plastic products, we are dedicated to the transition towards more sustainable products. Therefore, we've transitioned our plastic salad bowls and paper soup bowls to 100% compostable materials, which is plasti-free and more reliable than recycling. Learn more about our plastic reduction efforts below.
Reusable Dishes
All major dining locations, including Corcoran, McElroy, and Stuart, offer reusable china and silverware for students eating on campus. These products are washed and sanitized after each use and help reduce the amount of disposable paper products discarded at BC. Our goal is to expand our reusable options as much as possible. We saved 72,000 plastic bowls from entering the waste stream in a single semester, simply by introducing a reusable bowl option at McElroy.
Our #SaveTheForks Campaign reminds students in self-sort dining halls not to throw away or take home the metal silverware or china dishes. We currently have to replace thousands of dishes and silverware every year, which hinders our ability to be sustainable. BC Dining is not funded by tuition, so having to buy more dishes makes it much more difficult to promote reuse in the dining halls.
We need student cooperation to help us keep our reusable dishes in the dining hall. If you have dining hall plates, bowls or silverware in your dorm, please return them to the dish drop off station at the dining hall. We need our dishes in order to continue our sustainability initiatives.
Choose2Reuse Campaign
Our Choose2Reuse campaign educates students about the impact of single-use paper and plastic products on the planet. Our goal is to bring awareness to the environmental footprint of single-use consumption and cultivate a culture of reuse among BC students. Our dining units sell an array of Choose2Reuse items, which can be purchased on the mandatory meal plan, including reusable bamboo utensils, cloth bags, metal water bottles, and foldable metal drinking straws.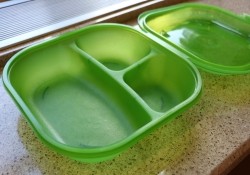 Green2Go
Our Green2Go program allows students to opt for a reusable to-go container instead of paper or plastic when they are eating on the go. Green2Go containers are sturdy, easy to carry, BPA free, and made out of 50 percent recycled plastic. For a one-time fee of $9 on the mandatory meal plan, students can use Green2Go all year long.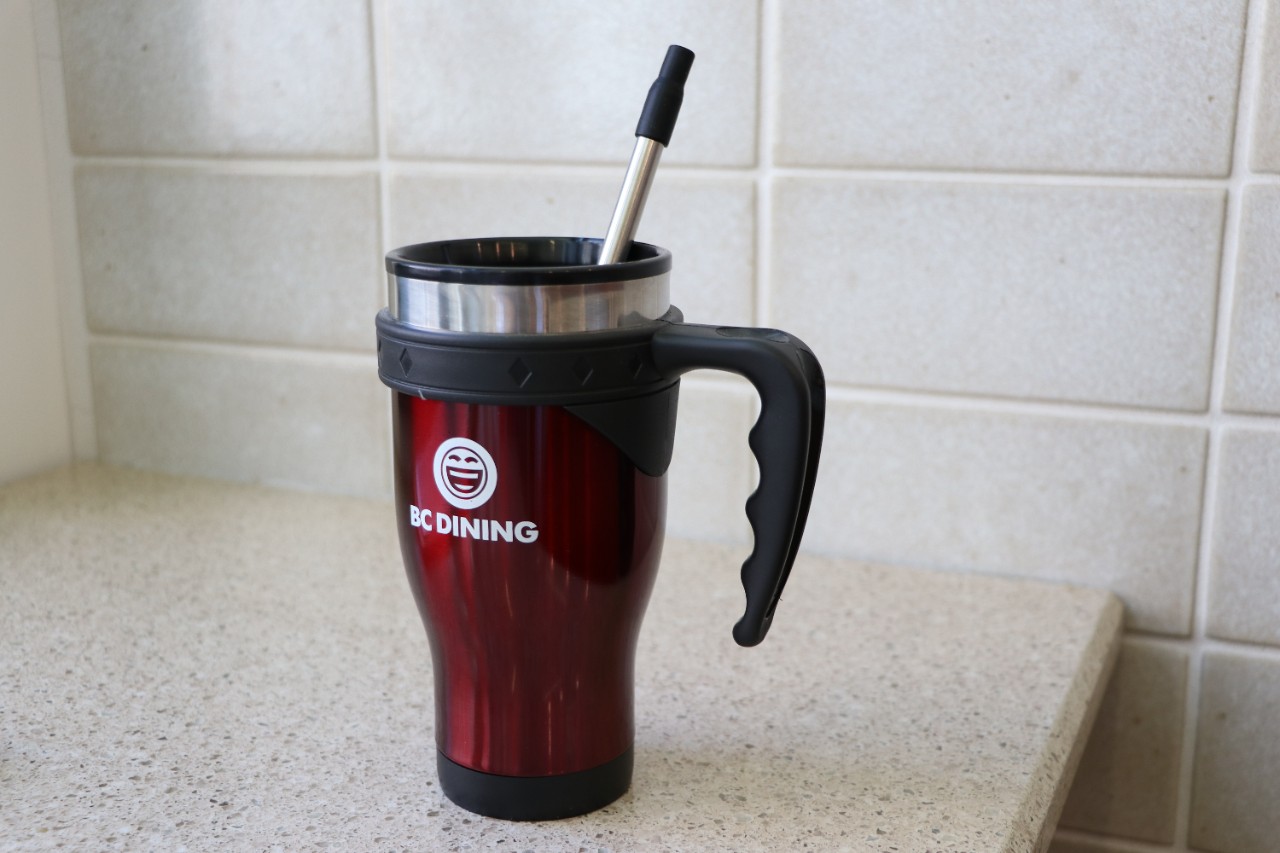 Reusable Mug Program
Students can save money and reduce waste with BC Dining's Reusable Mug Discount Program. Bring any sized reusable mug or bottle to all self-serve stations at our dining halls and pay for only a small sized beverage for all fountain drinks, coffee, and tea products. All dining locations have filtered water spigots to refill reusable water bottles.
World Centric
BC Dining sources plant fiber burrito bowls, salad bowls, and soup cups from World Centric, a carbon-neutral company that donates 25 percent of profits to social and environmental organizations. In 2019 we switched the majority of plastic bowls and paper soup cups to plant fiber. These products are fully compostable with Save That Stuff, our waste provider. By using World Centric's compostable products, BC Dining reduces the amount of waste sent to the landfill.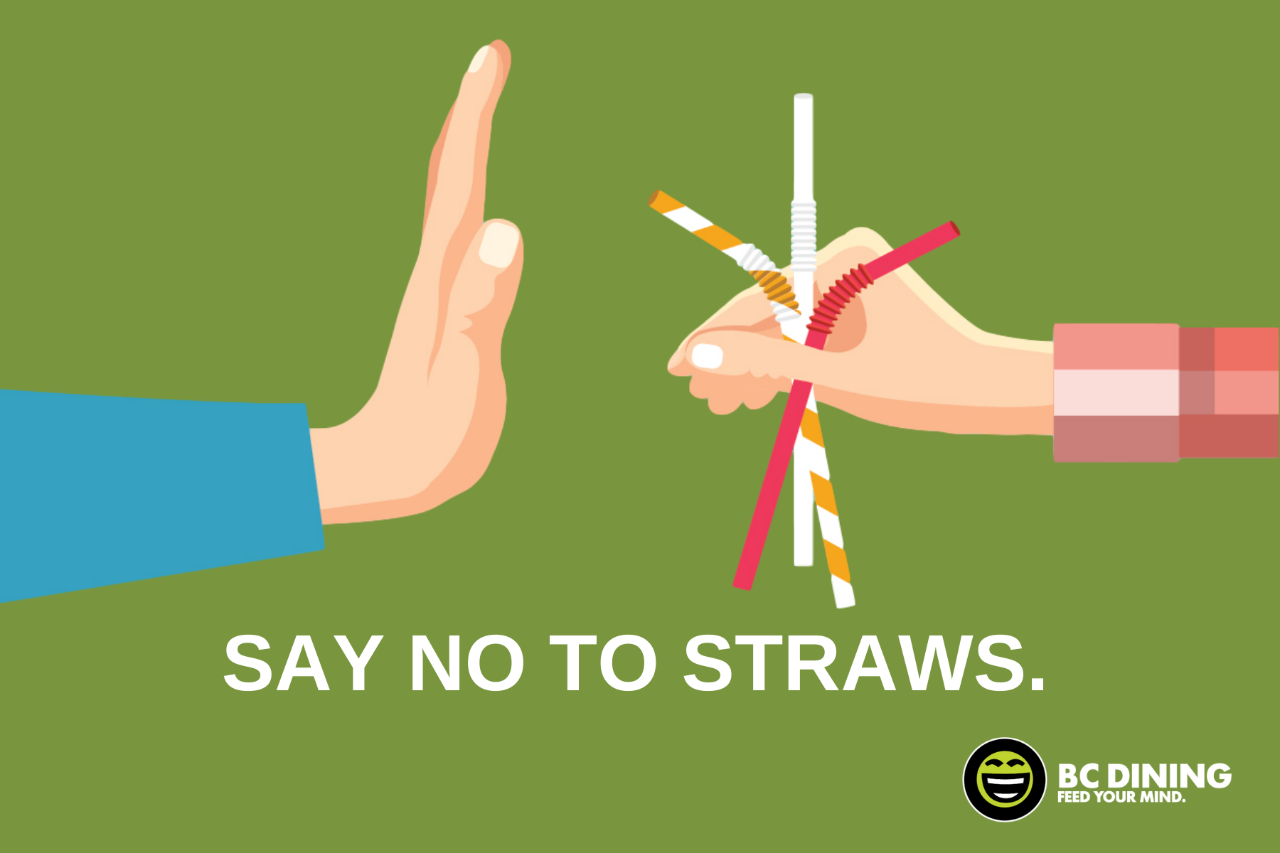 Straw Policy
In the spring of 2019 BC Dining moved to an "out of sight, out of mind" policy in regard to plastic straws. Straws have not been banned, but rather have been moved from the drink station to the register. Students are still able to ask for straws at the register for no extra cost. The new policy merely removes the extra waste that comes from mindlessly grabbing a straw just because it is available and has reduced straw use by 26 percent. Through our Choose2Reuse campaign we now sell foldable metal straws.
BC Dining subscribes to the New England Food Vision, which calls for a food future in which 50 percent of our food is sustainably produced in the region by 2060. We prioritize foods grown and produced by New England food producers, farmers, and fishing communities while also striving to support food producers around the world who contribute to a more socially just and environmentally sustainable food system. We use our FRESH to Table parameters as food standards to:
Empower small farmers and environmentally sound farming practices
Support New England farmers and businesses 
Ensure fair wages and humane animal welfare practices 
Foster environmental stewardship while protecting biodiversity and soil fertility
Encourage a plant-forward, balanced diet
Regional and Sustainable Vendors
Food Vision Prize

The 2018 New England Food Vision Prize, which challenges university and college dining service teams to offer more regionally produced food on their menus

Henry P. Kendall Foundation Grant

A three-year grant to advance regional and sustainable food systems at an urban institution

EPA Food Recovery Challenge

Regional winner in 2018

College Innovator of the Year

Awarded in 2019 by Food Management

Best Sustainabilty Concept

Awarded in 2019 by Food Management for the bahn mi fish taco, which features locally harvested, underutilized fish species Atlantic Pollock and Acadian redfish
Boston College Dining Services is dedicated to working with a variety of student and university groups and local partners to support sustainability initiatives across campus: