Corcoran Commons
Eat Drink Talk Think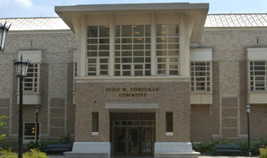 Corcoran Commons
Dedicated to John M. Corcoran in October of 2004, "Lower Campus Dining" as it was formerly known has been the center of campus dining since its grand opening in 1994. Corcoran Commons houses several different dining venues:
Lower Live - Featuring several hot and cold food stations with an amazing amount of choices.
The Loft @ Addie's - Home to organic, local, and artisan products and foods.
On The Fly @ Corcoran - One of 3 on-campus mini marts.
Corcoran Plaza - where you can grab a quick bite and enjoy outdoor dining.
See our dining menus and hours of operation for these dining locations.