At the start of April, seven CSON students participated in the National Student Nurses' Association's 65th Annual Convention and House of Delegates. The convention took place in Dallas, Texas and hosted students, faculty and nursing leaders from across the United States. This year's conference, entitled "Think Big: Nursing on a Global Scale," took place from April 5-9, 2017. Activities at the convention included general sessions, seminars, and workshops about current nursing trends and issues. 
Four Boston College nursing students who currently serve on the MaSNA Board of Directors — Dana Cavanaugh, Charlotte Chang, Sydney Conti, and Abiola Lawal—participated in the House of Delegates at the convention, debating and voting on resolutions to the NSNA Code of Ethics and on amendments to the NSNA Bylaws. Three other BC students—Brittney Bentivegna, Kesla Silaj, and Sarah Woods—also attended as BC Student Nurse Association delegates.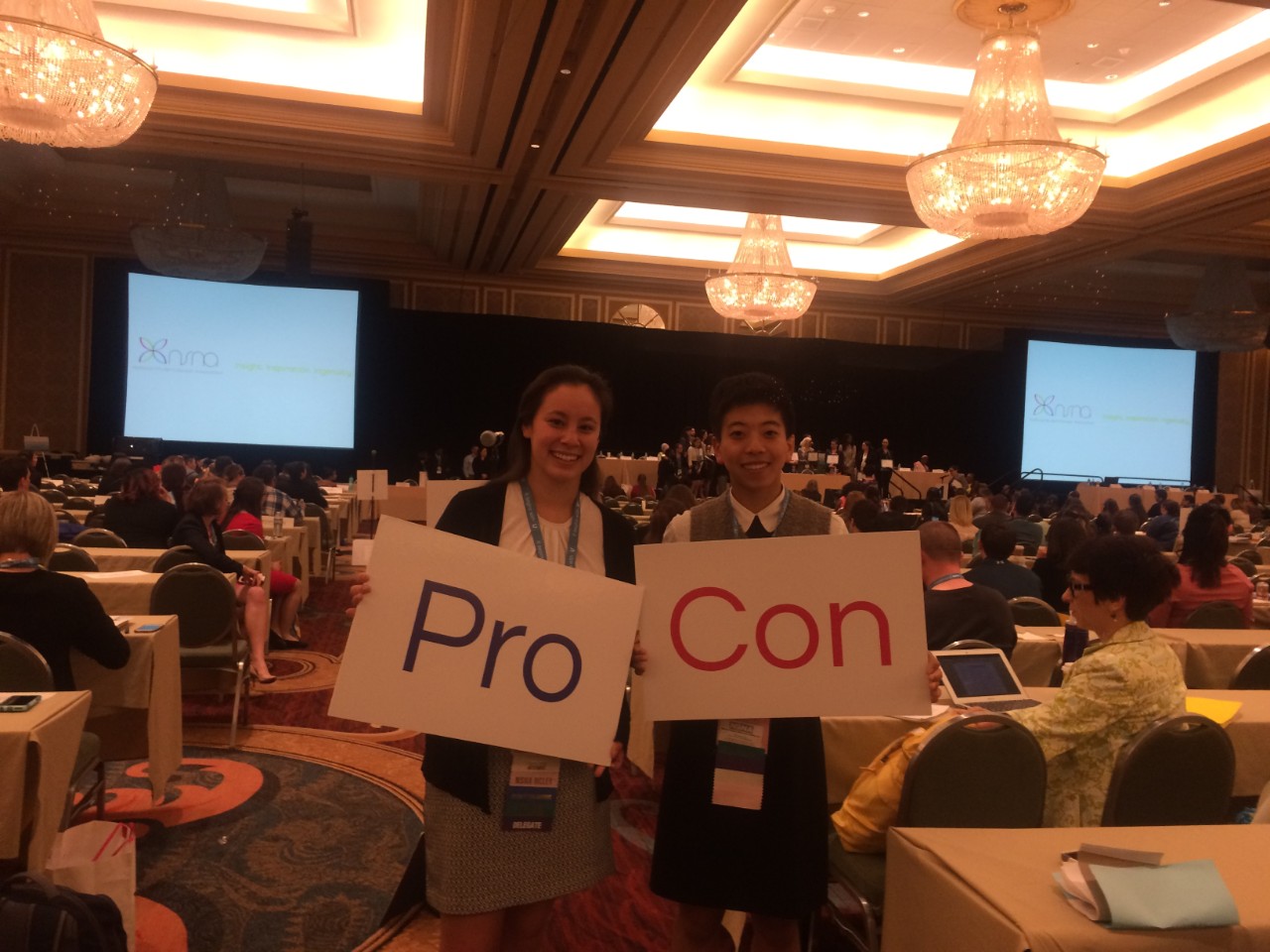 The representatives had the opportunity to debate pros, cons, and potential edits for many different resolutions. Upon hearing from a variety of perspectives from nursing peers across the U.S., the delegates voted on issues impacting the nursing community. This year, the MaSNA authored a resolution to increase awareness for compression only CPR for lay first responders.  CSON Professor Judith Shindul-Rothschild, the students' advisor, explained, "the process of writing, submitting and revising a resolution was an arduous yearlong process that involved close collaboration with the NSNA Resolutions Committee." After BC students Sydney Conti and Charlotte Chang addressed the hundreds of nursing student delegates in attendance, the resolution was passed successfully. 
Returning from the conference, the students agreed that their experience serving on the MaSNA Board has inspired them to become more involved in policy in their future nursing careers. Sydney Conti explained, "it had never occurred to me that a nurse can and should be heavily involved in politics. As one of the speakers I met said, 'you are an expert student nurse, no one knows what it's like to be a student nurse better than you and that's why nurses should be involved in politics.'"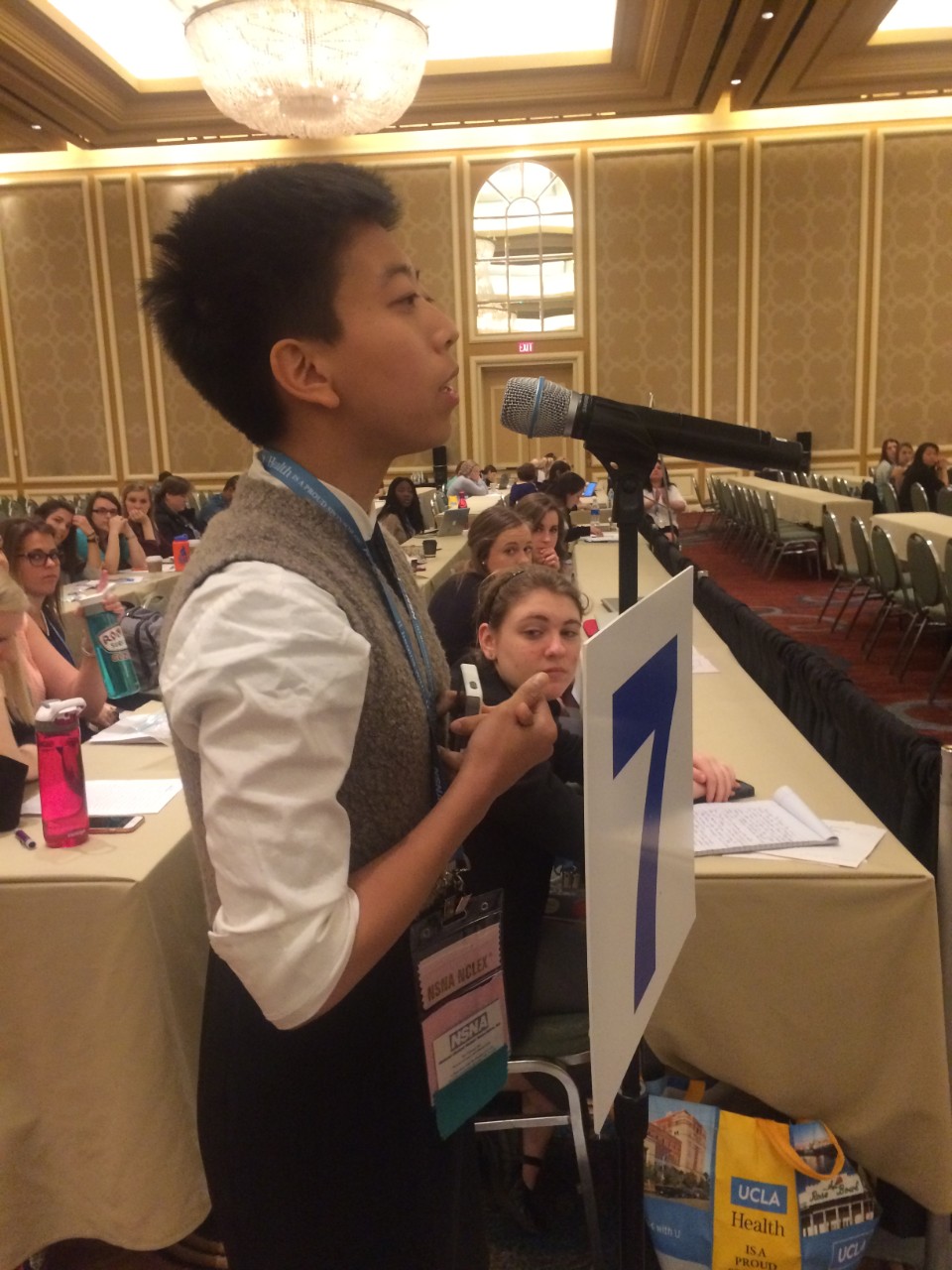 Charlotte Chung added, "professional organizations give us a way to voice the injustices and changes that we as nurses know can be made to improve healthcare in public policy, and being on the Board of Directors has shown me that it is my duty to take the initiative to make this further difference."
When asked whether they would recommend the experience to other BC students, the response was a resounding yes.
"I would absolutely recommend serving as a BC representative to other nursing students. It's an amazing opportunity to grow and to be around other nursing students interested in learning and changing the nursing world," commented Abiola Lawal. "At times, it's hard to feel like we nursing students are adding to the greater nursing profession at this stage but by being a part of the board, you see the power nursing students really possess."
Of the overall experience, Dr. Shindul-Rothschild said, "This was truly a team effort and I am so proud of the professionalism, commitment and dedication of all of the BC students who represented Boston College and the Commonwealth of Massachusetts with distinction. Each of these BC students represent the future leaders in nursing and I can confidently say, we are in good hands!" 
—Lillie Karch, Connell School of Nursing | Photographs by Judith Shindul-Rothschild