The rallying cry for corporations to make a social and environmental impact on their communities reached a fever pitch in 2020. When the COVID-19 pandemic collided with calls to address systemic racism and inequalities following the May 2020 murder of George Floyd, employees and consumers alike demanded that corporations do something. With unprecedented times came immense pressure, and while some corporations buckled under the weight of inaction, others saw the challenges as opportunities.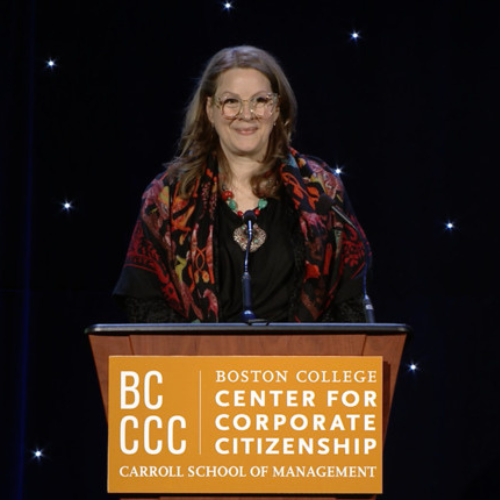 Throughout the pandemic, corporate citizenship professionals have been on the "front lines," said Katherine V. Smith, executive director of the Boston College Center for Corporate Citizenship, in her opening address at the Center's annual International Corporate Citizenship Conference. The event spanned three days in late April at the spacious Westin Copley Place hotel in Boston, in-person for the first time since 2019. Speakers highlighted the many ways companies have been tested over the last two years, whether the task was deciding how to support their local communities, or ordering masks and other personal protective equipment to keep employees safe and healthy.
Corporate social responsibility has recently gained greater visibility, but the Center, along with its annual conference, has been at the forefront of these conversations since its founding in 1985. More than 500 industry veterans, newcomers, and leaders—most of whom work for the Center's 500 member companies—joined together to discuss the conference theme: "Better, Bolder, Brighter Future." Developed by convening sponsor Liberty Mutual, the phrase entails "making the world better by being bolder and working together towards a brighter future," explained Melissa MacDonnell, president of the Liberty Mutual Foundation and MBA '98, during opening remarks on Monday, April 25.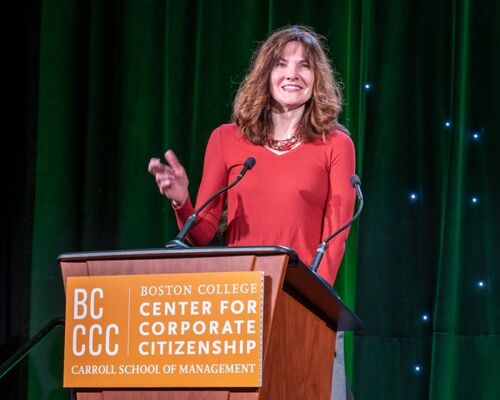 More corporations than ever are offering programs like charitable donation matching, paid time off for volunteering, and other perks to their employees in the wake of the pandemic. While such initiatives have to get a green light from sometimes reluctant senior leadership, boosting participation in efforts that require employee buy-in has become a challenge of its own. At an afternoon breakout session on Monday titled "From Woodstock to TikTok: Engaging socially conscious employees across generations," one conference attendee asked the panel of industry leaders how they address burnout within their organizations, particularly when it comes to encouraging employees to volunteer outside of business hours.
Although people "want to take action more than ever," clarified the attendee, "we all need to take breaks, especially now." A feeling of mutual understanding filled the crowded conference room, with solemn nods of solidarity passing across the faces of about 75 professionals seated in long wooden desks adorned with reusable water bottles and insulated coffee cups.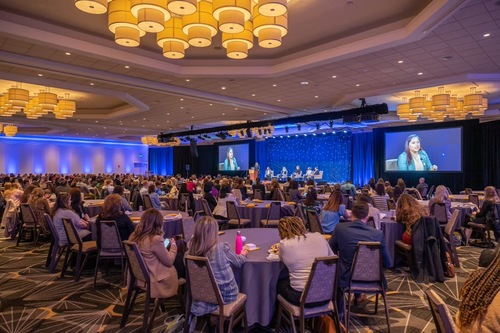 Gary Levante, senior vice president of corporate responsibility and culture at Berkshire Bank and moderator of the panel, offered some unexpected advice in response. "Intentionally scale back the number of events and options," he recommended to the group of engaged industry members. In a landscape where it often feels like corporations can never do enough to combat the harmful effects of climate change and address challenging social issues like racial and economic inequality, scaling back might feel counterintuitive. With so many competing priorities, doing less, in some instances, may be a more realistic and necessary option.
Getting the word out
Yet for some businesses, the larger issue isn't that they aren't doing enough, or are doing too much—it's that they aren't communicating their efforts clearly. 
At a morning breakout session named after the conference theme, in a small room bursting with more attendees than seats, Smith asked the panelists to describe a problem their departments faced in the last two years. Joan Christel, senior vice president of corporate citizenship and global inclusion at State Street Corporation, described a situation that came up in the wake of George Floyd's death. Christel, a 2000 alum of the Carroll Graduate School of Management, explained that back in 2020, employees began to question if the company was doing anything to combat racial inequality from a philanthropic perspective, which she knew it was. Since 2010, State Street Foundation has been investing in nonprofits that focus on education, college success and employability. However, many employees were not making the connection between this work and addressing racism in education, a "fundamentally uneven" system.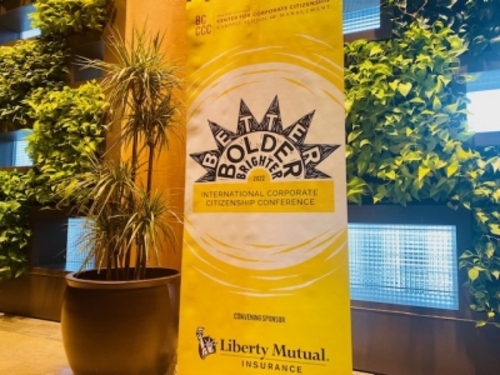 As Christel put it, "we realized we needed to embrace the language of social justice, not corporate terminology," referring to the use of phrases like "workforce development" rather than something more explicitly tied to racial equity. Now, the State Street Foundation's website explains that they've since added "racial equity as a funding focus" in an effort to "address systemic racism in education and employment."
Despite the many challenges—and what hasn't been a challenge over the last two years?—social unrest has also presented far-reaching opportunities for corporations to do good.
During an early afternoon session titled, "Catalyzing racial equality: The role of the private sector," presenter Ebony Thomas, senior vice president of racial equality and economic opportunity at Bank of America, detailed what happened when she started in her role at the bank, "at a watershed moment, in a world with an intensified passion for racial equality," back in July 2020.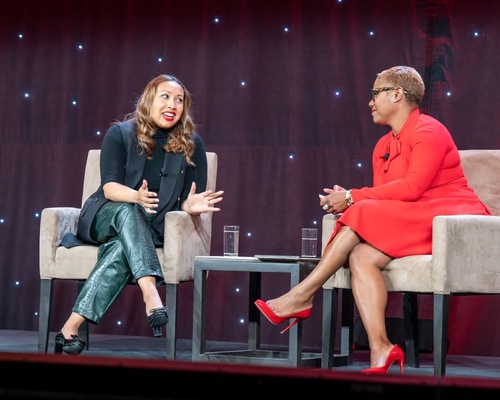 "The tragic death of George Floyd really highlighted the deep disparities that had already been known by communities of color, for all the world to see," said Thomas. "Bank of America already had a commitment, on which we doubled down as a result of the tragedy."
One such commitment was a seven-figure investment made by Bank of America in venture capital firm Visible Hands VC, a company dedicated to correcting inequity in startup funding. Yasmin Cruz Ferrine, MBA '18, general partner at Visible Hands, joined Thomas on stage and highlighted the disparity between investment dollars given to "white men in hoodies" compared to what is available to female entrepreneurs and people of color.
Shifting priorities for corporate citizenship
This heightened focus on diversity, equity, and inclusion is a rising trend in corporate citizenship, according to the Center's The State of Corporate Citizenship Report 2022, which was distributed at the conference. As part of the study, executives were asked to rank which environmental, social, and governance efforts—known in the industry as "ESG"—"offer the most business value now, how these priorities have changed since the 2020 study, and which factors they expect will be most prioritized in the future."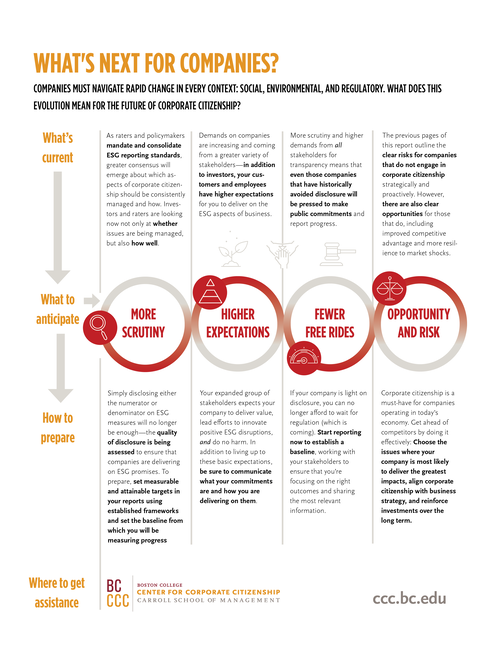 One of the most striking results was the rise of "diversity, equity, and inclusion" from position four in 2020 to position one in 2022, where it is expected to remain through at least 2025. "Employee health and wellness," which previously retained the number one slot, fell to position two in 2022. In the third slot is "greenhouse gas emissions," rising dramatically from position nine, two years ago, highlighting the growing worldwide concern surrounding climate change.
With a variety of competing priorities for businesses to balance, the key, according to Smith, is working together as an organization. "The big opportunity is to reach across the aisle, and connect with other departments and the whole company," Smith encouraged during remarks at a Monday morning session. "Integration yields success, and disaggregation makes it difficult to achieve success."
As corporate citizenship leaders embrace new challenges and opportunities, the good news is that they face less and less pushback from senior management, a welcome change from even a decade ago.
"Corporate citizenship is now an imperative," said Smith. "Executives no longer debate whether corporate citizenship is worth participating in."