Shea Center's TechTrek course is still on the move, embracing the entrepreneurial spirit in a new digital format with help from alums
It was a harbinger of future disruptions: After a jam-packed series of visits to tech giants including Apple, Salesforce, and Google, students on the March 2020 TechTrek West trip had their final scheduled visit at Facebook cancelled due to mounting concerns about the novel coronavirus. It's been almost a year, and although the weeklong visits to Silicon Valley that served as a hallmark of TechTrek feel like a thing of the past, TechTrek is still on the move.
From multiple cohorts and twice as many weeks of classes to more intimate Zoom meetings with long-distance CEOs, the entrepreneurial spirit of TechTrek has allowed the course to make the most of its new digital format. An experiential learning program run by the Edmund H. Shea Jr. Center for Entrepreneurship, TechTrek West is a competitively admitted three-credit course that traditionally culminates in a field study trip to San Francisco over spring break.
These days, TechTrek West students meet virtually each week for two to three online interactive sessions with prominent entrepreneurs and business leaders. On alternating weeks, they also meet in-person with their split cohort groups to preserve the small-group, discussion-based curriculum. The split cohorts and virtual meetings have allowed the program to expand dramatically, leaping from 24 students in previous years to 43 students this semester.
---
"Creating the entrepreneurial mindset"
Get a taste of TechTrek with this new video about the course:
The course has also doubled in length from six to 13 weeks. Rather than focusing on six weeks of preparation and then a series of meetings over Spring Break, the extended format allows students to continuously meet with entrepreneurs throughout the semester and integrate those meetings with the curriculum, which covers a range of topics, from venture capital funding to artificial intelligence and social impact.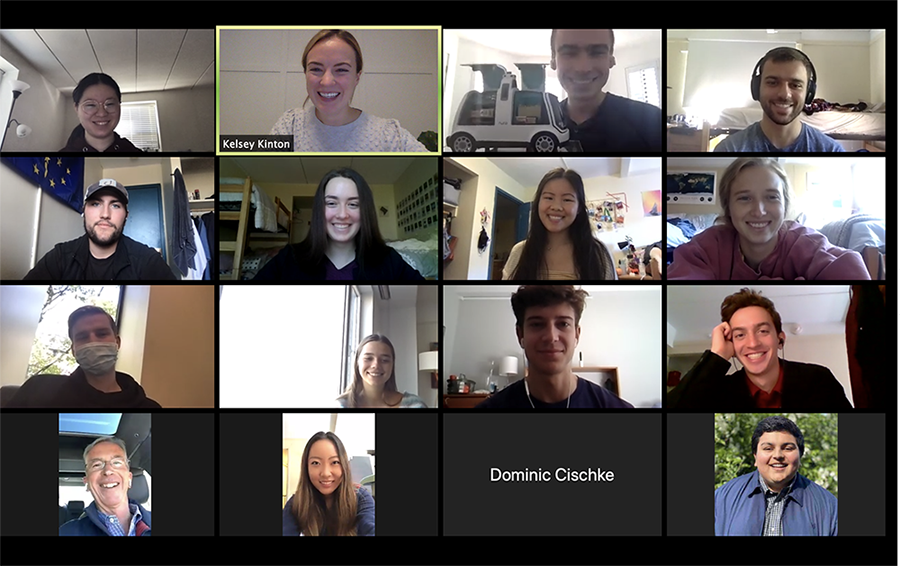 The growth hasn't just been in terms of size—the virtual format has allowed the meetings to expand beyond the geographic limits of San Francisco to include business leaders across the country. For instance, a Feb. 8 call with two alums at Amity Ventures spanned three time zones. As TechTrek students logged on from Chestnut Hill, Chairman Peter Bell '86, P'20 called in from Wyoming, and Co-Founder/Managing Partner CJ Reim '13 joined from California. "Zoom gives us way more flexibility to invite people from all over to speak," said Shea Center Associate Director Kelsey Renda, citing this semester's lineup of speakers.
In some ways, the adaptation of TechTrek West has served as an exercise in entrepreneurship itself. "We were ideally suited to pivot to the online environment, because we already have that mentality. It's a core feature of entrepreneurship we're trying to instill in students," Professor Jerry Kane said in a recent Q&A on TechTrek in the COVID Era.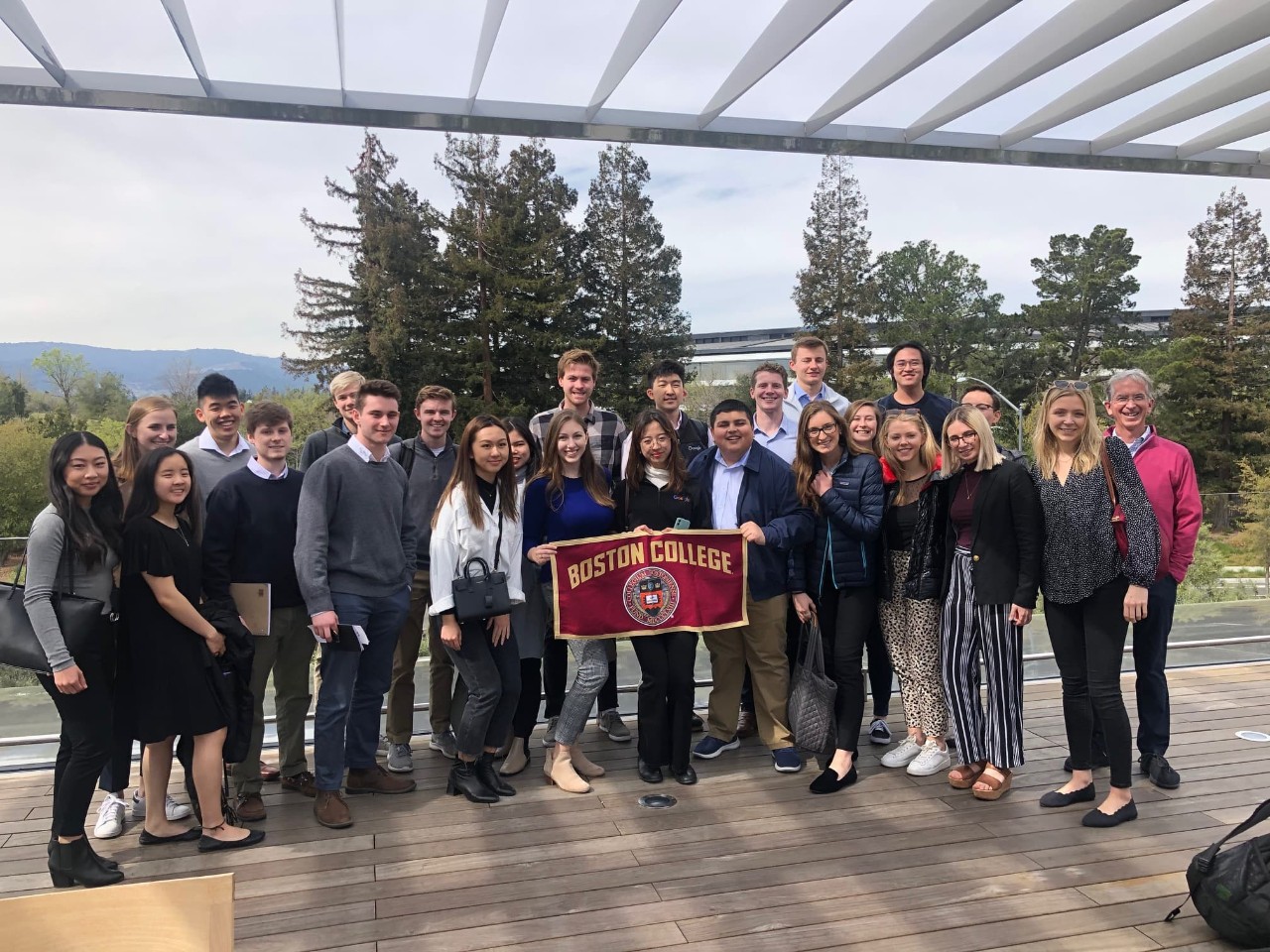 The growing class sizes are also an example of a particular entrepreneurship concept in action, added Shea Center Popolo Family Executive Director Jere Doyle '87, P'15 in the Q&A: "As an entrepreneur, you always think about how to scale. We've always wanted to scale this course, but we had challenges." Those challenges, mainly about the logistics of bringing dozens of students across the country and into startup headquarters, have been circumvented this semester with the new digital format. Now, rather than bringing the students to the entrepreneurs, the entrepreneurs come to the students.
Many of those entrepreneurs who Zoom into the TechTrek classroom are Boston College alums, and for them, the virtual visits are both a homecoming and a way to help engage students during the pandemic. A virtual visit "allows us to reach out and get a greater diversity of alumni involved, because it really is this nice way for alumni to give back and interact with students and for students to learn from our best alumni," said Kane.
Those alums include many who benefited from Boston College's strong entrepreneurship culture while they were students. Riley Soward '18, who met with TechTrek students on February 23, is a product operations manager at self-driving delivery company Nuro. His start-up experience began while he was still at Boston College, where he founded successful market research company Campus Insights during his freshman year. Other alumni speakers from a host of tech and entrepreneurship industries have included, among others, James Loftus '00, global ecosystem lead at mobile payment giant Cash App, and Brad Klune '14, director of operations at Instawork, an on-demand staffing app for hospitality gigs.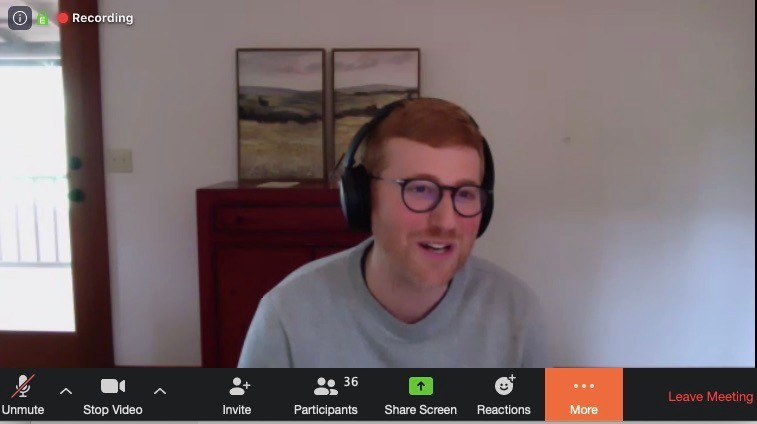 Another alumni speaker, Bill Clerico '07, CEO of online payment service WePay, has come full circle with TechTrek: His first visit to Silicon Valley was years ago as a TechTrek student. Last spring, shortly after programming went online, Clerico met virtually with Shea Center students for the first time. Back then, he offered the advice, "Crises like these are never fun, but they can create opportunities for startups." When Clerico returns to the virtual TechTrek classroom on March 1 for another Zoom meeting with Shea Center students, that entrepreneurial spirit of opportunity will be on full display in the form of the new (and improved) TechTrek West.
And Then There's TechTrek East
Other TechTrek programming has also adapted to the virtual format. In addition to TechTrek West in the spring, the Shea Center in recent years has also offered a three-credit TechTrek East class in the fall semester, featuring a field study trip to New York City and multiple day trips to local Boston businesses. Notwithstanding the "East" title, virtual visits allowed last semester's TechTrek East students to meet with entrepreneurs from as far away as Chicago and the West Coast.
TechTrek Boston, the Shea Center's extracurricular, non-credit version of the TechTrek program, has sessions open to all graduate and undergraduate students that traditionally involve Friday afternoon visits to Boston-area businesses for Q&A sessions with executives.
This semester, the lines between all of the TechTrek offerings have blurred somewhat. Thanks to the absence of size constraints for Zoom meetings, many of the TechTrek sessions are open to any student (including those not involved in TechTrek), under the title "Zoom with an Entrepreneur," giving all students an opportunity to learn from some of Boston College's most entrepreneurial alumni.
---
—Rachel Bird, Carroll School News