As professors and students heroically carry on the teaching, learning, and engagement this semester, alumni have stepped forward as well. Case in point: the Edmund H. Shea Jr. Center for Entrepreneurship. It brings graduates who are innovating across business sectors back to campus for frequent networking events—and recently moved its meetings online. 
"The alums love it," says the Shea Center's Popolo Family Executive Director Jere Doyle '87, P'15. "And they want to give back to the school, in part by working with the students." Not only are alumni eager to support students during a difficult time, but it has been easier to line up sought-after speakers for virtual events. "They could be in New York, Silicon Valley, anywhere," notes Doyle—too far for an in-person visit, but eager to connect with students over Zoom.
In addition, some who'd signed on to mentor student startups in the Shea Center's 10-week accelerator program this spring continued to meet with teams virtually until their Demo Day on April 16. What follows is a look at two of the recent sessions. And, an updated list of participating alumni appears at the end of this page.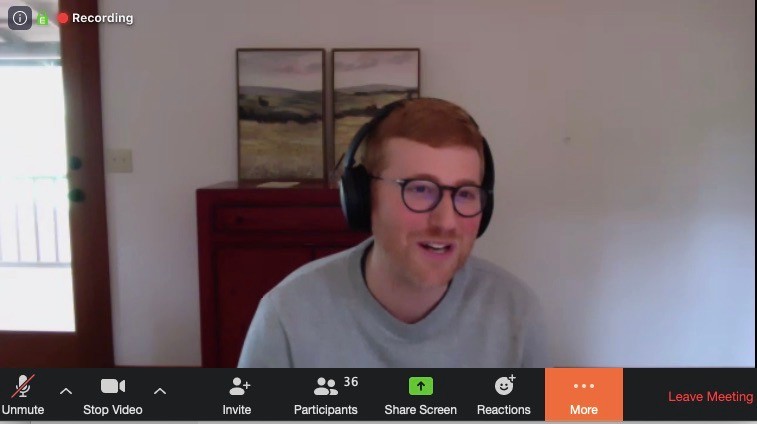 By Patrick L. Kennedy '99
In our current moment of crisis, 40 Boston College students tuned in online to hear the reassuring story of a young alum who bounced back from the 2008 financial meltdown, going on to attain success he had never imagined.
"After graduation, I worked in investment banking, an industry that was on fire, in a good way," Bill Clerico '07 said on March 27th in his virtual chat, hosted by the Edmund H. Shea Jr.  Center for Entrepreneurship at the Carroll School. "And shortly thereafter, it was an industry on fire, not in a good way."
It was then, during a time of dislocation and unemployment, that Clerico and classmate Richard Aberman chose to start a company, WePay. 
"Crises like these are never fun, but they can create opportunities for startups," said Clerico, who is based in the San Francisco Bay Area. If anything, he added, being your own boss is preferable during a down period: "The great thing about entrepreneurship is you always have a job."
WePay would become a leading provider of integrated payments for software platforms, with $100 million in revenue. It was purchased by JPMorgan Chase in 2017. Clerico, as CEO, now oversees 300 employees around the globe.
The event was part of the Shea Center's now-virtual Lunch with an Entrepreneur series. Jere Doyle '87, the Center's Popolo Family Executive Director, co-hosted the Zoom meeting along with Jack McClelland '22 and other members of Start@Shea, the center's student executive team. McClelland and colleagues collected and relayed a steady stream of questions from their peers—which began about 15 minutes into the program and kept flowing for an hour. (The audio for most attendees was muted, but students submitted questions via Zoom's chat feature.)
In his opening remarks and in his responses to questions from the student participants, Clerico recounted the ups and downs of his journey with WePay. The company began as a way for friends to split the costs of ski trips before evolving to fill a need for small businesses (a simplified process for collecting payments online).
Take Control Amid the Chaos, Says Lindsay LoBue '96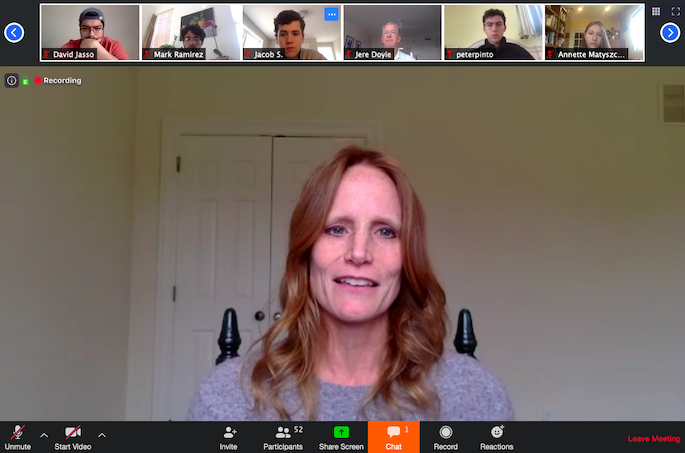 "Chaos and change do create huge opportunities," said Lindsay LoBue '96 to nearly 50 attendees of the Shea Center's now-virtual Lunch with an Entrepreneur on April 1. LoBue, advisory director at Goldman Sachs and founder of Greenback Labs, was a week away from putting significant capital into a new venture when markets collapsed last month. Hardly deterred, LoBue says companies should take control amidst the chaos and adapt accordingly. For instance, her first startup, Greenback Labs, uses interactive media to teach kids financial literacy. As social distancing pushes schools to embrace online learning, LoBue predicts that the red tape she faced trying to bring those tools into schools will disappear. "We are just not going back to the way it was. And there are opportunities to leverage that."
— Leslie Ganson
Along the way, the young entrepreneurs took risks that often paid off, like when they disrupted a PayPal conference in San Francisco with a 600-pound block of ice encasing cold hard cash and the message "PayPal freezes your accounts."
"We got more publicity out of that conference than PayPal did," Clerico recalled. "You can do that when you're a small company with nothing to lose."
"That might be my all-time favorite entrepreneurship story," laughed Doyle, himself a successful serial entrepreneur who continues to advise startups, CEOs, and senior management teams.
Among other tips dispensed by Clerico: Try different things to gain a wide range of experience. For Clerico, that included different majors (settling on computer science in the Morrissey College of Arts and Sciences). Outside of classes, he volunteered for the American Red Cross, which gave him his first taste of leadership. He also co-founded what is now the Shea Center's Strakosch Venture Competition.
And, it can now be revealed, Clerico performed as Baldwin the Eagle, the Boston College athletics mascot. Through that experience, he met Boston College Trustee Peter Bell '86, a highly respected investor who would become critical to WePay's early efforts to raise funds.
Clerico also advised students, in his responses to questions from Jenny Chu '21 and Fergal Flood, MBA'20, to "follow your passions and be flexible." The business you start might evolve as WePay did, Clerico said, but your chances of success are higher "if you're generally pointed in a direction you're deeply passionate about—something you can get excited about devoting the next decade of your life to."
Clerico's was the first of a slew of upcoming Shea Center events online, including video chats with Lindsay LoBue '96, founder of Greenback Labs and advisory director at Goldman Sachs, and Bijan Sabet '91, co-founder of Spark Capital.
Patrick L. Kennedy, Morrissey College '99, is a contributing writer at the Carroll School of Management.
April 20 Update:
Alumni who've engaged remotely in events hosted by the Shea Center include: Bill Clerico '07, Founder and CEO of WePay; Lindsay LoBue '96, Advisory Director at Goldman Sachs and Founder of Greenback Labs; Bijan Sabet '91, P'21, Co-Founder and General Partner at Spark Capital; Peter Bell '86, P '20, General Partner at Amity Ventures; Johnny Ayers '08, M.S. '09, Co-Founder and Senior Vice President at Socure; and Trevor Stuart '09, Co-Founder of Split Software. Four others recently judged the Shea Center's Strakosch Venture Competition: Greg Strakosch '84, P '14, '16, and '17, Co-Founder and Executive Chairman of TechTarget; Joe Popolo '89, P'20, CEO of Charles & Potomac Capital; John Murphy '07, M.S. '09, Co-Founder and Managing Partner of Hyperplane Venture Capital; and Frances Schwiep '11, Principal at Two Sigma Ventures.
Alumni, of course, aren't the only presenters at these Zoom events. Among others: Niraj Shah, CEO and co-founder of Wayfair, who spoke with students on April 17.
Header photo via Nhat V. Meyer / Nhat V. Meyer / Tribune News Service