Chatting with the Carroll School's new tenure-track faculty members, it's easy to come away with the impression that each one of them likes being uncomfortable, or at least they enjoy their time outside comfort zones. You could get that sense, just from the breadth of their experiences and their familiarity with, well, the unfamiliar.
These assistant professors have journeyed from homelands ranging from China to Canada. They include a management and organization professor who tried her hand at standup comedy on Zoom during the lockdowns, and an accounting professor who climbed up the world's tallest free-standing structure (for charity). And, all four are scholars on the brink of consistently publishing in some of the world's top academic journals in their fields.
Meet the new faculty.
---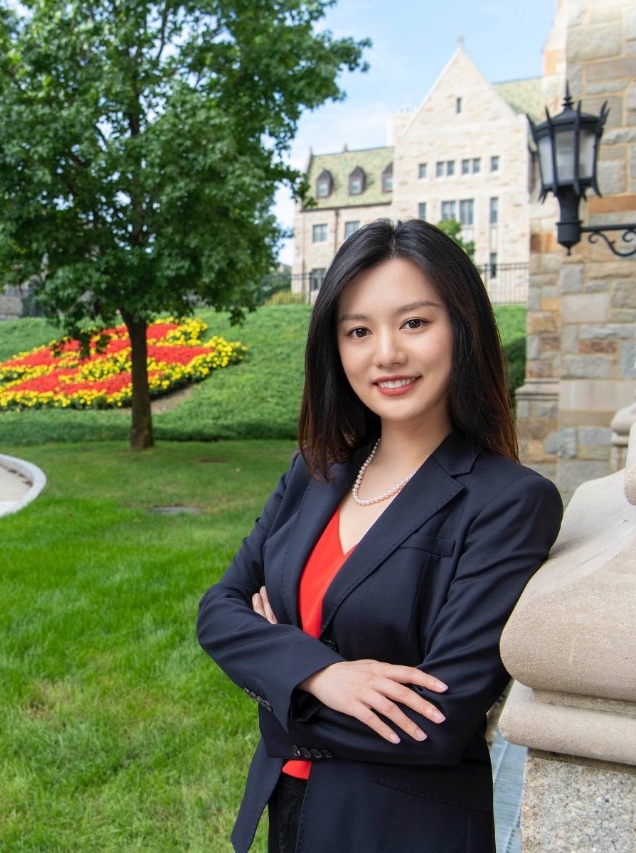 Hanyi (Livia) Yi
Assistant Professor, Finance
Ph.D., Rice University
Research interests: corporate finance, public finance, urban economics.
Livia Yi is originally from Changsha, in China's Hunan Province—a city known for its "spicy food and warm people," she notes. Having sought out studies and professional opportunities in countries ranging from the U.S. and China to Ireland and Switzerland, Yi thrives on unfamiliarity. In fact, she says one of her goals as a teacher is to help students from underrepresented backgrounds navigate diversity: "It takes courage to convey ideas in unfamiliar environments—to overcome fear of being excluded or misunderstood."
An assistant professor, her scholarship has already attracted notice in popular media outlets such as The Economist and Forbes. Yi's research has taken her deeply into investigations of public finance—for instance, looking at local governments and how their access to financial markets affects both the quality and quantity of public services. She has also delved into the gig economy, focusing on the positives and negatives of ridesharing platforms, which bring new entrepreneurial opportunities but also increased fatalities and congestion.
Yi—who majored in finance and physics as an undergraduate at the University of Notre Dame—makes it clear that she'll be casting her net widely for ideas and insights. "Ideas can originate from many sources," she says, "and a great source of inspiration is frequent intellectual conversation with students."
---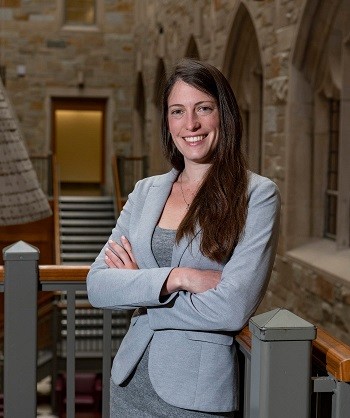 Milena Wittwer
Assistant Professor, Finance
Ph.D., Stanford University
Research interests: financial markets, market design, industrial organization.
Milena Wittwer is from Berlin and began her doctoral work in the gentle hills of Tuscany, before heading out to the West Coast of the U.S. for further studies. These and other experiences have shaped her perspective: "I highly value diversity—the more colorful the better! And I'm curious to learn about anything I know little about."
She has not one but two Ph.D.s in economics: the first from the European University Institute in Italy (2018); the second from Stanford University (2021). "I am really interested in the industrial organization and design of financial markets," Wittwer says, adding that she is doing both empirical and theoretical work to answer questions like "Why are markets fragmented?" and "What market mechanism achieves a fair price?" One of her papers—with a title also in the form of a question, "Connecting Disconnected Financial Markets?"—appeared earlier this year in the American Economic Journal.
"Doing research means progressing step by step, and not giving up easily, even after harsh rejections," Wittwer adds. "I hope to find a way to pass this skill onto my students, because most things take time to come out right."
---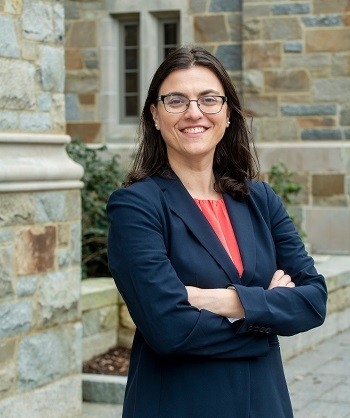 Natalie Berfeld
Assistant Professor, Accounting
Ph.D., MIT Sloan School of Management
Research interests: financial accounting, auditing, disclosure.
Born in Russia, Natalie Berfeld began moving around early and often as a child—"so I'm used to adapting to new environments and seeking out new experiences," she says. In one such experience, she climbed what was for decades the tallest free-standing structure in the world—the CN Tower in Toronto. She scaled it as part of a charity fundraising event held by the United Way.
Before doing her doctoral studies at MIT, Berfeld picked up an M.B.A. there, while also working in industry as a risk professional and management consultant. A trained actuary, she thinks a lot about the impact of risk on business operations: how underlying risks "can be mitigated and shared among market participants," says Berfeld, who earned her B.A. in math from the University of Waterloo in Ontario, Canada.
One of her working papers, authored with two colleagues, studies whether having a public financial statement makes it easier for private firms to raise venture capital and attract private equity financing. "Our evidence highlights the importance of public financial statements in the decision making of private investors, an important and under-studied segment of the financial market," she says in a synopsis of the research. This year, her research agenda includes studying the key role of auditors in uncovering irregularities in accounting practices.
---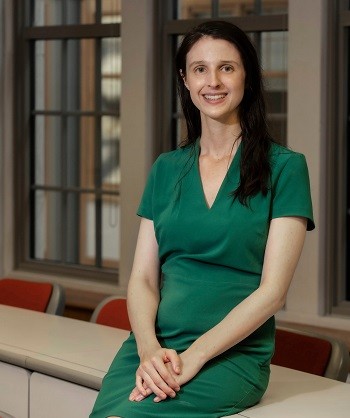 Vanessa Conzon
Assistant Professor, Management and Organization
Ph.D., MIT Sloan School of Management
Research interests: organizational change, employee autonomy, professional and expert work, diversity and inclusion, STEM work.
She plays the trumpet and can juggle (though not at the same time), and she did some standup comedy on Zoom as a pandemic hobby. Vanessa Conzon also has a slew of academic papers under review by some of the world's top management journals.
In her research, Conzon studies how to balance the autonomy of employees with the organizational goals of their companies. Such a focus inevitably brings her into issues such as gender and work-life policies (she has two small children of her own). Conzon looks at the tensions that arise as employees and managers negotiate the boundaries between work and life, as well as their efforts to reconcile these personal and corporate objectives.
For the most part, she uses qualitative methods of research, especially ethnography (which includes interviewing and observation), but she also incorporates quantitative methods into her field studies. Most of those studies have involved, as main subjects, scientists and other employees in STEM professions.
She believes that research of this kind can enlighten students both as future leaders and as individual employees. "People are whole people, not just workers," says Conzon, a Canadian who did her undergraduate work in economics at McGill University in Montreal (while minoring in math and philosophy). "When students go into organizations, they'll still be whole people, and hopefully they'll focus on not just organizational goals but also the impact of these goals on others."
---
In addition, the Carroll School also has a new visiting assistant professor, Mathias Hasler—who earned his Ph.D. in finance from none other than Boston College. Read his full bio at the Carroll School's website.
---
Campus portraits by University Photographer Lee Pellegrini