Amid teaching emergencies, professors find ways to carry on research conversations
UPDATED: April 21, 2021
For Carroll School of Management professors, innovating their way around a new, "hybrid" classroom isn't the only adaptation this unusual year has demanded of them. The Carroll School's world-class faculty have also carried on with their research remotely—and are continuing to come together virtually to talk about it. 
Since launching in 2010, the Bartunek Faculty Research Forums have been a cornerstone of the Carroll School's active research community. Three times a year, faculty from a diverse array of management specialties come together to hear one of their colleagues present on his or her current research. And it's far from a one-sided exchange. Attendees from across departments offer up questions, feedback, and cross-curricular considerations on the topic at hand—usually over a shared meal in Fulton Hall. 
It goes without saying that maskless lunch meetings are a nonstarter on campus this year. But the Bartunek Forums have carried on with remarkable engagement online, even in an era of chronic Zoom fatigue.
The first such gathering of the spring was held on February 24. Forty or so faculty logged in remotely on their lunch hour to hear Assistant Professor of Information Systems Marios Kokkodis present on a research question that is all the more relevant in the COVID economy: How can skilled workers increase their value and hireability in a rapidly changing job market? 
"Workers often make poor choices on new skill acquisition," Kokkodis explained; they gravitate toward the most popular career tracks, which are often already saturated by the time they make their move. So the information systems professor designed a solution, recently published in Management Science, that steers workers in more fruitful directions.
Kokkodis's artificial intelligence framework delivers objective, forward-looking recommendations for people wanting to boost their earnings potential by learning a new skill or pivoting their career path. Unlike other automated career advisers, Kokkodis's system doesn't just serve up the most sought-after skills in a given industry in recent years (too outdated). Nor does it consider workers' online rankings from past gigs, which many hiring websites display (too subjective). Instead, it predicts future demand based on current labor market trends, and then squares that data with a person's current skill set to calculate the most profitable options for their next career move. (It even accounts for the actual and opportunity costs of acquiring the new skill.)
Kokkodis delivered his presentation from home, while Professor and James F. Cleary Chair in Finance Jeffrey Pontiff moderated the live chat from his office. Aside from their differing backdrops, the discussion among attendees sounded a lot like the forums of years past. Faculty lobbed nuanced academic inquiries (Does the model consider the impact of predictive shifts in supply and demand in the labor market?), along with a touch of good-humored banter (So what skills should we all learn next?). Curiosity, critical analysis, and the occasional collegial joke—the elements of a strong research culture prevailed.
It's undeniable that social distancing has restricted the kind of stimulating academic interactions that the Carroll School has long sought to foster. Faculty conducting research from their safe havens on and off the Heights are not running into each other as often in passing, or meeting up for coffee and "Good Conversations" (a program sponsored by the Dean's Office that reimburses faculty for informal lunch meetups where research or teaching is discussed in some depth). 
Even still, the virtual Bartunek Faculty Research Forums held so far this year have been reminiscent of their in-person originals—revealing a scholarly community well-practiced in engaging in an interdisciplinary exchange of ideas.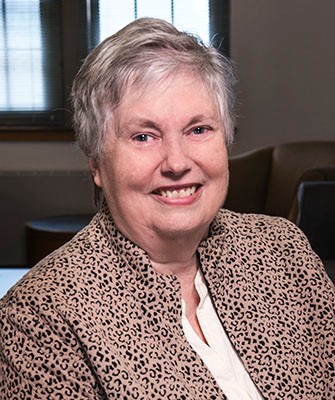 The first virtual gathering of the year was held on November 3, 2020, and featured Assistant Professor of Finance Francesco D'Acunto, who shared his findings on the promises and pitfalls of robo-advising. Jean Bartunek, who is the Robert A. and Evelyn J. Ferris Chair and Professor of Management and Organization as well as the series' namesake, noted surprising overlaps between D'Acunto's field of study and her own, and thanked him "for starting us off in a way that we needed starting off, with a really intriguing talk."
Suntae Kim, an assistant professor in the Management and Organization department, delivered the third and final Bartunek forum of the year on April 20. Kim researches how successful businesses nimbly adapt their cognitive approaches and develop novel processes in the face of a crisis. His empirical findings from a 22-month ethnographic study of a business incubator in Detroit, which happened to overlap with the city's 2013 bankruptcy crisis, is pending publication in Administrative Science Quarterly. More recently, Kim has also studied the resilient response of South Korea's government to the COVID-19 pandemic.
In the meantime, faculty are continuing to engage with scholars from outside the Carroll School as well, at a time of cancelled conferences and restricted out-of-state travel. Each Thursday, an email arrives in their inbox announcing the upcoming week's "Research Conversations." These (now virtual) presentations feature prominent academics from universities across the globe, and cover a broad swath of management topics from finance and accounting to marketing and business analytics. In spite of the pandemic, the event series has maintained a steady schedule of presenters, with at least one (and often multiple) Research Conversations taking place on most weeks that classes are in session.
— Leslie Ganson, Carroll School News