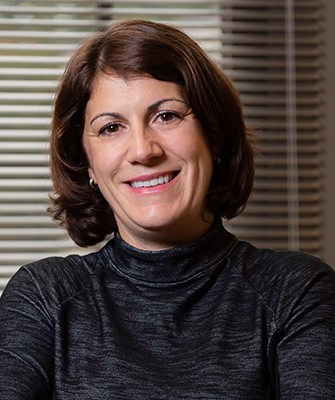 If you knew your empty beer cans might find new life as a brand-new bicycle, wouldn't you be more likely to toss them into the blue recycling bin than onto the grass? According to Associate Professor of Marketing Gergana Nenkov, the answer is yes.
Nenkov, who is also the Carroll School's Haub Family Faculty Fellow, co-authored a study on recycling that earned the prestigious H. Paul Root Award for 2019. Named for a past chair of the American Marketing Association (AMA), the Root Award honors the most significant contribution to the advancement of the practice of marketing in a given year. It is jointly offered by the AMA and the Marketing Science Institute (MSI).
With ads posted at tailgate party areas on college football game days (as well as in dorms and other sites), Nenkov and colleagues Karen Page Winterich and Gabriel Gonzales found that people are more likely to recycle when ads show them that used items (e.g., empty bottles and cans) can be turned into new products (e.g., jackets and even bicycles).
"Knowing What It Makes: How Product Transformation Salience Increases Recycling" was published in the July 2019 Journal of Marketing. In conferring the award, MSI and AMA judges cited the researchers' "exceptionally well designed and creative lab and field studies" and the paper's real-world impact. Already, the organizations Keep America Beautiful and Keep Pennsylvania Beautiful as well as the California Department of Resources Recycling and Recovery are redesigning their recycling campaigns to make use of Nenkov's findings.
To learn more, read our previous coverage of Nenkov's research, as well as the full paper in the Journal of Marketing.