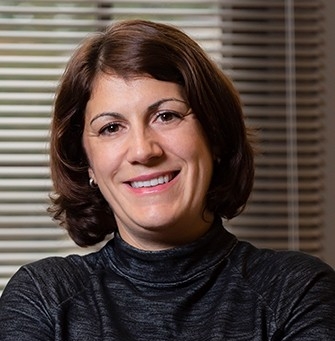 When you throw a water bottle into a recycling bin, do you pause to consider what the future holds for that bottle? Will it have a second life as a pair of shoes, a bathing suit, or maybe another bottle? Carroll School of Management marketing professor Gergana Y. Nenkov recently published research in the Journal of Marketing on how sharing these transformational possibilities for recyclables with consumers could encourage them to recycle more.
As it stands now, there is certainly room for improvement. Only nine percent of plastics thrown away in the United States in 2015 made it to the recycling bin, while at the same time the U.S. generated 110,000 additional tons of plastic waste compared to the previous year. And while a recyclable is something that has future use, consumers are often ill informed about what the future use is of what they toss in the bin each day. 
Nenkov and her colleagues set out to learn if "product transformation salience," or information about what products recycling can be turned into, would help motivate consumers to recycle. She is an associate professor as well as the Haub Family Faculty Fellow at the Carroll School, and she co-authored the paper ("Knowing What It Makes: How Product Transformation Salience Increases Recycling") with Karen Page Winterich of Penn State and Gabriel E. Gonzales of the State University of New York at New Paltz.
The researchers noticed that most messages directed toward consumers tended toward the negative consequences of not recycling, such as the decline of the planet. Past research has found that these messages typically made consumers feel guilty or coerced. Those feelings then lead to "wishcycling" or "aspirational recycling," when people throw non-recyclable materials into recycling bins, which contaminates entire batches of recycling.
The research team turned these negative messages around and used positive messages about recycling in various settings such as a Penn State football game tailgate, a dormitory, online ads, and in a lab. When people saw signage or were told about how their recycling could be repurposed in the future, they were more likely to throw plastics and other recyclables into recycling than into the trash.
Experimenting at the Tailgate
For example, at the Penn State tailgate, one-half of student volunteers walked around and talked to people about how their recycling could be transformed, while the other half of volunteers just provided the football fans with a general recycling message (for example, the kinds of recyclables that go in the recycling bag). The volunteers recorded the locations of tailgaters they talked to via a GPS-enabled mobile app. After the game, the recycling and trash bags that tailgaters left behind were weighed. Those who received a transformation message recycled significantly more of their waste (58 percent) than those who received the general recycling message (19 percent).
Some major brands have already taken steps toward the kind of messaging suggested by these findings. Companies such as Nike, Timberland, Walmart, and PepsiCo incorporate post-consumer recycled material into their products and packaging. Earlier this year Madewell launched a swimwear line made from plastic water bottles, and the popular online shoe company Rothy's developed an entire brand around using recycled materials to make women's shoes. 
"Our research shows that when companies communicate these transformations, they will not only show consumers they care, but also motivate consumers to recycle their waste," said Nenkov. She adds that the recycling authorities in cities and towns could educate residents about the markets they sell to and provide examples of goods that are made from locally recycled materials.
"To inspire others to recycle more, we hope to change the conversation around recycling from 'where does this go?' to 'what can this make?'" she said.
Rebecca Delaney is a freelance writer and editor in Massachusetts.