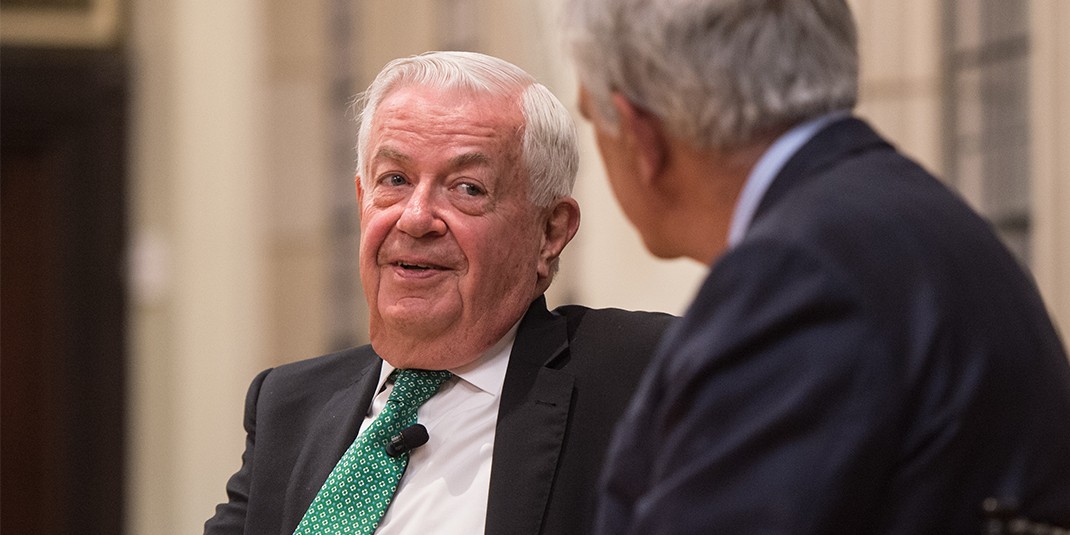 His neighbors in Winchester, Massachusetts, knew he made good money as a real estate developer, despite his frugal, low-key lifestyle. They knew he gave much of his wealth away to worthy causes. But they didn't know that Bill Cummings was a billionaire. Then Warren Buffett came calling, along with Bill and Melinda Gates. In 2011, the trio invited Bill and Joyce, his wife of five decades, to join their Giving Pledge, which asks billionaires to donate at least half their fortunes to charity.
A model of the real estate developer with a strong conscience, Bill Cummings was welcomed to Boston College by the Joseph E. Corcoran Center for Real Estate and Urban Action. The event took place on the very day that Forbes named Cummings to its Top 50 Givers list for 2018. He spoke in Gasson 100 to an audience of about 70 members of the Boston College community, many of them students in Corcoran Center Executive Director Neil McCullagh's Real Estate and Urban Action course.
McCullagh introduced Cummings and moderator Paul Grogan, president and CEO of the Boston Foundation. Grogan began by recommending Cummings' book, Starting Small and Making It Big: An Entrepreneur's Journey to Billion-Dollar Philanthropist. "It's a great read, full of wisdom and advice," said Grogan, as the pair sat on high stools before the hall's stained-glass windows.
Cummings, 81, with dark, arched eyebrows and a wave of silver hair, told Grogan and the audience that his own education, in both business and philanthropy, began with his parents. Gus, a milk deliveryman and house painter, and Dorothy, a homemaker and typist, raised Bill and his sister during the Great Depression and World War II in a series of modest homes, including a one-bedroom apartment above a liquor store on a main street in Medford, Massachusetts.
"In the old days," the deep-voiced Cummings explained, "in every community, someone would go door to door with a paper can collecting for the Red Cross, the Cancer Fund—whatever it may be. And in our neighborhood, that person was always my mother. My mom just liked to do it." That made a lasting impression on her son.
From an early age, Cummings evinced "an entrepreneurial drive and a keen sense of opportunity," as McCullagh said at the Gasson event. A teenaged Cummings sold ice cream in the summers (first from a bicycle, then at Brigham's), and he sold Christmas trees in December to help put himself through Tufts University. As an Air Force ROTC student, he volunteered to sweep up all the spent bullets at the rifle range, then sold the lead to a recycling plant in Chelsea.
Most notably, Cummings and his father bought, fixed up, and resold boats, including a sunken speedboat that Bill salvaged after Hurricane Carol in 1954. It was from his father that Cummings learned about pricing, negotiation, and other business skills, even the importance of a clear signature on contracts.
While at Tufts, Cummings met the university's Catholic chaplain, Fr. Walter Gouch, who "strongly encouraged me to think beyond the Baltimore Catechism when making moral decisions in such an ever-changing world," Cummings wrote in his book, referring to a standard text for Catholic religious instruction, mostly prior to the Second Vatican Council of the 1960s. "Without his early teaching about the need for educated people to forsake a 'one-size-fits-all' attitude toward the Church, I might have had much more difficulty considering myself an observant Catholic today."
After college, Cummings was accepted into the same highly selective Vicks Chemical Company sales training program that graduated Jack Kerouac. (That was possibly the Lowell native's last straight job before he became a famous beat writer.) Cummings never met Kerouac, but through his service in the U.S. Army Reserve, he did meet and befriend Ralph Nader, who within a few years would gain fame as a consumer advocate. Nader even contributed a blurb to the back of Starting Small, writing: "No business majors should conclude their studies without reading this memorable book. Nor should any humanitarian."
Cummings' career as an entrepreneur began when he bought, for a song ($4,000), a tiny fruit punch business from an eccentric old-money Yankee in West Medford. Cummings sold the fruit punch mix wholesale to a growing client list of universities and hospitals. Perhaps he never sold ice to Eskimos, but it is a testament to Cummings' sales skills that his New England–based business landed three accounts (again, selling fruit punch) in tropical Puerto Rico.
When he sold the business in 1970 to focus on his true calling in real estate, Old Medford Fruit Punch netted Cummings $1 million. For the next four decades, one building or project at a time, Cummings Properties amassed 11 million square feet of commercial real estate across Woburn and other points north of Boston.
Cummings succeeded because he was a canny businessman. But more than seeing money roll in, he actually enjoyed the work—finding and buying sites, overseeing construction, and filling the properties with tenants. He also relished creating jobs in the company's home base of Woburn. "Do the things you want to do, and do them reasonably well," he urged the students at Gasson. An entrepreneur won't find success by getting into a putatively lucrative industry that he's not passionate about, Cummings explained.
Grogan asked what's driven the couple to such heights of philanthropy. "We determined we had all that we needed," Cummings said, and their four children weren't expecting any windfall. (One daughter told the Globe she approved of the sentiment, "Give your kids enough so they can do anything, but not enough so that they can do nothing.")
"Once we came to that realization," Cummings said, "it was easy to decide to put everything we brought in through the business into the foundation." The Cummings Foundation has by now awarded more than $200 million to nonprofits in the Boston area. The grants have made an impact near and far, from soup kitchens and homeless shelters in Essex, Middlesex, and Suffolk counties, all the way to Rwanda, where the foundation has established medical centers in collaboration with Boston-based nonprofit Partners in Health.
In Starting Small, Cummings shares his variation of a quote often attributed to dancer and actress Eleanor Powell, and it ably serves to sum up the philosophy of a man who has leveraged his inborne talents toward worthy causes: "What we are is God's gift to us. What we become, and what we do with our lives, is our gift to God."
---
Patrick L. Kennedy, Morrissey College '99, is a writer in Boston and the co-author of Bricklayer Bill: The Untold Story of the Workingman's Boston Marathon.