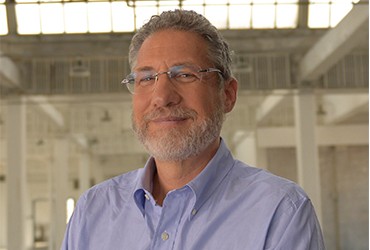 The challenges that confront cities around the world are daunting, but there are strong reasons to hope, Jonathan F. P. Rose told a Boston College audience last month. And Rose would know; he's made a lifelong study of cities and their resilience. More than a real estate developer with a social conscience (though he is that), Rose is a Renaissance man in this realm, a broad and deep thinker, and now the author of an essential tome on a vital topic, The Well-Tempered City: What Modern Science, Ancient Civilizations and Human Behavior Teach Us About the Future of Urban Life.
Invited by the Carroll School's Joseph E. Corcoran Center for Real Estate and Urban Action, Rose appeared in Fulton Honors Library on April 20. After relatively brief prepared remarks, the even-keeled speaker (he practices and recommends meditation) took questions from a crowd of about 65 students with a sprinkling of professors. Boston College's Institute for the Liberal Arts co-sponsored the event.
First, those daunting, even crushing, challenges. "The world is rapidly urbanizing," said Rose, who is from and based in metropolitan New York. "By 2080, 80 percent of the world's population will be in cities. The environment is being destroyed, we're overconsuming, the climate is changing, we're seeing droughts in new areas, floods in others—an enormous amount of volatility, and most of urban civilization is not prepared for the challenges ahead." Many city leaders, he said, lack a long-term vision.
Pretty grim stuff. And yet, if citizens and civic leaders can muster the will and make concerted efforts, cities can meet these challenges, Rose said. If that sounds like a pipe dream, Rose points to example after example around the world in which urban communities took action to solve what had seemed like intractable problems. When one woman sitting up front asked him about the municipal lack of vision he'd mentioned, Rose elaborated on the opposite: success stories from which other cities could learn.
FROM FATTEST TO FITTEST
Oklahoma City once ranked high on a list of the fattest cities in America, published by Men's Fitness. Mayor Mick Cornett vowed to change that. "The mayor sells the vision," Rose recounted. "He's a Republican—a conservative in a conservative state—and he gets the people to vote for a sales tax increase, which he spends on building wider sidewalks, planting street trees," and other measures aimed at making Oklahoma City walkable. Within five years, Cornett's city made Men's Fitness's list of the fittest cities in America.
Atlanta in 1950, Rose said, had almost the same population size and median income as its fellow southern steel town, Birmingham. But when blacks across the region marched for civil rights, "Birmingham turned inward and racist and confrontational; Atlanta turned outward, invested in the airport, and embraced integration. Today the Atlanta metro region is six times larger than Birmingham's and its median income is literally twice as high."
Whole nations, too, can improve, Rose continued. Experts consider Finland to have the world's best education system, but "in 1970, they had a crummy education system," he said. "They set out to have the best education system in the world, and then created it." That took decades, as Finnish educators built consensus among parents and students, measured their progress every quarter, and made no excuses.
Of course, change on that scale is hard, Rose acknowledged: "Every excuse is true." But as such case studies show, it is possible to make dramatic improvements, with courage and a long-term view. Whether a city wants to have the best transit system, the most affordable housing, or the best arts scene, he said, "we should know what it is we want to achieve, set the vision for it, and then work like the dickens, for decades, together," to attain that vision.
While making this case for urbanization, Rose doesn't leave behind the tension between unwieldy urban growth and quality of life, as Corcoran Center director Neil McCullagh noted in a commentary on The Well-Tempered City published April 3 in Banker & Tradesman. But while conceding that growth adds stress to cities, Rose demonstrates how "creating environments that support and sustain healthy living ultimately benefits society far beyond the cost," McCullagh wrote.
Not incidentally, in his Fulton remarks Rose emphasized that a strong arts scene is a worthy goal. A musician in his spare time, Rose took his book's title, and some of his organizing principles, from the Bach composition The Well-Tempered Clavier. When a professor asked what mental skills aspiring urban planners should develop, Rose listed composing and painting in his answer.
"Arts and culture are not just for our delight," Rose said. "They're not the frosting on the cake; they are the cake. We were a bunch of hunter-gatherers [until] we developed this next level of symbolic thought." With the ability to create words and pictures, our ancestors could communicate thought, work together, and plan for the future.
The kind of planning for resilience that Rose highlighted shouldn't fall solely to mayors and government officials, he added. Far from it. In times past, he said, "American business leaders believed they had civic responsibility—that they were tied to their community, that they had multiple stakeholders," and that making sure their city had a good transit system, for example, was "part of their job."
"The greatest master plan in the twentieth century in the U.S. was the Burnham plan of Chicago," Rose said. "It was not created by the city; it was created by business leaders. Central Park was imagined by business leaders from New York who went to London and said, 'We need a Hyde Park in New York.'"
But in the 1970s, Rose said, the idea took hold "that a business leader's sole role was to create shareholder value, that they were agents of the investors and stockholders and that's their only job." That "infection," Rose said, "decimated the moral compass of American business."
He added, "We need to call upon that [old] sense of civic responsibility again. It's essential."
---
 Patrick L. Kennedy, Morrissey College '99, is a writer in Boston.
Photography provided by the Joseph E. Corcoran Center for Real Estate and Urban Action.