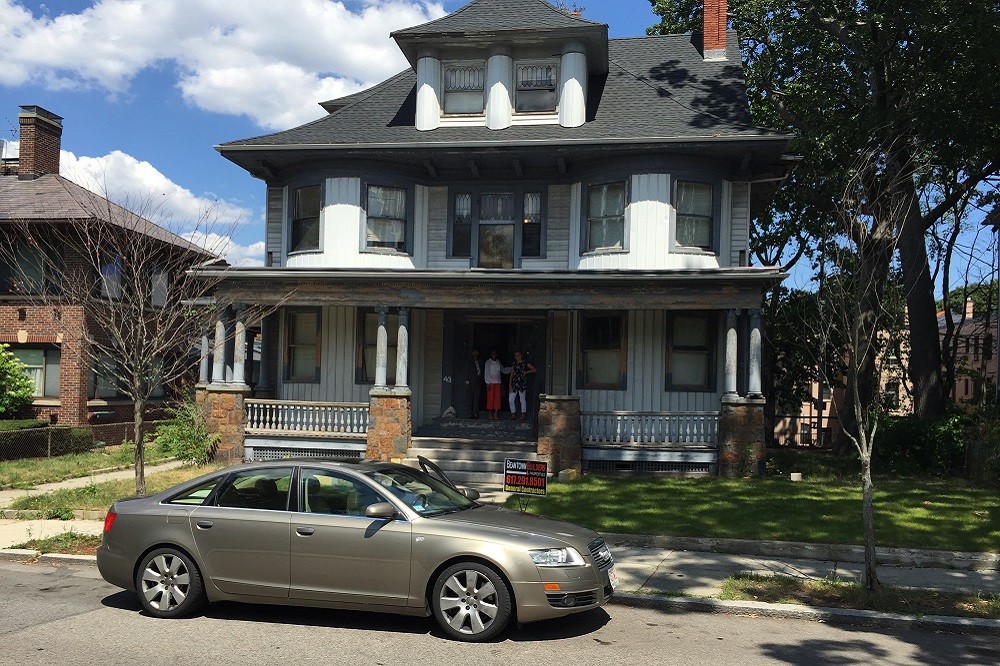 The big old house on Hutchings Street in Roxbury feels empty, but it's full of dreams. Bridgette Wallace and Carolle Nau, of Skylab Boston, bought it earlier this year with the goal of turning it into the home of (G)Code, a combination residence and learning center for young women of color (the "G" stands for girls). The women will learn computer programming and have a place to live while doing so. "We're trying to combine workforce development, affordable housing, and STEM training," says Wallace, using the shorthand for science, technology, engineering, and math. 
When that dream becomes a reality, Camryn Hicks, Carroll School of Management '18, will have helped make it happen. This past summer, Hicks worked as an intern with Skylab Boston through a summer internship program supported by the Carroll School's Joseph E. Corcoran Center for Real Estate and Urban Action. Founded in early 2015, the Center offers a four-course curriculum in real estate studies as well as field projects, workshops, and other programs.
"My project was to write a summary business plan for (G)Code—10 pages that outline the mission and addresses the feasibility for potential partners and sponsors," Hicks says. "The idea is that it can help fill three voids: the lack of women of color in the STEM fields, the lack of affordable housing in Boston, and the lack of post-secondary options for women of color."
At the moment, the house on Hutchings is divided into apartments, but Wallace and Nau are raising money to restore its former grandeur—it has eight bedrooms and finely wrought woodwork throughout—so they can run (G)Code there. Besides developing (G)Code, Skylab runs skill-development seminars for aspiring entrepreneurs in Roxbury, a historically African American neighborhood in Boston.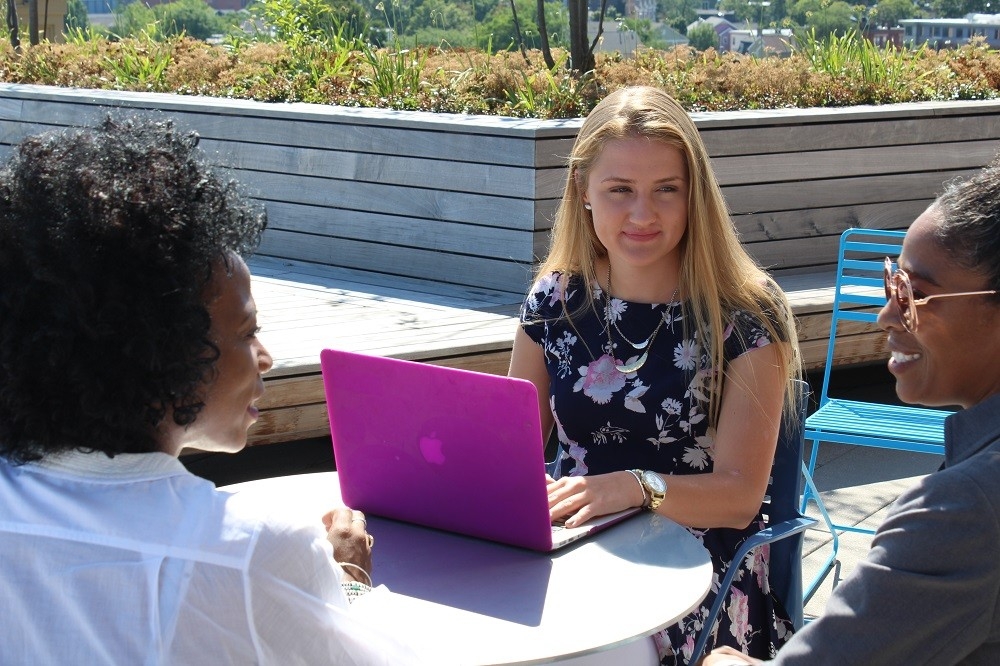 Hicks's project exemplifies the sorts of summer duties that all 19 of the Corcoran Center interns took on, says Neil McCullagh '91, the Corcoran Center's director. The students, who received stipends from the Center, worked in Boston in the overlapping fields of real estate and urban economic development. They were placed in nonprofits like Skylab, government agencies like Boston's Department of Neighborhood Development, and private companies like Utile, an architecture and design firm specializing in urban projects.
"We had 19 students doing work they've never done before," says McCullagh, referring to the Center's second internship summer. "They gave employers the benefit of their energy and enthusiasm. And they worked on really complicated issues that made a difference."
The internships last 10 weeks, from June to August, and unlike many such programs, this one includes a steady dose of classroom work. Every other Friday, students come back to the Heights for half-day workshops that teach the basics of real estate in an urban environment. With titles such as "Real Estate Fundamentals," "Managing and Measuring Social Impact," and "Business Writing," the sessions help them integrate the field experiences and academic learning. The students also come together for community service activities.
McCullagh aims for the interns to finish with both firsthand experience in real estate and urban development and a tangible product from their efforts. "I want them to have something they can show a potential employer," he says. "A PowerPoint presentation, a report, a website, a video."
WANTED: A RESTAURANT IN THE NEIGHBORHOOD
Maura O'Neill, MCAS '17, spent her summer at Utile, where she was charged with doing an inventory of Boston commercial districts identified by the Boston Main Streets Foundation. "I was studying neighborhood commercial centers," she says. "I was looking at the businesses that were there and also the streetscapes. I went to 18 neighborhoods. We were comparing the economically healthy ones versus those that aren't as healthy." 
She used the first few weeks of her internship to design a neighborhood scorecard. Then she headed out into the city to collect data for her report. She counted up businesses and vacant storefronts and noted the condition of street-side amenities like sidewalks and greenspace.  
"One of the things that stood out for me was that some neighborhoods have no restaurants and bars—there isn't a place for adults to go out," she says. "Jamaica Plain has a ton, but Mattapan doesn't really have any." That means, for example, that a young entrepreneur in Mattapan can't arrange to meet a potential partner or investor over dinner or a drink—something that's taken for granted in, say, Cambridge's Kendall Square.
O'Neill's findings will feed into Utile's discussions with the city of Boston and other municipalities about how urban main streets can be improved and supported. "Utile takes a research-based approach," she explains. "Their goal is to encourage the city to not overlook anything that goes into making successful neighborhoods."
Other sites and students placed in them included Preservation of Affordable Housing, a developer, owner, and operator of affordable homes (Sofia Soroka, MCAS '18); Next Street Financial, an advisory firm for businesses in urban and underserved markets, such as Roxbury in Boston (Michael Jang, Carroll School '18); and Historic Boston, Inc., a nonprofit organization that helps preserve historic buildings (James Breen, MCAS '17).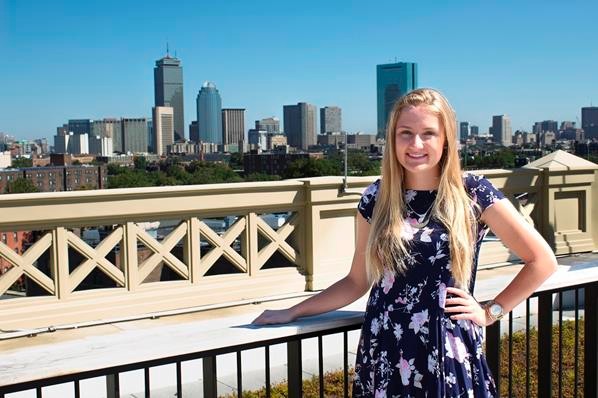 THIS ISN'T MAINE
The students' takeaways from the summer went well beyond the formalities of reports and presentations.
Hicks says she learned just as much from her casual conversations with Wallace and Nau, who grew up in Roxbury, as she did from researching and writing the (G)Code plan. "I learned about the politics of the neighborhood and Boston on a really personal level," she says. "I also learned what it was like for two women of color to try to do something bold in Boston."
That wasn't the sort of perspective she'd encountered before she came to Boston College. "I grew up in a small, rural town in Maine and then in the Philadelphia suburbs," she says. "I'd never really been exposed to racial diversity in the communities where I grew up."
Hicks's time in Roxbury—she often worked at the neighborhood's Bruce C. Bolling Municipal Building, where Skylab conducts its educational workshops for entrepreneurs—and her long chats with Wallace and Nau have changed her career plans. She's now aiming for law school.
"Bridgette and Carolle are two women of color working in an economically disadvantaged neighborhood—they don't have the loudest microphones, but they have a lot to say. As an attorney, you can advocate for people, and I feel like, with a degree in law, I could help amplify voices like theirs."
Hicks says the Corcoran Center internship knit together different strands of a Boston College education. "The internship is a great example of integrating business and Jesuit values. It's about real estate development and urban action," she says.
With its real estate curriculum and other activities, including public talks during the academic year, the Corcoran Center is also turning attention to a larger urban picture. "There's a big wave of urbanization happening globally and domestically, with cities growing very quickly," says McCullagh. "This is where the action is, and we're preparing students to help respond to those urban issues, especially where there's need."
---
Tim Gray is a freelance writer and a writing instructor at the Carroll School.
House photo by Tim Gray; All other photography by Stefanie Tracey