Certificate Program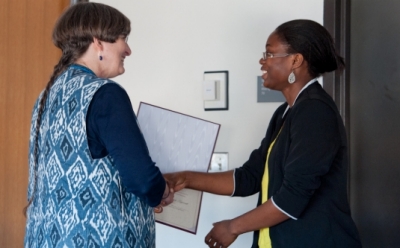 The Certificate Program of the Center for Human Rights and International Justice is open to Boston College graduate and professional students enrolled in a degree granting program in any of the university's graduate or professional schools.
---
Requirements
The Certificate requires that the student has:
Followed a curriculum within his or her graduate studies that emphasizes human rights and international justice issues, including at least two human rights related courses within own discipline.  The Center's current approved course list may be accessed here.
Widened his or her interdisciplinary understanding of these issues by completing at least one course designated by the Center in an academic department or discipline that is not his or her own.
Completed the Center's Interdisciplinary Seminar in Human Rights and International Justice, which will include a research project component for certificate-track students. (NB: the seminar is registration by permission only; get application details here on the seminar's webpage.)
Alumni
Meet some of our students
Seminar
The graduate Seminar in Human Rights and International Justice, which is a core requirement for the certificate and offered every spring, has a separate application and deadline, which is sometime in the preceding fall semester.
NB:  The seminar has an extra academic requirement for certificate-track students, so students interested in the program should apply for and enroll in the certificate program in advance.
Application
It is strongly recommended that students considering the certificate program meet with Center Assistant Director Timothy Karcz before applying to the program.  Contact him at timothy.karcz@bc.edu.
Each student will need his or her Program of Study approved by the Center Directors prior to admission to the Certificate Program. To apply to the program, please submit the following:
this Google Form online to initiate the application
BC transcript 
CV 
reference
1-2 page statement of interest, and 
relevant program of study (refer to list below) 
to the Assistant Director at timothy.karcz@bc.edu
Certificate Program applications are considered on a rolling basis, however preference for enrollment in selected certificate courses is given to students already accepted into the program, so applying as early as possible is recommended.  If you are enrolled in a one year program, please submit your application early in the Fall semester.
Programs of Study
Below are template Programs of Study for students enrolled in some specific BC graduate programs and a generic program of study to be completed by all others.  The full list of currently approved certificate courses is maintained here, for reference.
PROGRAM OF STUDY TEMPLATES
Social Science (including graduate programs in the Department of Sociology of the Morrissey School of Arts & Sciences, the School of Social Work, and the Lynch School of Education)
**If your degree program's discipline is outside of the fields of Psychology, Education, Sociology, Social Work, Law, or Theology, please discuss options for a program of study with Center Assistant Director Timothy Karcz (karcz@bc.edu).
Completion of the Certificate
Students enrolled in the program expecting to complete the certificate in a given academic year will be required to submit a pre-graduation audit program of study before registration for the spring semester.
An official transcript showing all completed required coursework is required to receive the certificate.
Any questions regarding the certificate program may be directed to Center Assistant Director Timothy Karcz at timothy.karcz@bc.edu