International Research at BC
More than 35 research centers and institutes make significant contributions to scientific research, the exploration of the relationship between religion and society, and improved practice in education and corporate conduct. The list below provides an overview of the centers and institutes that incorporate a global dimension in their activities and work. 
What should I do before engaging with international partners?
Visit the Global Engagement Gateway to find out.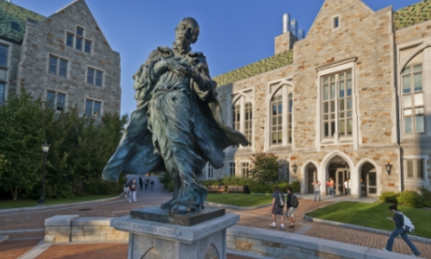 Within the atmosphere of academic freedom and colleagueship, the Institute promotes research and collaboration on issues that emerge at the intersection of faith and culture. The Institute supports programs that explore such religious and ethical questions and sponsors the presence on campus of scholars committed to these questions.
The Barbara & Patrick Roche Center for Catholic Education addresses critical questions challenging the effectiveness of Catholic education by engaging in research, providing professional programs, and hosting crucial conversations with local, national, and global partners.This work advances both the formation of Catholic school leadership and the systemic transformation of Catholic education. The generosity of a Warmenhoven Foundation grant for the 2018–19 academic year will support new educational research in Mexico to inform models of Catholic education in the United States and Nigeria.