International Education Weeks 2023
November 2023
In summer 2021, President Biden renewed the United States' commitment to International Education through a statement Reengaging the World to Make the United States Stronger at Home. International Education Week is a joint ambition of the U.S. Department of State and the U.S. Department of Education as part of efforts to promote programs that prepare Americans for a global environment and attract future leaders from abroad to study, learn, and exchange experiences. For over 20 years, we've celebrated the benefits of international education and exchange worldwide. More information on IEW can be found at https://iew.state.gov/
At Boston College, International Education "Weeks" will be celebrated throughout November and will include events across the Boston College community. 
Boston College IEW 2023 is organized and celebrated by a diverse group of departments and offices at Boston College, under the direction of the Office of International Students and Scholars, the Office of Global Education, and the Office of the Vice Provost for Global Engagement.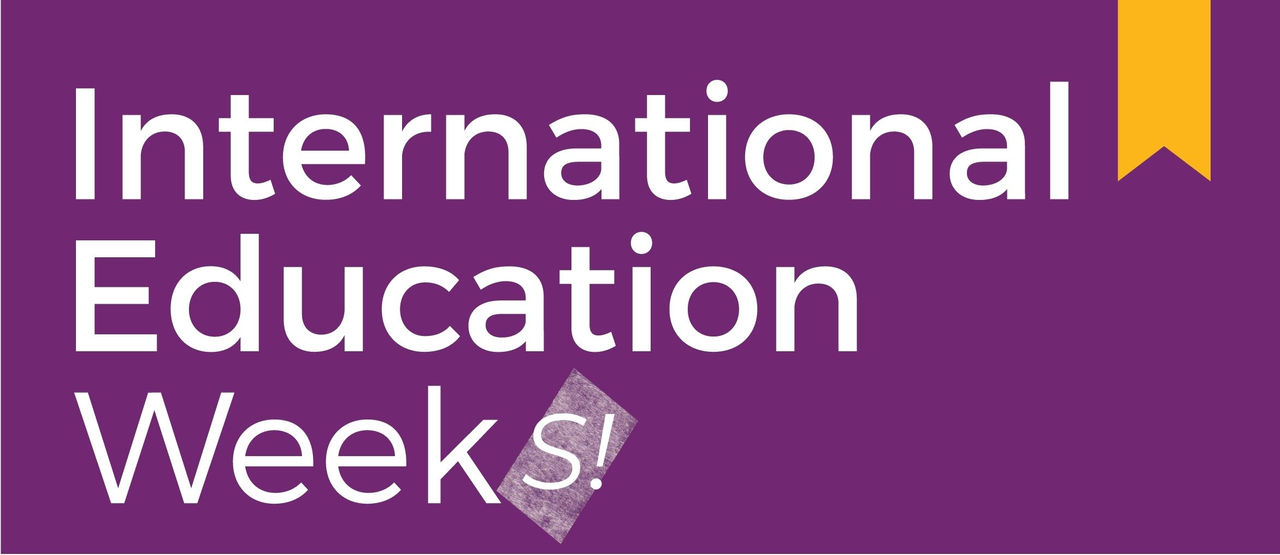 IEW 2023 Events
Click on any of the calendar events below to learn more or register
*Please continue to check back as events are added*
International Photo Exhibition
"Jacob in The Common" by Joseph Kremer: In January 2020, I walked around Boston taking film photographs. My method was to begin each session by engaging the subject in conversation. One subject I had particular success with was Jacob, a man who told me vivid stories of his wrestling career from earlier in his life. I took many great photos during this session, but I was more proud of the company, and conversation shared between Jacob and me. In today's world, conversing with our neighbors is an irreplaceable tool in understanding each other, and accomplishing the pressing issues we face.
"We Should" by Ethan Byrne: "It should never be displayed upside down unless trying to convey a sign of distress or great danger." defense.gov, "Do's and Don'ts for Displaying Old Glory" The people atop this SUV later led a march through downtown Denver, June 6, 2020. This was the first protest I ever attended and it deeply affected me.
"My Dear Home - Hong Kong": I'm a Hongkonger. I took this photo during a protest. The outcome of the protest will determine my future, and also my family and friends' future. Our government leader and half of the Legislative Council (equivalent to the Congress) are not elected by the public, so protesting is the only way out to resolve anything. I hope that one day we can all live in peace and love without worrying about aggression from those in power. Even in Boston, I'm not free from worry about my safety because the Hongkongese community here had received threats before when organizing related rallies.
"Feminists in Chile" by Emily Ward: Sitting in our small classroom with my BC study abroad group in Santiago, Chile, suddenly our coordinator rushed into the room exclaiming "the feminists are coming!" While the intention was for us to return home, we took a wrong turn and ended up in the center of the protest. This mistake ended up being one of the most powerful experiences of my life. I saw strong, powerful women standing on bus stops, dancing together, and uniting against a patriarchal society that tried to devalue their lives. These women and men marched on without fear, despite potential danger looming in their future.
"Trumpkin" by Jax Cai: We have a good simple image to describe Trump's "leadership" amidst COVID-19, which backfires upon himself with the weight of his sickness showcasing his questionable credibility.
"Jungle Home" by Anthony Aduaka: This is Kibera, (meaning forest or jungle) in the Nairobi neighborhood of Kenya. It is the largest slum in Africa where essential services are considered as luxury. The picture tells the story of a people who live daily at the margins of economic and financial injustice. Yet, they find the resilient hope to live-on. Their experiences expose the fault lines of economic inequities and the reality of the social divide in the society where I live. Their lives and daily experiences challenge my sense of social justice and make a caricature of our hope for a better humanity.
"Give Someone a Hug" by Patrick Ho Lam Lai: Give someone a Hug, regardless of race, color, national origin, religion, sex, age, disability...That's what we need to do in a messy world
"Positive Denial" by John Gehman: Society has commodified and commercialized Blackness, despite its constant denial of Black liberation in the face of Black death and its unanswered legacy of slavery. Blackness cannot be reduced to a biological language, such as "the Black body"; instead, Blackness must refer to the entire humanity and being of the person, an acknowledgment that the body is not a mere vessel rather a whole person. In this intimate photo, the subject stares at the viewer who sees with the modern gaze, but she takes control over her body, denying the viewer the ability to see her body and sexuality. Instead, her body and sexuality are parts of her whole being that she is reclaiming and reaffirms through Black body positivity.
"Say Their Name: Taken but Not Forgotten" by Gabriela Jimenez-Thompson: Over this summer, I organized a memorial to commemorate 1,778 lives Black lives taken by police brutality from 2015-2019, the youngest was 13 years old. For weeks I did research to share stories and give a place where their lives could be respected. These stories acknowledge black men, women, trans individuals, and children.This summer protest after protest would be conducted during the BLM movement, but there wasn't a space to mourn those taken. This photo is a moment captures the young black male was explaining to the young white male that those were black people who have died. After this moment, they returned to play on the playground but took a moment to understand that this movement is apart of their lives.
Past IEW Themes at Boston College
2021: Healing along the fault lines: Enduring Crisis; Maintaining Resilience; Strengthening Engagement; Ensuring Justice                                                            2020: Exposing the Fault Lines: Embracing Social Justice in the Wake of a Crisis
2019: Global Environmental (In)Justice: How Do We Respond?
2018: Embracing Challenging Conversations: Moving Towards Reconciliation Locally, Nationally, and Globally
2017: Being a Changemaker: The Heights and Beyond
2016: Beyond Borders: Identities and Perceptions in Today's World
2015: A World on the Move: Who are We and Where are We Going?