In Maloney Hall earlier this year, a breast pump sat on a table, chugging like a metronome as it propelled formula through a baby bottle and into a glass beaker. After a minute, Britt Pados '03, an assistant professor at the Connell School of Nursing, recorded the amount of formula in the beaker, poured it back into the bottle, screwed a new silicone nipple into place, and restarted the machine.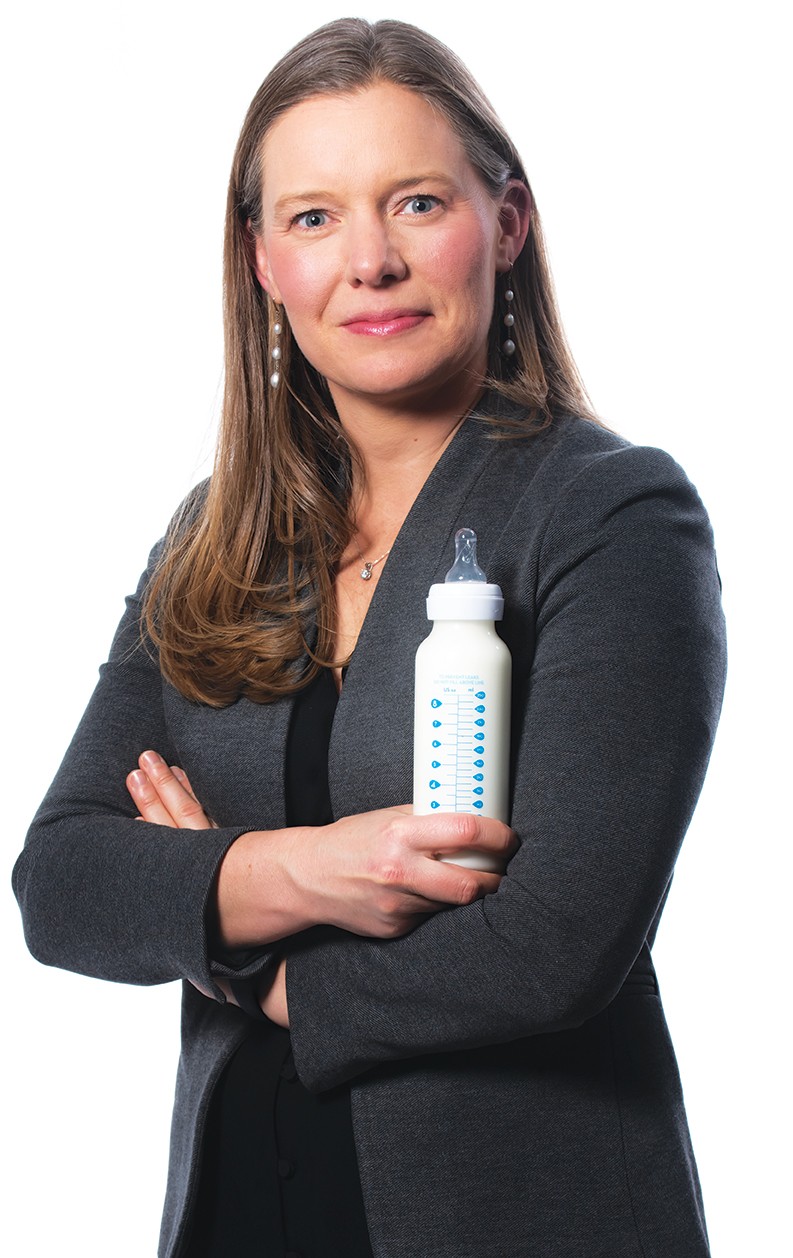 For hours, as the timer beeped at sixty-second intervals, Pados recorded the rate at which formula flowed through various brands of bottle nipples. In jeans and a blazer, with an Apple watch on her wrist, Pados screwed and unscrewed plastic ring after plastic ring. It's far from glamorous, but Pados's work is helping to improve the artificial nipples used by millions of babies every day in hospitals and homes across the world.
It turns out that there are no objective standards for bottle nipples. Their flow rates vary wildly, and their marketing claims can be confusing to the point of being meaningless. That matters because specialists and researchers like Pados believe that nipple-flow rates—literally, the rate at which nourishing fluid enters a baby's mouth—can contribute to infant feeding problems. That's especially concerning at a time when increasing numbers of parents are reporting such problems. The National Institutes of Health estimates that as many as one in four infants and toddlers are affected by feeding struggles.
Problems with feeding can pose health risks for babies and be a major source of anxiety for parents. Of the many things that expectant parents lose sleep over, their newborn's ability to feed is rarely on the list. Drinking formula or breast milk seems like something that will just happen organically. When it doesn't, it can feel like failing Parenting 101. "Feeding is a big part of establishing a bond with a baby," Pados said. "When that's not going well, that's really stressful, because they need to eat to live." One study likened parental reactions to their preemies' feeding issues to post-traumatic stress disorder.
1 in 4
infants and toddlers are affected by feeding struggles
— National Institutes of Health
Pados's work is changing the way that hospitals, parents, and specialists across the country select bottle nipples. But nipple-flow rates are just one of the factors that can contribute to infant feeding problems. Pados has also created assessment tools that are helping parents and pediatricians better identify and treat babies suffering from problems that range from long term refusal of certain foods to inadequate nutrition during critical periods of brain development.
And sometimes, at night, Pados will find herself responding to emails from desperate parents looking for help with feeding problems. She knows firsthand just what they are going through.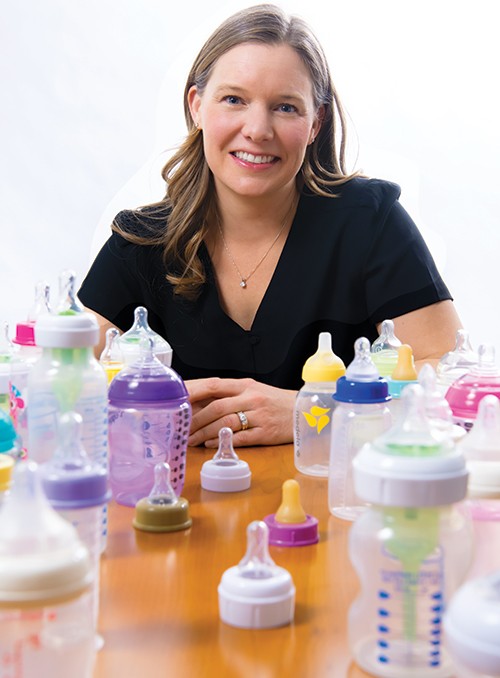 Growing up in Texas and Connecticut, Pados loved to hear her grandmother, a pediatric nurse, tell stories about the children she cared for. "I knew pretty early on that I wanted to pursue a career related to the health care of children," Pados said. That led her to BC's undergraduate nursing program, during which she spent time in a neonatal intensive care unit, or NICU. She fell in love with the intensity and focus of the NICU environment and, after eventually earning a master's degree in nursing from the University of Pennsylvania, Pados became a neonatal nurse at Beth Israel Deaconess Medical Center in Boston and then a nurse practitioner at Morgan Stanley Children's Hospital of New York-Presbyterian.
She worked with infants being treated for heart problems. It amazed her whenever parents would tell her that the most difficult part of the ordeal was not the cardiac surgery itself, but the weeks their infant would spend in the NICU afterward while learning to feed properly. "I think parents can say, It's not my job to do heart surgery. It's not my job to manage medications," she said. "But being unable to feed your baby can feel like a personal failure."