Boston College offers a new Interdisciplinary Palliative Care Certificate Program for graduate students at the William F. Connell School of Nursing, the School of Social Work (BCSSW), and the School of Theology and Ministry (STM). The 12-credit program, which was approved by the University Curriculum Committee last spring, is designed to provide future social workers, nurses, and ministers with the skills, knowledge, and interdisciplinary know-how they will need to care for people and families who are living with serious illnesses.
Palliative care, which aims to ease suffering and optimize quality of life for these people and families, is one of the fastest growing fields in U.S. health care. According to research by Cambia Health Foundation, approximately 90 million Americans live with serious illness, and this number is expected to double in the next 25 years. Hospitals and universities are responding to this growing need—a 2018 report by the Center to Advance Palliative Care indicates that the number of hospitals with palliative care programs has nearly tripled since the year 2000. Associate Dean of Student Experience Teresa Schirmer, who oversees the SSW's involvement in the certificate program, says that this makes its arrival particularly relevant for social work students.
"From the social work perspective," she says, "we are cognizant of the need for high-quality, specialized training for our students that meets workforce demands."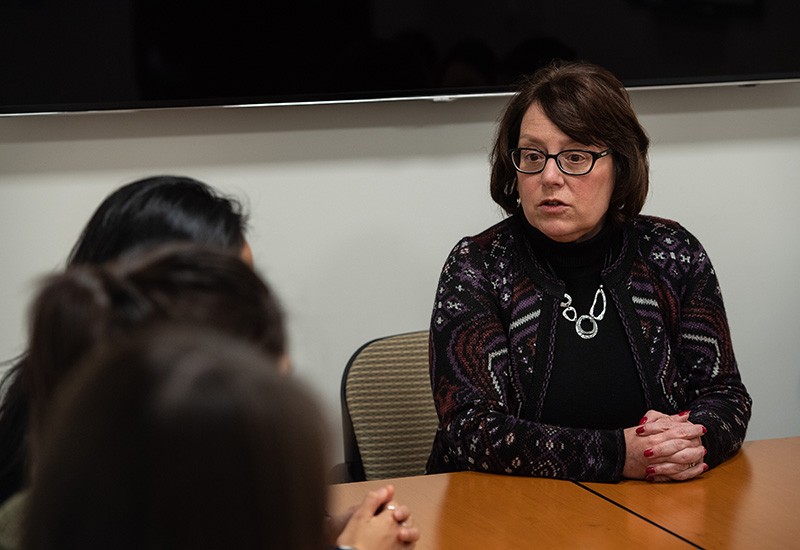 Schirmer notes that former School of Social Work Associate Professor Katie McInnis-Dittrich was an early and staunch advocate for the certificate program and played an integral role in its design. McInnis-Dittrich, who retired in May 2018 after 24 years at the School of Social Work, still sits on the certificate's eight-member advisory board, which is directed by Connell School of Nursing Clinical Associate Professor Susan DeSanto-Madeya.
As a Cambia Foundation National Palliative Care Sojourns Scholar Leader, DeSanto-Madeya is leading the implementation of the program on campus. By definition, she says, palliative care is inherently interdisciplinary and comprehensive because it involves tending to "the full range of patients' emotional, physical, spiritual, and social needs. As nurses, we need to call on the expertise of social workers and pastoral care providers, just as they need to call on our expertise as nurses. It's a team approach to care."
The comprehensive nature of palliative care is reflected in the design of the new certificate program. Students must take at least two program-specific interdisciplinary courses—on topics such as Interdisciplinary Leadership in Palliative Care and Responses to Suffering in Serious Illness, Death, and Dying—as well as two other related elective courses from the Schools of Nursing, Social Work, or Theology and Ministry. According to DeSanto-Madeya, this approach is intended to help students gain both a concrete understanding of palliative care practice and an "appreciation and respect for the unique and complementary contributions of each discipline" that will carry over into their professional lives.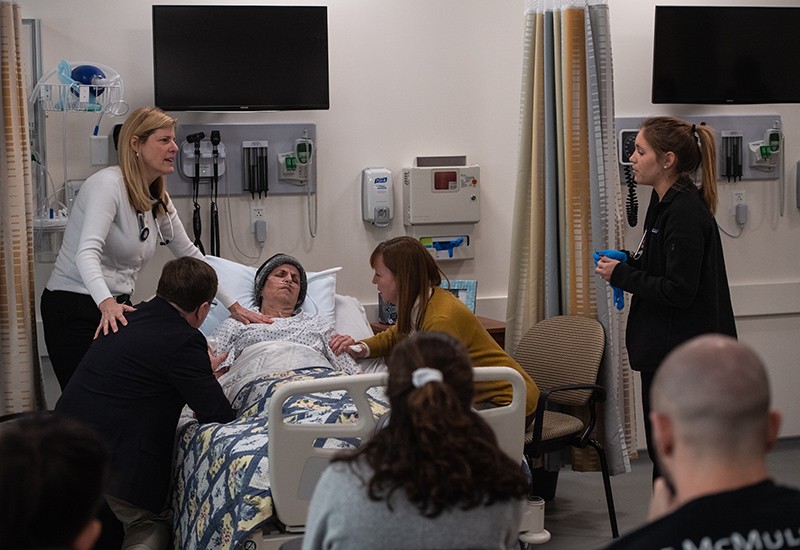 BCSSW Associate Professor Tina Matz, who serves as chair of the Older Adults and Families field of practice and teaches a course titled Practice with Older Adults in Home and Community Settings, notes that social workers' training makes them uniquely equipped to address the social and emotional needs that can accompany illness.
"When people become seriously ill," she says, "it's not just about how changes in health have changed their bodies but also how it has changed their lives." She believes that the new certificate program will train BCSSW students to help patients with changes in their relationships, friendships, and home lives.
In similar fashion, Melissa Kelley, an associate professor at the School of Theology and Ministry, is hopeful that the certificate program will open doors for STM students preparing for careers in pastoral care.
"Many of our students consider the possibility of health care ministry when they leave the STM," she says, "so this is tremendous preparation for what they may do after."
In the larger scheme of things, Kelley sees the certificate program as representative of Boston College's "commitment to interdisciplinary education."
For DeSanto-Madeya, though, an interdisciplinary approach is more than a feature of institutional ethos; it's absolutely integral to educating future palliative care providers across professions. "Moving certificate programs toward an interdisciplinary approach is what's needed to advance the field," she says. "We need to build on each other's strengths." As other universities around the country begin to think about how to offer effective palliative care education, she believes that Boston College's interdisciplinary approach could lead the way.
"I think we're on the forefront," she says. "As one of the first interdisciplinary certificate programs across the nation, our program is poised to be a prototype for programs at other universities."