The Connell School of Nursing welcomed 29 New York City high school students to campus on Tuesday, February 21, 2017 to learn about careers in nursing and health care. The students, who are participants in the Geriatric Career Development (GCD) program of The New Jewish Home in New York City, spent the day touring CSON's facilities in Maloney Hall and the rest of the Boston College campus as well as hearing from current students and faculty about the experience of studying and practicing nursing.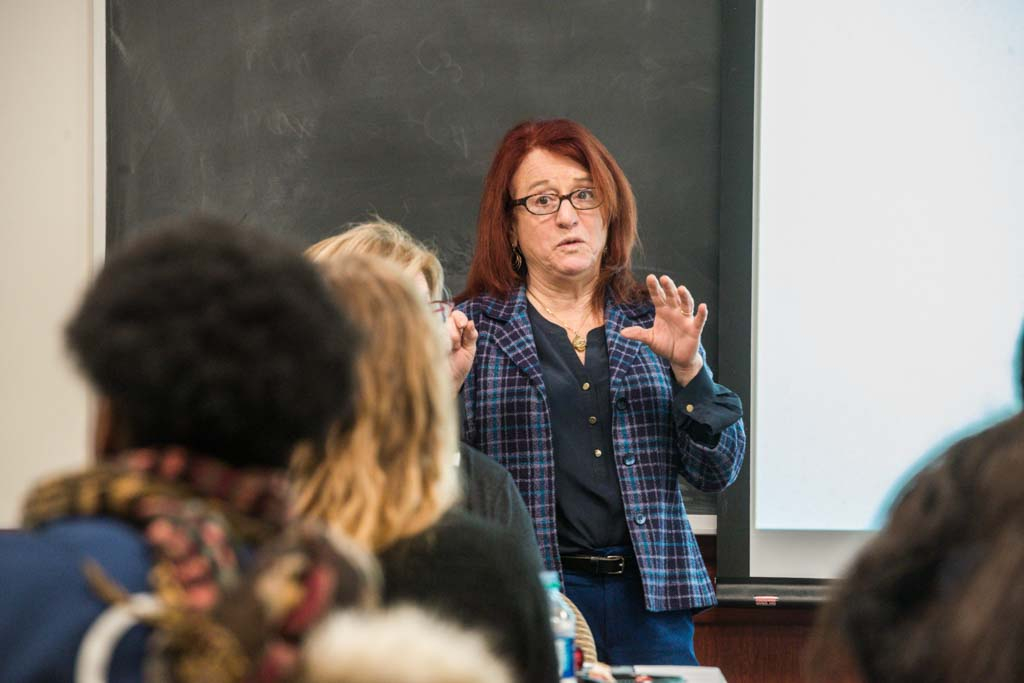 This event was arranged in partnership with the Price Family Foundation and CSON's Keys to Inclusive Leadership in Nursing (KILN), a program designed to help students from backgrounds traditionally underrepresented in nursing maximize their leadership potential.  The Price Family Foundation has been a generous supporter of both KILN as well as the GCD program of The New Jewish Home. Joanne Duhl, executive director of the Price Family Foundation, was in attendance and spoke how the event was a natural paring of two of the foundation's prime initiatives—health care and support for youth education.
The GCD program of The New Jewish Home supports at-risk New York City youth in pursuit of careers in health care and provides them with the tools and experience needed to advance their academic and professional development. Students come from all over New York City, including Manhattan, the Bronx, and Queens, to work after school twice a week in a long-term elderly care setting, gaining clinical skills, college readiness preparation, and enthusiasm for career opportunities in eldercare services. Many of the students in attendance were preparing to get their Certified Nurse Assistant license through the program.
After arriving on Tuesday, GCD students enjoyed lunch with Johanne Duhl, CSON Dean Susan Gennaro, Cathy Read, associate professor and director of the KILN program, and members of CSON community. Dean Gennaro addressed the students, reflecting on her own personal experience of growing up in New York City and discovering her passion for nursing as well as all of the places it has taken her throughout her career. She challenged the group to ask themselves three questions in determining their own path—what is your passion? Are you good at it? And does the world need it?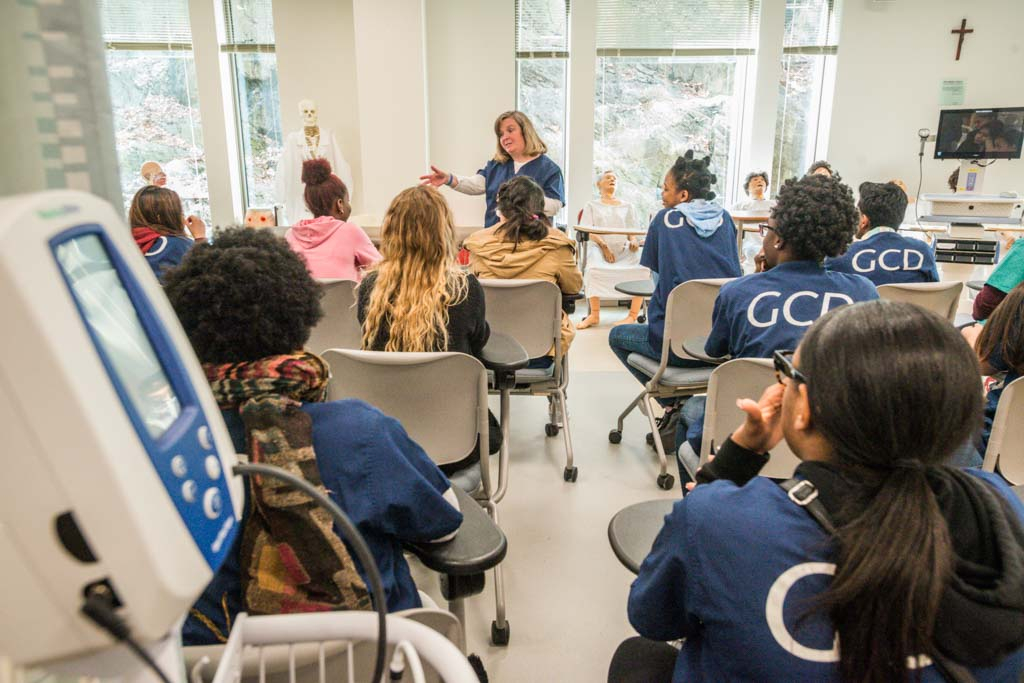 The afternoon was full of events, starting with a tour inside CSON's state-of-the-art facilities. Students got a glimpse of the simulation spaces, clinical labs, and what college nursing courses look like. The tour was followed by a panel with current CSON KILN students who shared their own personal journeys of how they chose to pursue nursing at Boston College, sparking questions and discussion between the college and high school students. The day concluded with a tour around the Boston College campus. 
—Allison Postlethwait, photographs by Gary Wayne Gilbert