The clinical world is waking up to the importance of a good night's sleep.
That is due in no small part to Lichuan Ye, assistant professor at the Connell School of Nursing and author of the chapter on sleep apnea in the Oxford Handbook of Sleep and Sleep Disorders. As a Boston College Haley Nurse Scientist, Ye is leading a study on patient sleep quality at Brigham and Women's Hospital (BWH) and pioneering a curriculum in sleep education for nursing school undergraduates. In addition, last spring she received a grant from the prestigious National Institutes of Health/National Institute of Nursing Research (NIH/NINR) to study the role of spouses in the treatment of sleep apnea.
"Sleep impacts everyone, and it's been recently identified by the [National] Heart, Lung, and Blood Institute as a major health concern," said Laura Mylott, executive director of the hospital's Center for Nursing Excellence from 2008 until 2012. Ye was named a BWH Haley Nurse Scientist in 2011 and began a study of patient sleep quality, and how to improve it. The Haley program, an academic practice partnership between the Connell School and the nursing department of Brigham and Women's, sends nurse academics into the hospital to conduct scientific studies and collaborate with clinicians to forge evidence-based nursing practices.
The effects of sleep deprivation are well documented. A lack of restorative rest impairs the immune system, memory, metabolism, and mood. In hospital settings, Ye has found that sleeplessness often leads to delirium as well as to falls in elderly patients—which in turn can cause further injury. Poor sleep "will significantly increase mortality and morbidity," Ye said.
As part of her research at BWH, she hopes to document how poor sleep prolongs recovery time, increasing health care costs.
"You cannot [simply] shout out, 'Sleep is so important,'" said Ye, who earned a Ph.D. from the University of Pennsylvania School of Nursing and B.S.N. and M.S. degrees from Sichuan University's West China Medical School. "You need the data to support it."
In the first phase of the study, Ye and her BWH assistants interviewed 62 clinicians, mostly nurses, and found wide agreement that sleep is hard to come by in a busy hospital. Beeping alarms, pagers, unexpected phlebotomy visits, and other interruptions regularly wake patients.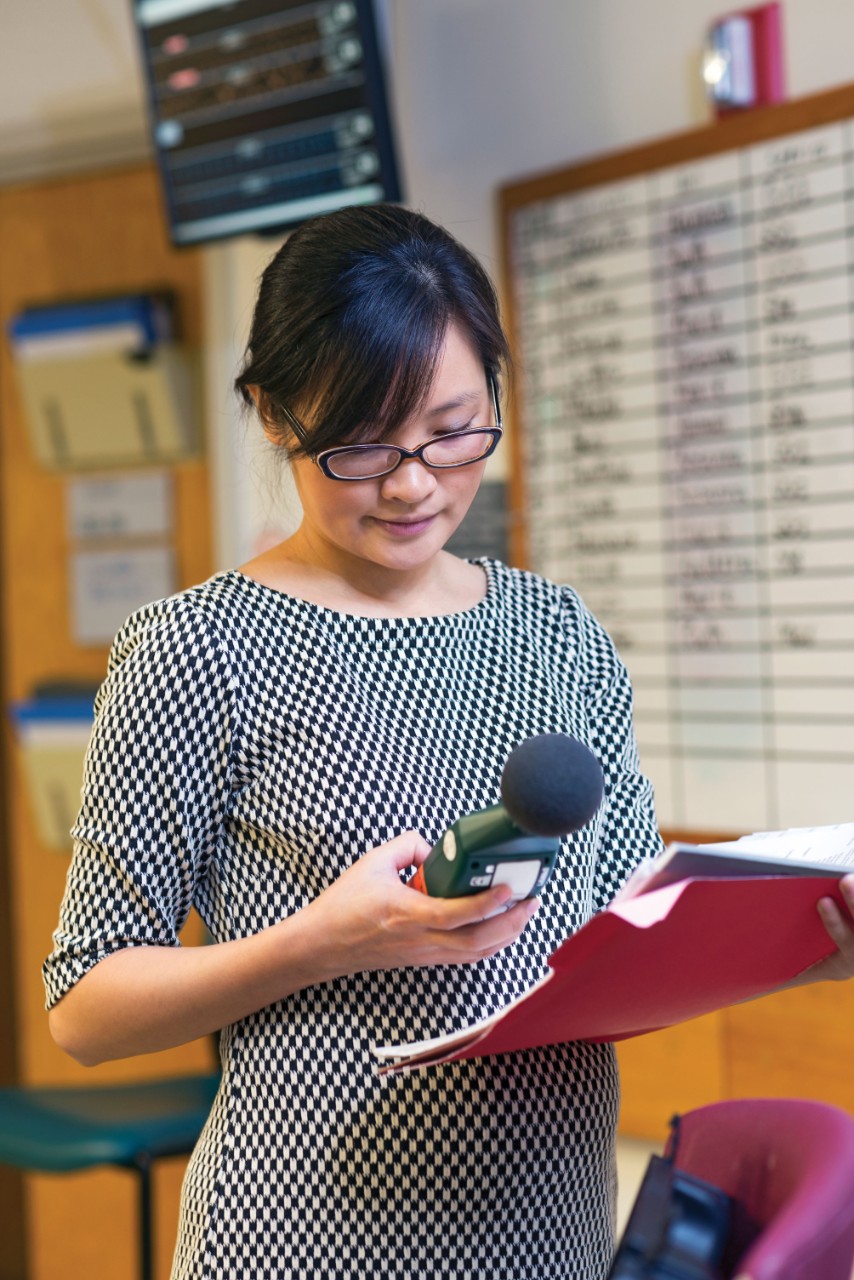 Ye published those findings in the June 2013 issue of the Journal of Nursing Administration. In her article "How Do Clinicians Assess, Communicate About, and Manage Patient Sleep in the Hospital?," she prescribed a hospital-wide, multi-pronged solution: All staff should be educated about the important role sleep plays in healing; staff from different departments should communicate with one another to avoid unexpected interruptions to patient's sleep; patients should be taught to understand the value of their sleep and to speak up when it's disturbed; and patients' families should be engaged in the effort.
Ye also strongly advocated integrating sleep-quality assessment into hospital rounds and record-keeping. Currently, patient hospital charts do not include a specific place on which to note the quality of sleep. Nurses might casually ask how a patient slept, and some craft solutions for those who complain. But there is no formalized system to rank the quality of patients' sleep.
In the improved hospital setting Ye envisions, nurses would ask patients to rate their previous night's sleep on a 10-point scale (similar to a pain scale) and note it on the chart along with heart rate, blood pressure, and other vital signs. Clinicians would consider deferring or rescheduling vitals checks that conflict with patient sleep, where possible, and hospital staff would do their best to create a sleep-friendly environment.
How nurses can help patients sleep better
Solid sleeping—and quicker recoveries—ultimately will require hospital-wide awareness and collaboration, said Assistant Professor Lichuan Ye. Before policies are formulated to effect that, nurses can try these strategies to improve patients' sleep.
Enforce "Quiet Time" from 10:00 p.m. to 7:00 a.m.
Shoo out visitors at 10:00 p.m. and limit overnight visits.
Close the doors to patients' rooms.
Close the shades. Dim the lights, or turn them off and use night-lights.
Put cell phones and pagers on vibrate mode.
Turn off the TV and encourage patients to turn off cell phones and laptops, or at least use headphones for their neighbors' sake.
Introduce earplugs and eye masks.
Place a "Do Not Disturb" sign (or appropriate equivalent) on patients' doors to minimize unnecessary interactions during quiet time.
Respond as quickly as possible to patient alarms

"The work she's doing is groundbreaking in nursing," said Patricia Dykes, senior nurse scientist and program director of nursing research at BWH's Center for Nursing Excellence. "We've not had a sleep promotion researcher before she came here. She's made quite an impact." Under Ye's direction, Dykes said, nurses from departments across BWH formed an interest group to improve the quality of patients' sleep.
The nurses are also helping Ye with the second phase of the hospital study by collecting sleep data from patients using surveys, sophisticated light and sound sensors, and even electrodes that record brainwaves. Dykes said such cooperation is one of the major benefits of the Haley Nurse Scientist Program, which was established in 2009 and is funded by Steven and Kathleen Powers Haley '76, founders of the Brain Science Foundation.
"We've seen tremendous growth in clinical nurses' engagement in evidence-based practice and interest in research and we're really grateful for the collaboration," said Dykes.
SPOUSES AND SLEEP APNEA
Ye is recognized for her work in sleep apnea, particularly for her research demonstrating that obstructive sleep apnea (OSA), which many doctors think of as a male disorder, afflicts women as well. Her NIH grant will allow her to expand her apnea research to study couples in which one partner suffers from OSA. She hopes to learn what spouses should and should not do to help their partners stick to the commonly prescribed treatment.
One in five adults has at least a mild form of OSA, making it a public health problem on par with smoking, Ye said. The disorder is caused by a collapse of the respiratory airway during sleep. Victims stop breathing and wake up several times a night, and are tired during the day, contributing to poor work performance, hypertension, and even car accidents. In fact, Ye estimated that undiagnosed OSA sufferers cost the health care system $3.4 billion per year.
The most common treatment is called continuous positive airway pressure (CPAP). A machine sends air, via a tube, through the patient's nasal passages. Experts say it works like a charm—when patients use it. For a variety of reasons—some patients feel uncomfortable; some are embarrassed by the look of the device—many stop treatment after a few days. Frequently, the partner plays a key role in whether the patient adheres to the CPAP treatment."Right now everyone believes the spouse is important, but beyond that we don't know exactly what kind of behaviors are helpful," said Ye. "Even if they have a great heart, if they don't have a good strategy for the interaction, their [attempt to] help could be detrimental."
Ye and a group of Connell School graduate and undergraduate student assistants will recruit 133 couples for her first-of- ts-kind study. They will follow the couples for three months after CPAP treatment begins, wirelessly collecting data from the machines and conducting face-to-face interviews with two dozen of the couples.
When the research is complete, Ye expects to have a comprehensive understanding of couples' experiences with CPAP therapy, and to know how spouses can help OSA patients adhere to their treatment plan. She said clinicians might use this information to create interventions and coping strategies to help both parties approach the problem as a team.
"This disease has a lot of bad impacts on the partner's health as well," as the spouse ends up suffering from fitful sleep and daytime drowsiness and its attendant health dangers, Ye said. "So we want them to treat the condition as 'our' problem, and to cope with it together."
The goal of Ye's two-year study, as with her sleep quality research, is to figure out new ways the sleep deprived can get some desperately needed slumber.
Teaching tools
A large part of Lichuan Ye's effort to promote better patient sleep involves education. Visit her website, sleepeducationprogram.com, to view videos about sleep quality and sleep disorders and how they affect patient care in various clinical settings. Ye built the site, funded by the American Sleep Medicine Foundation, as part of a 10-hour education package for undergrads that she hopes to introduce at Boston College and then export to other schools.