When Dean Susan Gennaro told alumni last fall that the School of Nursing would "carry the traditions of Cushing Hall with us to our future home in Maloney," she wasn't speaking entirely in metaphor. Five stained glass panels given to the school in the late 1950s and early 1960s to adorn the third-floor chapel in Cushing will make the move to Maloney in 2015. The windows, three of which depict a saint whose life and works are directly connected to the practice of nursing, are expected to serve as a vital link to a cherished past, even as the School looks forward to a new era in its expansive, state-of-the-art Maloney home.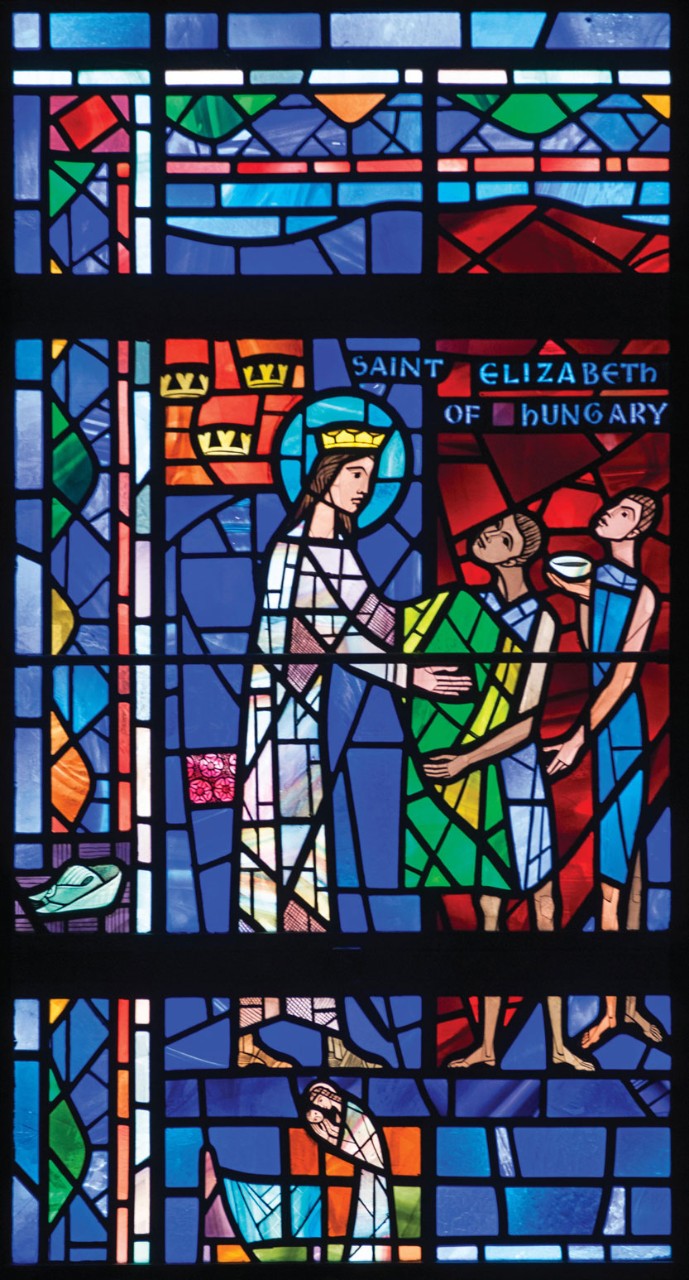 ST. ELIZABETH OF HUNGARY
1207–1231

A venerated symbol of Christian charity, St. Elizabeth was a princess who became a nurse. Born in 1207, the daughter of King Alexander II, she was a pious child, living with an austerity that defied royal tradition. Marrying at 14 to Louis of Thuringia—it was by all accounts a happy, devoted union—she rejected the pomp and frivolity of the court, taking up a life of service to the poor and sick. She distributed alms during a time of famine, ministering directly to those most afflicted. Regaining her dowry following her husband's death, she built the Franciscan hospital at Marburg, Germany, where she visited patients daily to give care and comfort, as shown in this panel. She died in 1231, not yet 24, and was canonized four years later.
This panel was a gift of Ann Prendergast.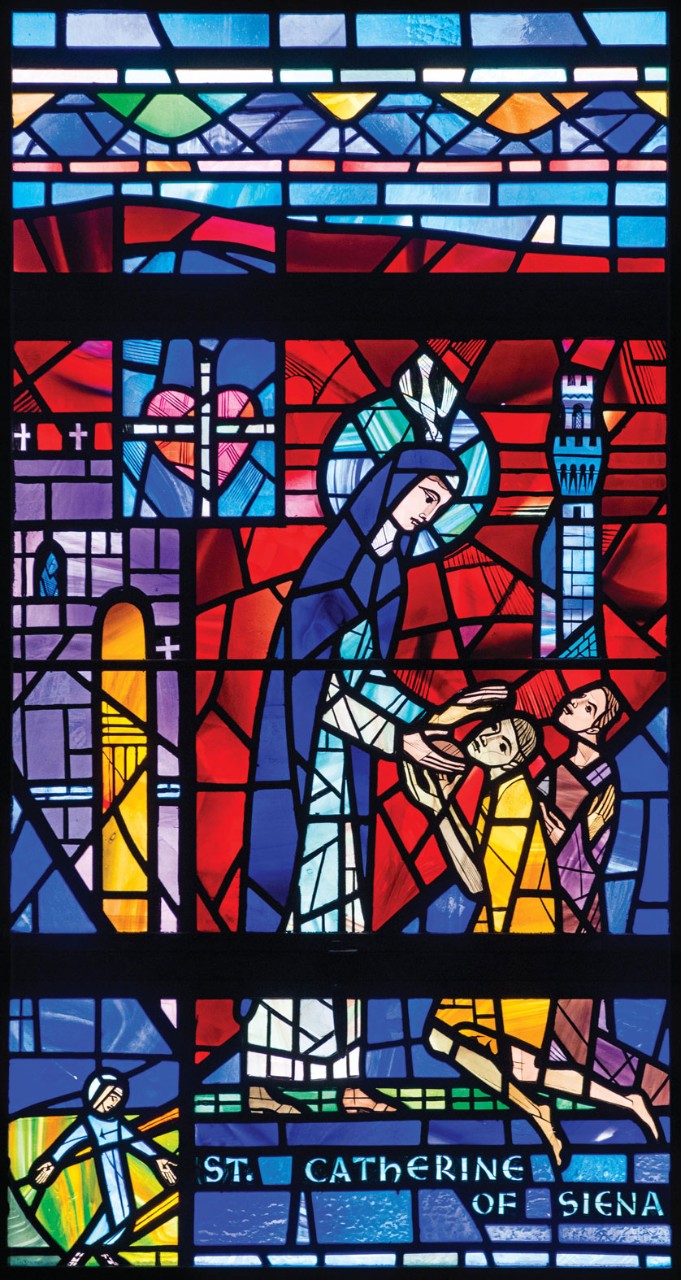 ST. CATHERINE OF SIENA
1347–1380

Born in 1347 during the bubonic plague that became known as the Black Death, St. Catherine spent much of her life ministering to those afflicted by its ravages. Intensely devout, she joined the Third Order of the Dominicans at age 16 and became known for the kind of radical charity this panel depicts—giving away her own food and clothing, often declining to eat, caring for the dying and preparing them for death. Prone to mystical visions, she was nonetheless drawn to the affairs of the world. Her meditations, collected in the Dialogue of St. Catherine of Siena, remain a pillar of Italian literature.
This panel was a gift of Rev. Walter J. Meagher, S.J., given in memory of Dennis R. and Rose A. Meagher and Mary Burke.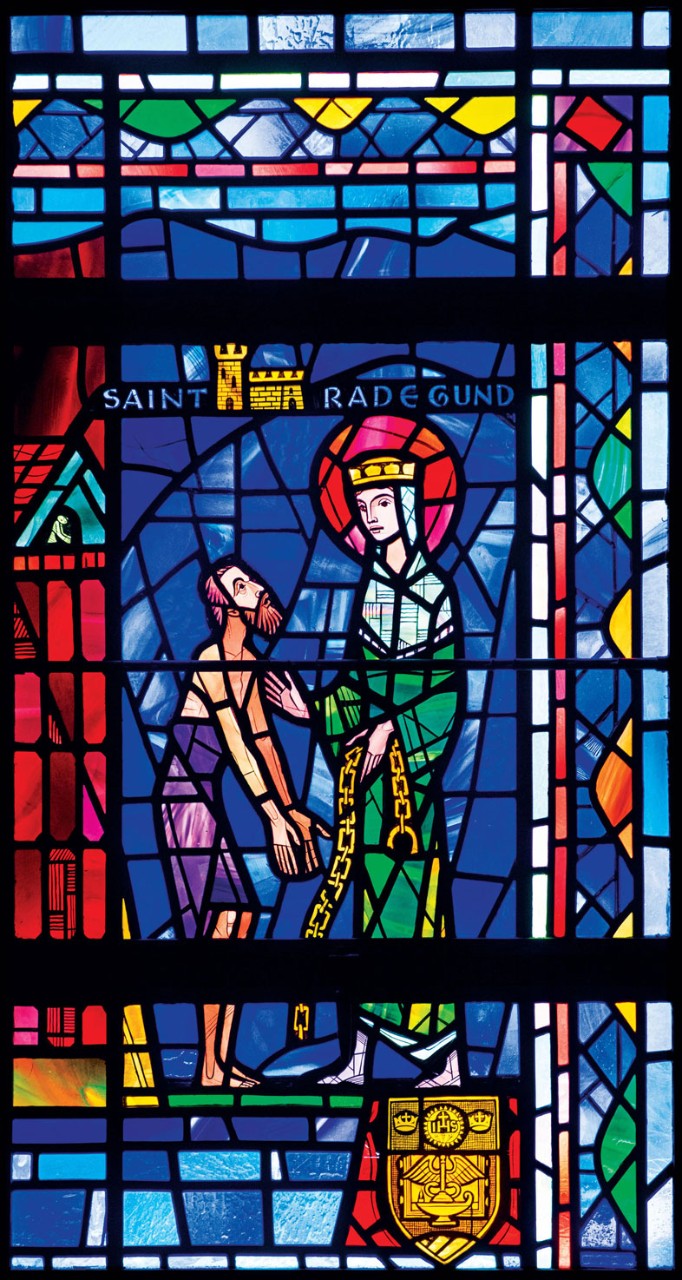 ST. RADEGUND
525–587/87

Known for her good works, humility, and a dedication to intellectual pursuits rare for her time, St. Radegund was a beacon of light in the early Dark Ages. The devout daughter of a sixth-century German king, she was taken among war spoils by an invading Frankish king and later forced to become his reluctant queen. The union was unhappy, all the more so when he had her brother killed. She fled the marriage, turned to God, and was consecrated as a deaconess, later founding a monastery that became a center of learning and peacemaking. Throughout her life, she devoted herself to the poor and the sick, founding hospitals—including a leper hospital—and nursing patients herself.
This panel was a gift of Rita P. Kelleher and Pauline Sampson.
—Bari Walsh, photographs by Lee Pellegrini