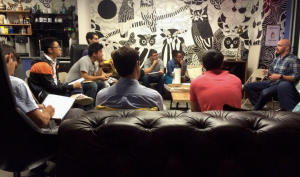 On a recent Saturday afternoon, three young men barreled down the Mass Pike in a white Jeep toward Amherst to photograph Juice, the popular Boston College–grown band performing at the local Oktoberfest.
The trio, all entrepreneurs who recently graduated from Boston College, know that the social media buzz they create will be critical to the success of their company. Darkroom is an online platform where amateur and professional photographers can display and sell their limited-edition photos—without spending big money out of pocket to print copies in bulk. On this particular day, Darkroom's founders—Theo Chapman, Carroll School '17 and Anders Bill, Morrissey College '17, along with Bradley Tramer—planned to pull double duty as photographers, snapping concert photos that they hoped fans of Juice's rock-pop-jam-hip-hop music would purchase on Darkroom.Tech.
Whether it's a popular band or a YouTube celebrity that appears on Darkroom, "if someone has 10,000 or 100,000 followers," Bill explained, "they drive their traffic to us."
Flashes of entrepreneurial inspiration like that are precisely what SSC Venture Partners was looking for when it selected Darkroom and two other companies with Boston College roots for its summer 2017 mentorship, or "accelerator," program. SSC Venture is a brand-new VC firm, composed largely of Boston College alumni, that is seeding startups born on the Heights.
THE TIME IS NOW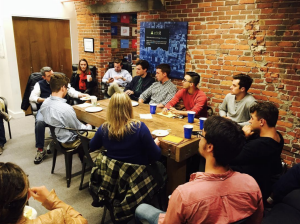 "There's no better time than in college to try to start a company," said Tom Coburn, Morrissey College '13, one of SSC Venture's managing partners. He reasoned that undergrads and recent graduates, not yet saddled with mortgages or family obligations, can devote themselves fully to the all-consuming task of turning their dreams into reality.
"The students at BC are absolutely capable of building the next Facebook," said the former pre-med student and founder of Jebbit, a Boston company that improves the user interface for shoppers searching for products on small cell phone screens. A couple of years ago he was named to the Forbes 30 Under 30 list of America's most important young entrepreneurs.
SSC Venture's program provides $5,000, office space at firms around Boston, and moral support so that Carroll School and other BC students and recent alumni can develop their startup companies, with the possibility of larger investments in the future by SSC Venture Partners. Formed earlier this year, the venture capital fund has 24 investors—nearly all of them Boston College alumni. They've put up $270,000 to invest in startup companies coming out of Chestnut Hill.
The venture capital investment fund is for, by, and all about BC entrepreneurs. It's practically an extension of the Carroll School's Edmund H. Shea Jr. Center for Entrepreneurship. "We work really closely with them," said Kelsey Kinton, Morrissey College '12, M.B.A.'18, the center's assistant director. "There's no separation. There's no competition. It's collaborative."
Indeed, student entrepreneurs who have won various Shea Center competitions often go on to participate in the summer mentorships funded by SSC Venture Partners and, prior to this year, its predecessor nonprofit, Soaring Startup Circle. In turn, SSC Venture's managing partners are regular judges for Shea Center competitions.
"The students at BC are absolutely capable of building the next Facebook."
ENERGY AND EXPERIENCE
In addition to Coburn, the managing partners include Miguel Galvez, Morrissey College '12. The two met the day Galvez won the business plan competition—now known as the Venture Competition@Shea—which Coburn had won his sophomore year. Galvez and collaborator Deckard Sorensen, Morrissey College '12, have since spun their winning entry into NBD Nanotechnologies, which makes water-repellent and absorbent coatings using a technology modeled on the way beetles control water absorption on their backs.
SSC Venture's third managing partner and chief rainmaker is Peter Bell, Carroll School '86, who is also chairman of BCSV, a Palo Alto–based investment firm. Bell, who worked at EMC Corp. during its early years, was a Carroll School professor from 2003 to 2010 and a University trustee from 2002 to 2010. After moving to the Bay Area in California, he continued his involvement as a trustee associate. Bell is also a cofounder and vice chair of the Boston College Technology and Entrepreneurship Council, which provides networking and mentorship opportunities to students and alumni entrepreneurs on the East and West Coasts. 
At SSC Venture Partners, Bell uses his deep roots in the venture capital world and his ties to older, well-heeled BC alumni entrepreneurs to raise money. Coburn and Galvez raise money too, but they focus on networking with the budding entrepreneurs on campus, often through Shea Center activities.
For example, on October 26 Coburn judged the fun Elevator Pitch competition, in which students dip their toes into entrepreneurship. He and Galvez both judged the University-wide 2016 Venture Competition@Shea—BC's answer to the television hit Shark Tank—in which students vie for a $15,000 top prize and two $7,500 prizes (for runner-up and social impact) by presenting their business plans for startups to a panel of alumni who spend a day on campus as judges. Last spring, Bell also judged the Competition@Shea, and he sometimes gets involved in various other entrepreneurship activities on campus. 
THE SWEET SPOT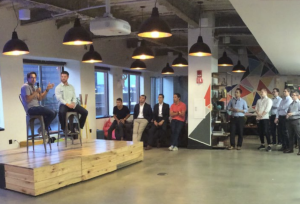 The first step to forming SSC Venture Partners came in 2013, when Coburn and Galvez formed the nonprofit Soaring Startup Circle to raise donations from Boston College alumni to fund BC-bred entrepreneurs who took part in Soaring Startup Circle's summer mentorships. But Peter Bell had bigger ideas. He'd first met Coburn during a summer 2011 entrepreneurship program at a venture capital firm, Highland Capital, where Bell was managing partner. In fact, the Highland Capital program inspired Coburn to form Soaring Startup Circle. Bell and Coburn stayed in touch, and in 2016 Bell proposed turning the nonprofit, which provided a tax break to donors, into the current investment fund, which would give each investor a proportionate share of SSC Venture's two percent equity stake in each startup the fund invested in.
Bell explained his argument for doing so. "The way I think about donating is to schools or hospitals or other charities, but if someone wants to start a business it's not a charity," he said. "I want to invest, which is also better for the young entrepreneur because he or she and I [as an investor] are aligned" in supporting the company's success. At first, Coburn and Galvez turned Bell down. But they thought about it for a few months and said yes last January.
Galvez described SSC Venture's "sweet spot" as investments of $25,000 to $50,000 in startups that have progressed to the point where they are capable of using that seed money to raise a total of $250,000 to $1 million in total financing—also with SSC Venture's help. In August, SSC Venture made its first such $25,000 investment, in Lux Labs, a Cambridge materials company Galvez has mentored in recent years. Lux Labs, cofounded by Spencer Powers, Morrissey College '07, invented a technology to control the direction of light in everything from cell phones to car headlights.  
WINNING COMBINATIONS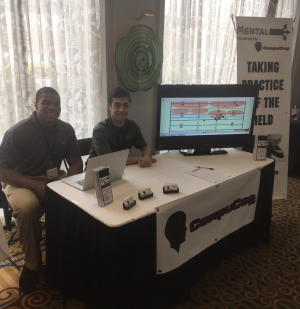 Darkroom and two other startup companies, after winning the 2017 Venture Competition@Shea, went on to participate in SSC Venture's summer 2017 program. All are now aspiring to the next level—the Lux Labs level. 
Darkroom started out strong with the company's July 28 launch by simultaneously posting a virtual photo gallery online while the large photographer community IG Boston was being featured in a real-world gallery opening in downtown Boston. Darkroom topped that with a collaboration with photographer Brian McWilliams, who raised $3,000 for charities by selling photos on Darkroom—and Darkroom donated its profits from the sale. Nor has the company neglected its other target, the millions of amateurs who snap high-quality pictures on their iPhones.
A second participant in SSC Venture's summer program was CompuCog, founded by former Eagles offensive guard Harris Williams, Morrissey College '14, M.B.A.'16. After he broke his right leg and dislocated his right ankle, the one-time computer science major was doodling with code when "the light bulb" flicked on, he recalled. What started as an idea for a training aid for his teammates evolved into a marketable cell phone app. MentalRep helps football players complete the mental repetitions required to memorize a team's myriad plays in preparation for the next game. Launched in April 2017, CompuCog has sold MentalRep to five high schools, and Williams plans to eventually take it to the college and pro levels.
The third participant, BusWays, is a global startup founded by Pedro de Almeida and Fernando Nazario, both Carroll School '20. They created a cell phone app that allows parents to track their children on the school bus and collects and analyzes school districts' data to optimize bus routes. BusWays' chief programmer is also a Carroll School undergraduate, Alex D'Agostino '18. BusWays has already signed up three school district clients in Panama and one in Newburyport, Massachusetts, de Almeida said.
Could one of these startups be the next Facebook? 
---
Kimberly Blanton, who covered the economy and financial industry as a Boston Globe reporter for many years, now writes a blog, Squared Away, for the Center for Retirement Research at Boston College.
Photography provided by Soaring Startup Circle.