Where do people with such diverse majors as theology, finance, and international studies wind up? If you were in Devlin Hall on a Thursday evening in October, you'd think it was real estate—judging from the Boston College alumni who populated two panel discussions at a forum titled "Launching Your Real Estate Career."
No fewer than a dozen alums offered their advice to undergraduate students eyeing the profession. At the start of the Oct. 6 forum, sponsored by the Joseph E. Corcoran Center for Real Estate and Urban Action, Carroll School Senior Lecturer Ed Chazen shared his assessment that the current real estate cycle is nearing its latter days.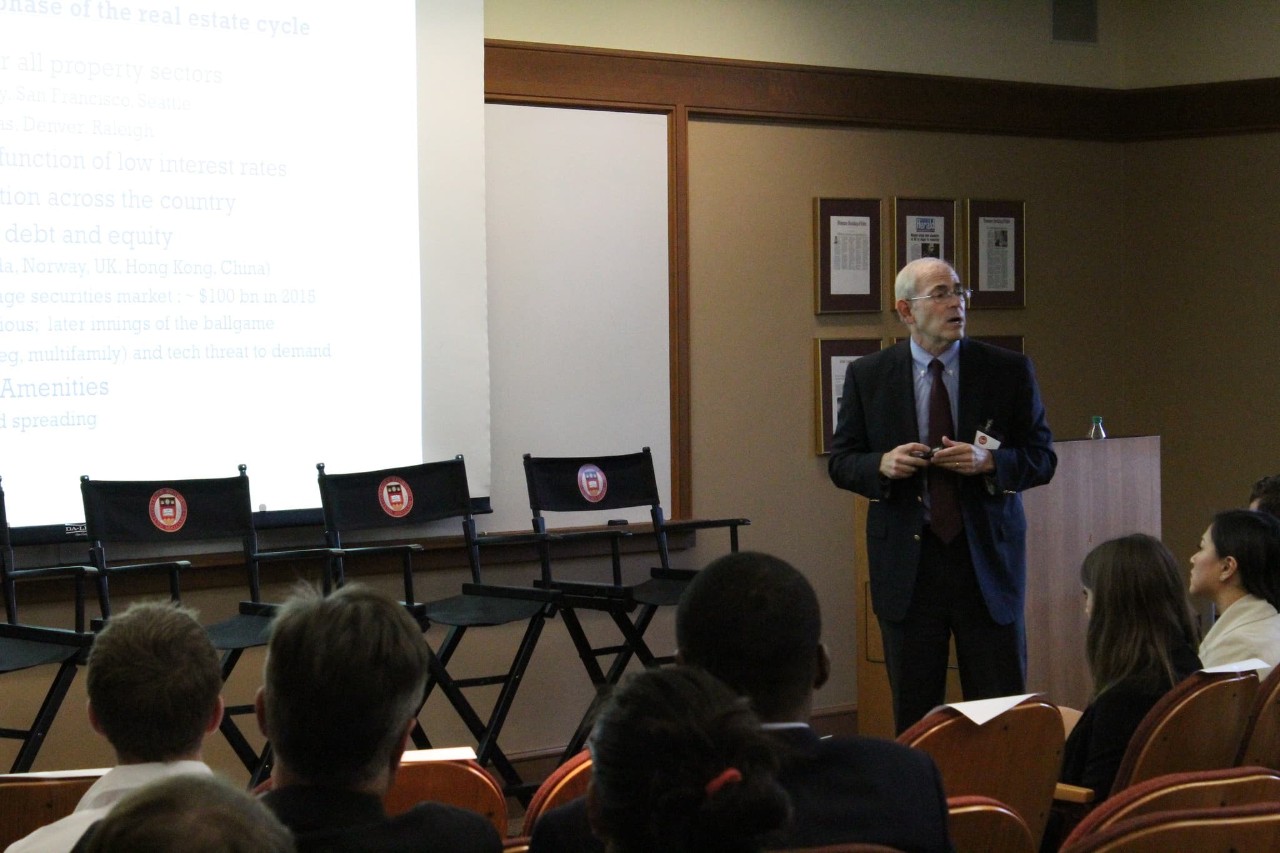 "We're in the 6th or 7th inning of a ballgame, not the 2nd or 3rd inning," said Chazen, a former real estate financing professional, looking ahead to the stage at which the market begins to cool down. At the same time, Chazen said the "underlying fundamentals"—including compensation and job growth in the industry—should encourage those seeking to enter the field.
Immediately following Chazen, a panel of seven recent graduates offered a range of advice to the 50 students who turned up for the early evening event in Devlin. Much of the conversation threw light on why graduates with degrees in a broad spread of academic areas are finding their way into and around the real estate field.
Striking a common theme at the forum, Joseph Launceford '15 told students that the characteristic well roundedness of a Boston College education would prepare them well for this highly diverse industry, in both good and not-so-good times.
"Whatever field of real estate you're entering, you're going to have to be multi-dimensional," said Launceford, who majored in theology and economics at the Morrissey College of Arts and Sciences and works as a project engineer at Suffolk Construction. He was alluding to such facets of the work as data analysis, financing, communications, and face-to-face interactions with diverse groups of professionals and clients."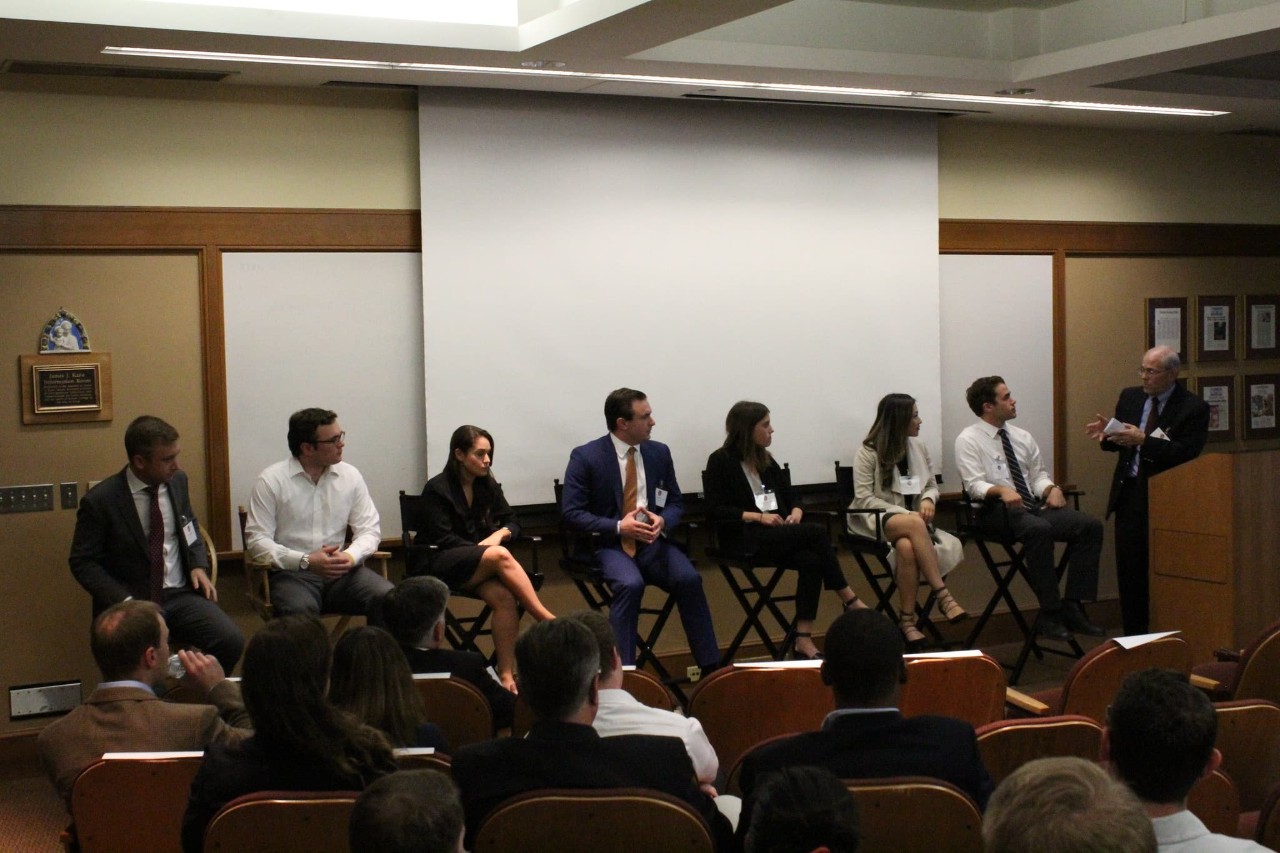 "It's the organic knowledge that's so valuable," added Nicole Napolitano '14, a commercial real estate analyst with CIT, a financial holding company. She studied finance and marketing at the Carroll School of Management.
Likewise, Sergio Ferreira, Morrissey College '89, pointed out that real estate involves "a blend of both the hard skills" such as Excel and what he underlined as "soft skills" including analysis and problem solving. Ferreira, who majored in economics, is chief underwriter and director of rental operations at MassHousing, a quasi-public agency that provides financing for affordable housing in Massachusetts. He spoke at a second panel that featured alums with longer experience in real estate.
Emma Gleason '16 drew a connection between the Carroll School curriculum and her current role in the profession. As an international studies major at the Morrissey College, Gleason took classes at the Carroll School including Chazen's Field Projects in Real Estate, in which teams of students create development plans for sites in eastern Massachusetts, in cooperation with local officials.
During the spring semester of this past year, Gleason's team fashioned a plan for a two-acre parcel alongside a Red Line "T" station in Quincy, Massachusetts. Largely on the strength of her work in that class, Gleason landed a job as an analyst with New York-based Emax, a women-owned real estate advisory firm that evaluates projects involving public-private partnerships like the one she helped propose to Quincy. Turning toward Chazen, Gleason said of her work at the firm—"It's basically what we did in your class."
Other panelists included Pheabe Chen, Carroll School '16, of Clarion Partners; Jim McCaffrey, Carroll School '14, of Cushman and Wakefield; Cliff Welden, Carroll School '14, of Cantor Fitzgerald; KC Testwuide, Carroll School '15, of Citigroup; Michael Greeley, Morrissey College '08, of Newmark Grubb Knight Frank; John Maher, M.B.A. '08, of Sun Life Insurance Co.; Lauren O'Neil Goff, Morrissey College '03, of HFF (commercial real estate); and Chris Wholey, Morrissey College '04, of Skanska USA Commercial Development.
---
Photo Credit: Stefanie Tracey