Summer Research Grants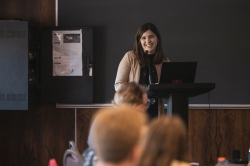 2019 Summer Research Grants
ABOUT THE GRANTS
The Center for Human Rights and International Justice is pleased to announce the opening of the 2019 Summer Research Grant application process. Grants of varying amounts will be offered to both graduate and undergraduate students. Graduate grants are typically in the area of $1,000-$1,500 an undergraduate grants in the area of $500-$1,000.

The Center aims to nurture a new generation of human rights scholars and practitioners, and to foster innovative and interdisciplinary scholarship about human rights work. The purpose of the grants is to help support Boston College students from various disciplines who are interested in pursuing research in the field of human rights and international justice.  
Eligibility Requirements
For the undergraduate research grants, preference will be given to proposals from current sophomores and juniors, although proposals from freshmen will also be accepted and given full review.  Seniors are not eligible. Grant for graduate students are intended for students who will be in their program at BC during the following academic year. Applicants must have a minimum 3.2 GPA and a demonstrated commitment to the study of human rights and international justice.
Please note that if an applicant is applying for a grant to do research in conjunction with a study abroad academic program, the proposed research must be separate from the academic work already being done as part of that program.
Kelsey A. Rennebohm Memorial Fellowship
In 2013, the Center established the Kelsey A. Rennebohm Memorial Fellowship.  More information about Kelsey, past recipients, or for how to contribute to the Fellowship fund can be accessed here.

This fellowship will be awarded each year to a student, undergraduate or graduate, whose proposed research or activist scholarship is located at the interface of psychology, mental health, gender, social justice, and human rights.
If you are applying for a summer research grant and wish to be considered for the Rennebohm Fellowship, please indicate that on the application form accessible below.
Grantee Obligations
Recipients of summer research grants commit to deliver the following as part of the terms of the grant:
a 5-10 page report detailing their findings due on September 10 of the following fall semester
present the results of their summer research project at a campus event during the spring semester of the subsequent academic year (typically mid-March for undergrads, mid-May for grad students)
Institutional Review Board (IRB) requirements
For those proposed research projects involving human subjects, approval from the BC Institutional Review Board (IRB) is required.  It is strongly recommended that applicants with human subjects-related proposed research begin to engage the BC Research office about the IRB approval process at the time of application for the summer reseach grant or before.  IRB Human Subjects review applications will need to be submitted by selected applicants to the BC Research office after funding decisions are made, so prior communication with the Research office about the content and methodology of your proposal will help facilitate this process.  Approvals may take up to 60 business days per the Office of Research Protection's website (below).
To find out more about the IRB's Human Subjects approval process, access this webpage by BC's Office for Research Protections.  Note that an online ethics training, linked at the above website, is also required as part of the application. The BC Research office may also be contacted for questions regarding the process at irb@bc.edu or at 617-552-4778.
A document summarizing what information is needed as part of the IRB application may be found at the Research office's website here.
NB: The Center will not issue funds to research projects with human subjects until the official IRB approval is received.
Application
Students who are interested in applying must send application materials by March 7, 2019. All materials may be sent electronically, in scanned form where applicable, to humanrights@bc.edu, or in hard copy to:

Center for Human Rights and International Justice
Stokes Hall N410
Boston College
140 Commonwealth Ave
Chestnut Hill, MA 02467
Any questions on the application process may be directed to Center Assistant Director Timothy Karcz at timothy.karcz@bc.edu.
Applicants will be notified of decisions by early May.