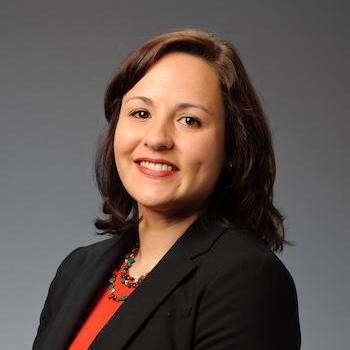 Vanessa Rodriguez '95
The 2012 John A. Dinneen, S.J. Hispanic Alumni Community Service Award Recipient
The Archbishop Oscar A. Romero Scholarship Committee of Boston College has named Vanessa Rodriguez (A&S '95) as the 2012 recipient of the John A. Dinneen, S.J. Hispanic Alumni Community Service Award.
Rodriguez was recognized for her dedicated career in public education and her leadership and service to thousands alternative school students as the chief executive officer of District 79 Alternative Schools and Programs of the New York City Department of Education.
The Archbishop Oscar A. Romero Scholarship Committee has recognized a Boston College graduate annually since 1999 in honor of the late Rev. John A. Dinneen, S.J., a charteredmember of the Romero Scholarship Committee who was responsible for the acquisition of the initial funding from the BC Jesuit community in 1993. Father Dinneen was a mentor, active benefactor, committed worker and valuable friend to the members of the Romero Scholarship Committee and the AHANA community. The committee created the award to honor a BC gradwhose work best reflects Archbishop Romero's legacy and Father Dinneen's commitment, leadership, and service to the Latino community.
Rodriguez was born in Hartford, CT to Puerto Rican parents. She studied sociology and minored in education at Boston College and graduated from the College of Arts and Sciences in 1995. While at Boston College, Rodriguez was a founding member of the student group Diverse Individuals Vowing Everlasting Responsibility for Superior Education (DIVERSE), which focused on influencing policy changes that encouraged the recruitment of Latino as well as other students and faculty of color. Rodriguez was also a member of the undergraduate student government, a service trip participant to Tijuana, Mexico, and a mentor in the Options Through Education transitional summer program.
After graduating from BC, Rodriguez joined Teach for America and taught a bilingual class at Claremont Community School 42 in Bronx, NY. "I realized then that education in this country isour next civil rights movement. Our students are capable and as adults we have a responsibility to ensure they all have the opportunity to receive a quality education." Two years later, Rodriguez was recruited to join the TFA staff and became the founding director of the New York City Institute where for seven years she prepared 900 teachers and 120 teacher advisors to work in low-income urban public schools across the country.
With a desire to support more school leaders, Rodriguez became the national director of recruitment and admissions for New Leaders for New Schools, a national non-profit organization that identifies and prepares the next generation of urban school principals. "My experience at New Leaders exposed me to the challenge in school districts to support the most disengaged youth in America who are young Latino and black males. This led me to District 79."
District 79 is a city wide network of more than 300 alternative schools and programs serving more than 65,000 students, 18,000 of whom are Latino. Rodriguez's nomination states "Many ofthe Latino students she serves include immigrant students with interrupted schooling, students in juvenile detention centers, as well as those who have left the regular school due to teenage pregnancy, and other life circumstances. Ms. Rodriguez creates a climate among her faculty and staff that does not allow deficit views of multicultural and multilingual students, instead she strives to obtain the most qualified and committed individuals and is herself committed to getting Latino students transferred back into the regular New York City public school system, where they can receive their high school diploma."
Members of the Archbishop Oscar A. Romero Scholarship Committee were honored to recognize her as the 2012 recipient of the John A. Dinneen, S.J. Hispanic Alumni Community Service Award. This year's nominees also included Frank Robert Bria (Law '02), Carolina Cruzde Martinez (A&S '02), Niurka De Jesus (LSOE '07), Ileana Espinosa Christianson (Law '03), Diana Isern (A&S '05), Roberta Limongi Ruiz (A&S '04, Law '07), José Lopez (A&S '05, LGSOE '07), Lili Romero-DeSimone (CSOM '90), and Antonio Sacre (A&S '90).