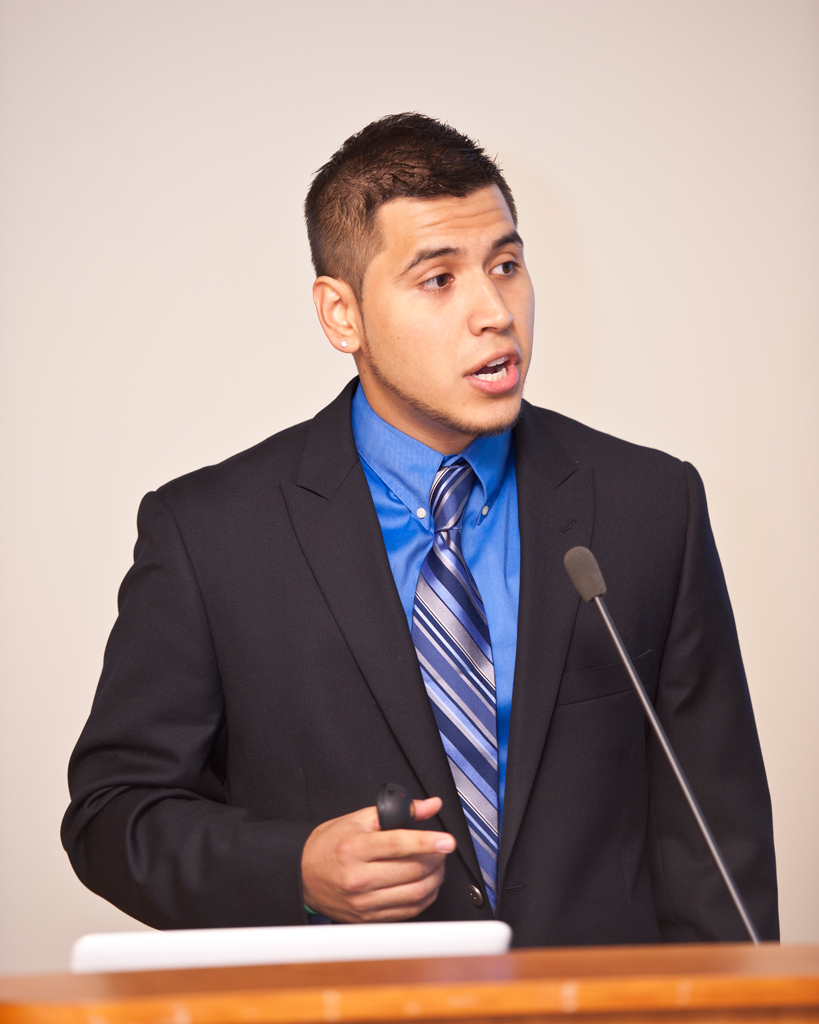 Jesus Damian Baeza
Jesus Damian Baeza majors in English and Human Development and hopes to become a High School Counselor. He has chosen this profession to help others fight, as he remarks, "the negative stigma of being a young, Latino male in high school." He has participated in the ALC Volunteer Corp Immersion Trip, where he helped raise $20,000 for the Mississippi Delta Region. He also volunteers as a B.C. Orientation Leader. Jesus believes that "it is important for the incoming AHANA freshmen to see someone they may better [can] relate to [in a] leadership role." While studying in Madrid, Jesus facilitated activities for Moroccan children at the local YMCA. In addition, Jesus is Head Captain of the dance troupe 'Fuego del Corazon,' where he notes, "One of the most important aspects of being a member is being able to share a part of my culture with the BC community." Jesus also co-directs the Latino Student Recruitment efforts of OLAA and is a McNair Scholar.
1. What motivated you to apply for the Romero Scholarship?
My motivation came from the encouragement of my friends who had applied in past years, many of which were finalists.  I did not think about applying until about month before the application was due.  I had attended the last two ceremonies in support of many of my friends, but I never thought to myself, "I'm going to apply for this scholarship."  I think I never told myself this because I didn't think I met the requirements, particularly the part that looked for students involved in the Latino community, addressing Latino issues.  I remember the first ceremony I attended where I saw Jeans Santana receive the award.  I was just blown away by all the things he had accomplished: cancer research, leader of national and international service trips and still found time to be president of BC's all-male step team.  I thought I could never compete with that.  After hearing from multiple people that I should apply I decided to do some research on the scholarship.  Finally, after looking into exactly who Archbishop Oscar Romero was and what he stood for in El Salvador, in the Catholic Community and at Boston College, I felt like his values and teachings were the same principles my high school advocated; principals that had initially sparked my interest in education during high school.  Many times we do not realize that the things we do in life embody values of some of the most respected individuals, martyrs and saints.  The application process in itself was an unexpected rewarding experience.
2. What was the most memorable question from the interview and how did you respond?
The most memorable question from my interview was, "If you could sit down with Father Leahy, what recommendation would you make to him?"  I answered by saying that I feel that Boston College has weak affiliations with other schools, especially with other Jesuit universities.  I believe we could learn a lot from one another, especially on student-based level.  I would suggest to Fr. Leahy to foster these affiliations so that students can expand the dialogue that this institution so often encourages.  One way to go about this would be to have BC students host something similar to a conference on campus where students from different schools and different student-run organizations can come together and discuss common issues in their perspective institutions.  We can learn new things from one another and talk about a range of topics from diversity issues to student healthy living.  It would be a way to explore new options and solutions to some of our university's problems.
3. How did you feel when you heard your name called as the award winner?
When I heard my name called it was like an explosion of emotions.  I do not remember the last time I cried, much less tears of joy.  I did not expect the moment to compel me the way that it did.  Unfortunately, home is too far for any of my family members to have made it to the ceremony, but the people at Boston College who I consider my family: Jane Crowley, Peter Folan, Gabe Verdaguer, all the members of my dance team, and my friends were the people who made this moment so special to me.  But I could not stop thinking about my mother the whole time after they called my name.  The more I thought of her, the less I was able to speak because I grew more and more emotional.  As I stood at the podium preparing to give my speech, I could only think of how blessed I was to be receiving the award, and how much my mother sacrificed to get me to where I was at that moment.
4. What do you feel is your biggest responsibility as the Romero Scholarship recipient of 2010?
As I mentioned in my speech, I have always had a strong support group with people who continuously pushed me to be more.  These people are the same people who inspired me to serve the adolescent community much in the same way they served me.  It is essential that I continue to open myself to new experiences in the area of education, whether that be through research, or volunteer placements, or simply going back to my high school and answering questions about the college experience.  I truly feel that it is my duty to share with the youth the knowledge and wisdom I have gained in my journey through education.  Furthermore, with the value of having the opportunity to receive a college degree and, at one of the top schools in the country, it is also important for me to serve as a role model, particularly for young male Latinos.  In high school, and even now, there is a feeling of hope I am overcome by when I see and hear about successful Latino men and women in the U.S. who overcame the obstacles of being first-generation college students, who came from underprivileged neighborhoods, and whose parents received up to an elementary school education.  These are the kind of stories the youth in urban education can relate to, and it is the hope and motivation they will take from these stories that will empower them to excel in education.  Though, the only way "at-risk" youth will hold onto this hope is if more people who have seen the things they have seen, and have lived the lives they have lived serve as their political leaders, doctors, and educators.  I hope to be that constant symbol of hope when I serve as an educator for urban high school students.
5. What would you say to students who are thinking of applying for 2011-2012?
I would say, "You have done more for your community than you think you have."  The application truly is a process and a way for individuals to reflect on the things they have done within the last three or four years of their life.  I want to emphasize the word process because it is absolutely necessary do a little research on who Archbishop Oscar Romero is before you even put your name down on the application.  Ask yourself some questions:  Who is Archbishop Oscar Romero? What did he stand for and what does he symbolize within the context of social justice?  The next step is to think about what you (the applicant) believe in.  Think about what you have done for the BC community and/or the greater Boston community.  How did your activity in these communities translate in the context of social justice, and more specifically, how did it affect the Latino community?  I think this is a pretty good start for those thinking of applying, particularly for those who do not think they have addressed any issues within the Latino community.  Don't just think about applying, start the process!  Look into it with more depth and talk to people: the chairs of the scholarship, Rossanna Contreras-Godfrey and Marcela V. Norton; the finalists, Vieira Vargas or Stephanie Gonzalez; or me!  I am planning on doing an info-session for the Archbishop Oscar Romero Scholarship to get students interested in applying sometime in the fall semester, so look out for that!