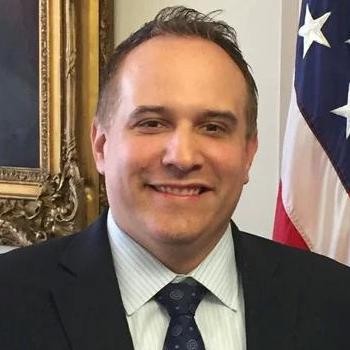 Juan Arteaga '99
The 2018 John A. Dinneen, S.J. Hispanic Alumni Community Service Award Recipient
Juan A. Arteaga is a partner in the Antitrust and White Collar & Regulatory Enforcement groups in Crowell & Moring's New York office. His practice focuses primarily on advising companies, boards of directors, and executives on a broad range of civil and criminal antitrust matters, including litigation, merger reviews, government and internal investigations, and counseling regarding various business practices. Juan also represents clients in a wide range of high-stakes, complex commercial litigation matters, including securities litigation, shareholder derivative actions, class actions, and international arbitrations.
From 2013 until 2017, Juan was a senior official in the Antitrust Division of the U.S. Department of Justice. During this period, he served as the Deputy Assistant Attorney General for Civil Enforcement, where he worked on and oversaw investigations and litigations in various industries, including financial services, aviation, food and beverage, health care, technology, cable, manufactured products, transportation, and telecommunications. Juan also served as Chief of Staff and Senior Counsel to the Assistant Attorney General for the Antitrust Division. In this role, Juan helped oversee all aspects of the Antitrust Division's operations, including merger reviews, civil and criminal investigations and litigation, and coordination with U.S. and foreign competition enforcement agencies. 
Juan has been recognized as a leading lawyer by numerous professional publications and associations. Juan was named to the Ethisphere Institute's 2017 "Attorneys Who Matter" list, a 2017 "Rising Star in Competition" by Law360, a 2016 "New York Rising Star" by the New York Law Journal, and a 2012 "Top Lawyer Under 40" by the Hispanic National Bar Association. Juan has also been recognized for his outstanding pro bono representation of immigrants, victims of domestic violence, and indigent criminal defendants by the New York Legal Aid Society, Her Justice and other organizations. He has previously served as a fellow in the White House Presidential Leadership Workshop, the American Bar Association's Litigation Section Leadership Program, and the Leadership Council on Legal Diversity.
Juan is a member of the New York City Bar Association's Judiciary Committee and serves on the Criminal Justice Act panel for the U.S. Court of Appeals for the Fourth Circuit. He also volunteers on the boards of various non-profit organizations, including Legal Outreach, Free the Slaves, and Northern Manhattan Improvement Corp.
Juan received his J.D. from Columbia Law School, where he served as a managing editor of the Law Review and was a Harlan Fiske Stone Scholar. He received his B.A., magna cum laude, from Boston College, where he was elected to Phi Beta Kappa and received the Archbishop Oscar Romero Scholarship. After law school, Juan served as a judicial law clerk for Judge Roger L. Gregory of the U.S. Court of Appeals for the Fourth Circuit.