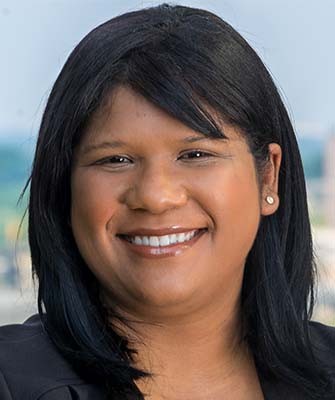 Lourdes German '01
The 2019 John A. Dinneen, S.J. Hispanic Alumni Community Service Award Recipient
Lourdes German joined the faculty of the Portico Program at the Carroll School of Management in the fall of 2018 and has also been appointed as the incoming co-director of the Managing for Social Impact Minor and concentration at Boston College beginning in the fall of 2019. Lourdes joined BC after a professional career that began as an attorney representing governments and investment banks in public finance transactions that furthered community development at the law firm, Locke Lord, LLP.  Following that, Lourdes held several leadership roles in finance including: co-creating  the  public  finance  business  division  at  Fidelity  Investments  as  a  Vice  President;  establishing and  managing  Fidelity's  first  New  York  office  for  investment banking; serving as the  General  Counsel  and  Vice  President  of  Research  of  the  investment  management  company,  Breckinridge  Capital  Advisors; and serving  as  Director  of  International  &  Institute-wide  Initiatives  at  the  Lincoln  Institute  of  Land  Policy where she grew a body of work that focused on the fiscal sustainability of communities in regions that included Latin America, China, Europe and the US.
Via her professional roles Lourdes has served as an expert advisor to leaders globally, including members of the United States Congress, the United Nations, the European Commission, the G-24 Secretariat, and others. As an expert for the United Nations, Lourdes served as one of the authors who wrote the policy framework for municipal finance to guide the United Nations New Urban Agenda for the UN's 193 member countries and was a co-author of the book Finance for City Leaders published by the United Nations in 2016.
Outside of her work. Lourdes has a deep commitment to communities and service. Lourdes directs  the  Civic  Innovation  Project  (CIP),  a  global  thought  leadership  initiative  that  she  founded  and  launched  in  2015 to  advance the success and sustainability of cities.  Lourdes also serves  as  Governor  Baker's  appointed  Chair  of  the  Massachusetts  State  Finance  and  Governance  Board, served Mayor Walsh as a member of the City of Boston Audit board, and serves  on  the  board  of  the  Rappaport  Center  for  Law  and  Policy.  Lourdes also served as a mentor, board member, and committee chair for the Association of Latino Professionals in Finance in Accounting and the Massachusetts Black Lawyers Association where she developed programs to advance and mentor young professionals of color. In addition, Lourdes has also volunteered for programs in her role as a board member of the United Way including the Crianzas Con Cariño initiative, and others. Lourdes also co-founded Boston Women in Public Finance – an organization focused on mentoring and advancing the women in the greater Boston public finance industry.