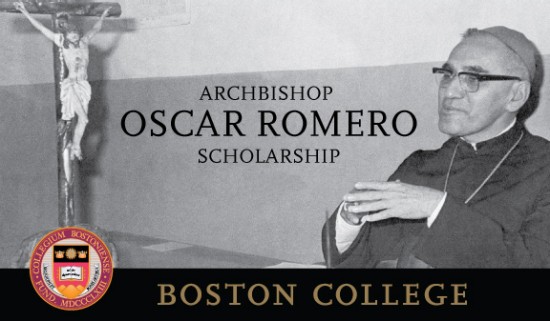 About the Scholarship
The Saint Oscar A. Romero Scholarship recognizes a Boston College junior who has demonstrated superior academic achievement, extracurricular leadership, community service, and involvement with the Hispanic/Latino community and Hispanic/Latino issues both on and off campus. The scholarship awards up to $25,000 toward senior year tuition for the winner. All other finalists in the competition will win scholarships of up to $3,000. The winner and all finalists will also receive a $1,000 gift certificate to the Boston College Bookstore.
Candidates must meet the following guidelines:
Be a full-time Boston College junior

Understand and represent the values and ideals inherent in the life of Archbishop Oscar A. Romero
Be a citizen or permanent resident of the United States
Have good academic standing with a minimum cumulative grade point average of 3.0
Demonstrate an outstanding record of involvement in, and service to, the Hispanic/Latino community at Boston College and in the wider community
Be involved with Hispanic/Latino issues and Hispanic/Latino community
Preliminary application: One-page preliminary application form along with a comprehensive resume or list of activities should be submitted to Ms. Milvia Sanchez, ITS Human Resources and Ms. Judy Ferres, Office for Institutional Diversity by e-mail attachment to milvia.sanchez@bc.edu and judy.ferres@bc.edu. For any questions feel free to contact Milvia at 617-552-0102 or Judy at 617-552-0389.
Interview Round: The strongest of the preliminary applicants as determined by the committee will be selected for an interview.  They will also be asked to submit a supplementary essay on Latin American/Latino issues and at least one letter of recommendation from someone familiar with your extracurricular activities or service activities.  The finalists and the Saint Oscar Romero Scholarship recipient will be selected from those interviewed.
Statement of Certification and Release: All applications must include a signed Certification and Release statement in order to be considered.
Finalists will be notified in early March by e-mail. The announcement of the scholarship winner will be made during the award ceremony. It is expected that the scholarship recipient will address the audience during the ceremony.