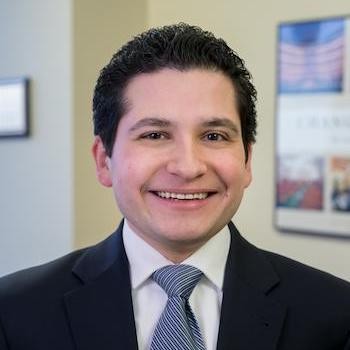 Ronaldo Rauseo-Ricupero
The 2022 John A. Dinneen, S.J. Hispanic Alumni Community Service Award Recipient
Since graduating from Boston College Law School in 2007, Ronaldo Rauseo-Ricupero has been committed to pursuing Boston College's ideal of becoming a "man for others" through service to the Latino community in many ways—from winning asylum for an undocumented worker from Guatemala, to changing federal case law by representing an individual who had been unlawfully deported to Honduras, to assisting low-income residents of the Housing Authority in the largely Latino city of Chelsea, to reuniting an eight-year-old Guatemalan girl who was separated from her mother at the Mexico-United States border. His legal skills were recognized when he was named a "Top Lawyer under 40" by Hispanic National Bar Association in 2020. He also co-chairs the Board of the East Boston Social Centers as it serves diverse population of children and families. 
Ronaldo drew upon his BC Law education in his first pro bono matter after joining Nixon Peabody to help a Guatemalan man who was facing deportation after having been caught up in a workplace raid conducted by ICE at a factory in New Bedford. After years of proceedings, Ronaldo won that asylum case and has served Latino clients through his pro bono practice ever since.
And, after learning that many individuals in that ICE enforcement raid had been flown by ICE to Texas specifically because deportees from Texas faced slimmer prospects for challenging their removal than in Massachusetts, Ronaldo worked with BC Law Prof. Daniel Kanstroom and the BC Law Post-Deportation Human Rights Project to bring a landmark challenge to a significant aspect of the post-deportation law that attracted ICE to Texas. Ronaldo and clinic staff argued the case before the U.S. Court of Appeals for the Fifth Circuit, one of the nation's most conservative courts, and earned a victory that pushed back against the government's practice of rushing to deport individuals in the hopes that their physical removal could be achieved prior to the deadline for them to challenge illegalities in the underlying deportation orders. After several additional years of litigation before the Board of Immigration Appeals, the client was finally restored to legal permanent resident status now resides in Texas with his family.  Boston College's Center for Human Rights and International Justice awarded the firm with the "Human Rights in Action Award" for its service on the case.  Ronaldo is currently pressing another case before the Fifth Circuit for a client from El Salvador.
When Nixon Peabody was asked by two United States Senators to take a case to block the imminent deportation of roughly 50 de facto asylees who were targeted by the Administration without notice, the firm turned to Ronaldo. He assembled a team, spent days drafting emergency briefs and carefully crafting the relief request.  He called upon his knowledge of the court, immigration advocacy organizations, expert witnesses, and the law in this area, to devise a winning strategy.  He argued the case, conducted the examination of the regional ICE Director, and won an injunction in federal court, which was featured on the front page of The Boston Globe.  He was also able to put out a call to the bar to support this effort; he organized dozens of volunteer attorneys across Massachusetts to help each immigrant individually, ensuring the legal victory was made real for each client's family.  The ACLU saw this level of advocacy and honored the firm its annual recognition award and invited Ronaldo to join its Board of Directors.  
When the ACLU called Ronaldo about a mother whose child had been torn from her at the U.S. border, after officials had cruelly taunted her with 'Happy Mother's Day,' he knew the client needed an advocate.  The stakes were high and an adverse ruling could have dire consequences.  Ronaldo was able to achieve reunification after intense negotiation, and when CNN En Español broadcast that reunification live on national television, he praised the client's courage in coming forward to assert her rights as an example to others.
Ronaldo's work also involves community-based advocacy. He has served as counsel to the Chelsea Housing Authority in high-profile pro bono litigation stemming from that agency's former executive director's misrepresentation of his salary to state regulators that resulted in his pocketing nearly $1 million in unreported extra compensation over his tenure. Since 2013, Ronaldo has devoted substantial pro bono hours to pursuing claims against various defendants related to this scandal that diverted precious resources from the predominantly low-income Latino community that the Authority serves. In recognition of the firm's efforts on that case, Ronaldo had the privilege of accepting the Social Justice Award from the Chelsea Collaborative, the city's major community development group. He is also a recipient of Massachusetts Lawyers Weekly "Excellence in Pro Bono" Award, Nixon Peabody's inaugural firm-wide "Pro Bono Attorney of the Year" recognition and the Lawyers' Committee for Civil Rights "Pro Bono Recognition Award."
Born in Colombia and raised in East Boston, Ronaldo continues his commitment to his community through service as co-chair of the board of directors of the East Boston Social Centers, which provides social services to families in this diverse community – including distributing more than 63,000 lbs of food to families during the pandemic. He also served in several volunteer capacities during the administration of Boston Mayor Thomas M. Menino, including on the committee that organized the inaugural "We Are Boston: A Celebration of Boston's Immigrant Culture, Heritage, and Contributions" with the Mayor's Office of New Bostonians as a response to anti-immigrant rallies opposing comprehensive immigration reform legislation. Ronaldo serves on the Boston Bar Association's Beacon Award Selection Committee, which honors those who advance diversity in Boston's Legal community. Her also serves the diverse students of Boston Public Schools through his service on the boards of the John William Ward Public Service Fellowship, which facilitates summer internships with city, state and federal officials, and the Maple Leaf Foundation, which manages an international exchange program with schools in Canada.
At Boston College Law School, where he earned the first University Certificate in Human Rights Law and was awarded the Public Interest Law Foundation Student of the Year and Human Rights Graduate Scholarship Prize, Ronaldo was a member of the Latin American Law Students Association. He is currently a member of the Massachusetts Association of Hispanic Attorneys and the Hispanic National Bar Association.
Ronaldo practices in the Litigation department of Nixon Peabody where he chairs the firm's E-Discovery practice; each year from 2013-2019, he was named a Massachusetts SuperLawyers Rising Star, a distinction reserved for 2% of attorneys in the Commonwealth, in the area of White Collar Defense. He has served as a Special Assistant Attorney General and Special Assistant District Attorney, and prior to Nixon Peabody, worked in the Office of the Prosecutor at the United Nations International Criminal Tribunal for the former Yugoslavia. Ronaldo serves on the board of editors of the Boston Bar Journal, including on the committee editing its first special issue on diversity.
Ronaldo credits the lessons he learned on the Boston College campus with substantially impacting his commitment to his community:
"At Boston College Law School I learned both about the law of political asylum and about the inspiring example of Archbishop Romero. Little did I expect that my first pro bono client—who happened to be a Latino who was roughly my age—was seeking refuge in the United States in part because his own grandfather, a local leader for his indigenous community in Guatemala, was assassinated by a violent quasi-military figure that the government in Guatemala was unwilling or unable to stop. Because of my BC education, I had both the privilege and the responsibility of trying to prevent my client from being returned to that terrifyingly violent situation. I felt that my role in helping him tell his story was a chance to live out a quote of Archbishop Romero: '[W]ith all contributing their own interior life, their own responsibility, their own way of being, all can build the beautiful structure of the common good, the good that we construct together […].' I never expected my work would lead me to confront repercussions of the violence in Latin America of the type that took Archbishop Romero's life, but I am profoundly grateful that BC gave me the tools to prevail for my client, and the inspiration to continue to try to help my community in many other ways since. I am sure that this spirit will continue to inspire me throughout my career."