Bay, 2019
Sogang University | Seoul, South Korea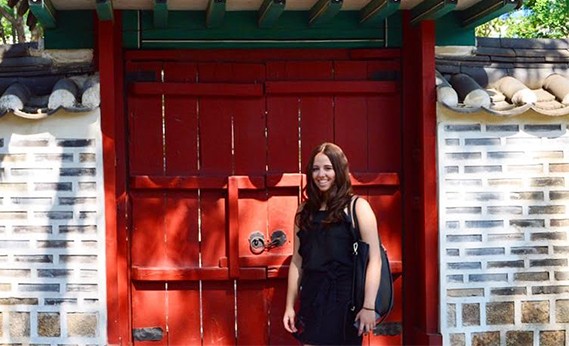 I traveled abroad during the Spring Semester 2018 in Seoul, South Korea. I studied at Sogang University's Business School and can definitely say this was one of the best experiences of my academic career and life. I was most excited for the adventure of returning to Asia and to study in a country where I didn't know the language, the people or the culture and was guaranteed to become fully immersed in what used to be unknown by the time the semester was over. Although I knew Seoul would be much more than I could ever imagine, it still surpassed my expectations, especially as it is one of the safest cities I have ever traveled to. The people are very kind and helpful and the city is lively with endless entertainment and places to visit. The university is also in the perfect location to explore the city.  
I cannot single out any one great memory from studying abroad as I enjoyed it all. I loved traveling across Asia and visiting different countries, taking a train to Busan or taking a plane ride to Jeju island. It was amazing to get to know and live amongst all our fellow Korean and foreign students and get to know the city. I was lucky enough to participate in the volleyball club team for which the official language was Korean and be coached by an ex-women's national Korean volleyball team player. Although I didn't understand the language I never failed to have lots of fun with the team. One of the most impressive things was to visit the DMZ while the "propaganda" music from the North and South was playing and amazing to be at the university while North and South Korea engaged in peace talks. After the peace talks the propaganda speakers were turned off indefinitely.
It was also amazing to meet people from diverse nations at Sogang and even intermingle with those from other universities. Everyone is very open-minded and ready for an adventure, many will become your best friends. The food is also amazing and spicy!
Academically, studying and choosing classes in Korea encouraged me to pick up an International Studies Minor that I completed in Korea. The courses I took were Korean A1 (Beginner), Population Economics and Korean Demographic, Korean Labor and Development, Financial International Markets, Biology I and Production Operations Mgmt. Sogang courses are mandatory with absences jeopardizing your grades. The school is rigorous academically, but there is so much to learn from each course! I would encourage any student to take Korean related classes as the insight you receive is much different than that from a US perspective.
Anyone interested in studying abroad, should jump right in. I know I loved Seoul so much I decided to stay for the entire summer and am now encouraged to look for postgrad opportunities outside of the US and live abroad once again.