Four decades later, Raynard Johnson '21 walks at commencement
UPDATED: May 25, 2021
The 2021 Boston College Commencement was special for students and their families after the ups and downs many faced this past year, but one Carroll School senior in attendance cherished the moment a little more than most. After all, he waited 44 years for the commencement walk.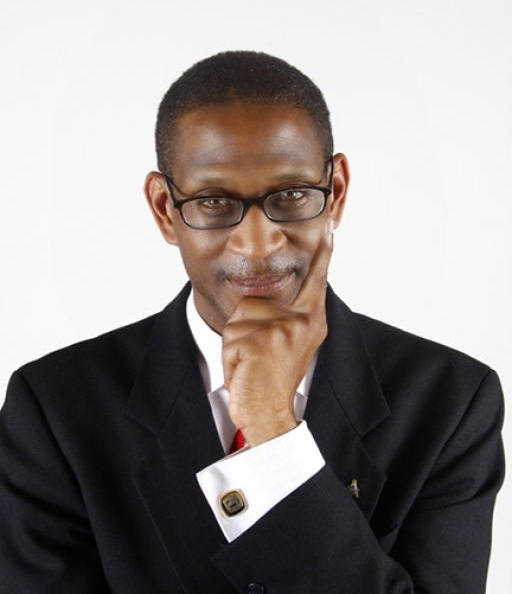 Raynard Johnson's '21 journey began as a senior at Southwest High School in Atlanta when a Boston College recruiter visited the school and encouraged him to apply.
"I knew I wanted to go into computers," he says. "I had a good aptitude for math, but I didn't want to go into engineering. I wanted to concentrate on business and technology and BC was one of the few schools that offered computer science in their business school." Johnson applied, was admitted, and headed up to Boston in 1977.
"I had never been to Boston, all I knew about it was what I saw on TV when they integrated the schools," he says, referring to violent battles over court-ordered school "busing" in Boston during the mid-1970s. The transition from his predominantly Black community in Atlanta to the then-overwhelmingly white Chestnut Hill campus was rocky to say the least. "I thought, what the heck did I get myself into? I had never seen so many white people in all the days of my life," he recalls. (Today, 42 percent of Boston College's 2025 entering class is made up of AHANA students.)
In his senior year, he was short a couple of courses but decided to head home to Atlanta without continuing further and finishing his degree. "I had a younger sister in college so I didn't want to make my parents pay for two schools," he says, adding that he was also ready to move on from Boston College.
When he arrived home, he received a call from a headhunter in New York and quickly secured a position as a programmer with the Federal Reserve Bank. He had met the headhunter's brother in Boston when he was hitchhiking from campus back to his apartment on Commonwealth Ave. after class. The driver passed along Johnson's information to his brother and he got a call for an interview when he returned home. His career took off from there and he's been working in technology and project management for a variety of companies such as UPS, Cox Communications, BellSouth, and Ernst & Young. 
In 2013 he ran for the Atlanta Board of Education. That campaign, which he ultimately lost in a runoff election, sparked his interest in finishing that degree he started way back in 1977. "I wanted to say I graduated from Boston College, not just attended," he says. "And if you're running for the school board it's nice to have a college degree behind your name." Johnson took two courses online at Morehouse College during the pandemic and transferred the credits to his Boston College degree. 
While he's been keeping up with the many changes to campus by checking in on the Boston College webcams, his trip to Boston for the commencement was the first time he's been back since he left in 1981. When asked earlier if he was certain he would travel during the pandemic, he didn't pause in answering: "Hell, yes! I will be in attendance on May 24." (His 89-year-old father wanted to be there, but Johnson felt there were too many campus stairs for him to climb, so the elder Johnson watched the ceremony online.)
As an official Boston College graduate, Johnson says he plans to run for the school board again to help make Wi-Fi a public utility and bring Internet access to all Atlanta school children—something lacking during the pandemic, resulting in many students falling behind.
And this time around, "I'm looking forward to the support of my fellow BC alumni," he says. 
---
—Carroll School News