HBR article offers glimpse into Carroll School professor's upcoming book from MIT 
The full impact of digital transformation has yet to be realized—nor has the technology itself reached any sort of plateau. But it's time for companies to get with the program, according to a forthcoming book by Carroll School of Management Professor Mohan Subramanian, The Future of Competitive Strategy: Unleashing the Power of Data and Digital Ecosystems, to be published by The MIT Press next year.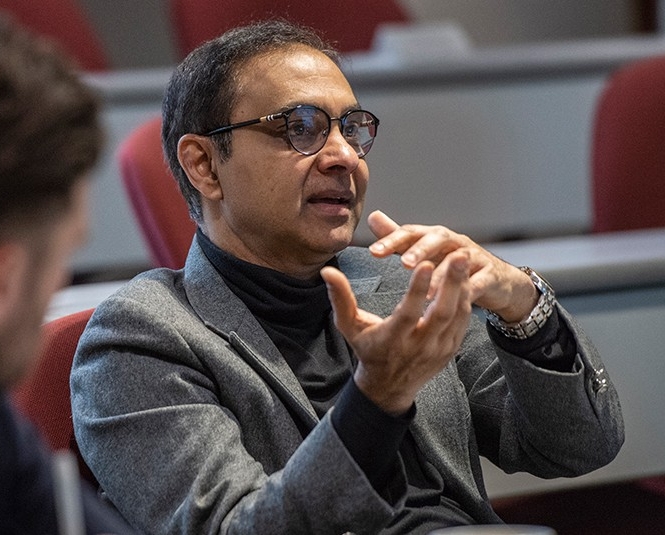 To help firms capture the full value of this lightning in a bottle, the Management and Organization professor has created a tiered framework to explain the ways companies in various sectors can incorporate an array of technologies. These include augmented and virtual reality, cloud computing, sensors, Internet of Things (IoT), and artificial intelligence—adopted not just to improve operational efficiency and generate additional profit, but to grow the business and its customer base.
Fully automating existing processes, such as using computer vision and AI to detect blemished paint jobs on the auto factory floor, is the most basic level or "tier." The next level entails tracking how customers are using your products via sensors, data that could help you add to or extend a product line. On a further level, even more could be wrung from the whole value chain by incorporating sensor and IoT data from thousands of discrete products in real time. Subramanian suggests that entire digital platforms could be generated from data-driven services, finally creating a data-driven ecosystem that's a sort of virtuous circle.
"Of course, not every firm will want or be able to engage in transformations on all of the four tiers," he wrote in an article based on the book's thesis that appeared in the Sept. 21 issue of Harvard Business Review, "… but every firm must nonetheless remain aware of the expanding universe of new possibilities."

---
—Carroll School News