One cold day in March, while Jacob Small '20 hunkered inside, eight inches of snow falling past his bedroom window in Maine, he spotted a classmate lounging at poolside in sunny Florida. In another class, he noticed a student apparently sitting on a cartoon beach, like a live-action Mary Poppins against an animated background. 
Welcome to class, in this sudden era of Zoom, the videoconferencing service. Elsewhere around the newly virtual Carroll School community, a student lobbed a question from her bed in the UK, where it was already night. Meanwhile, in Seattle, a four-year-old girl barged into the bedroom of her studious aunt Meeraf Alemayehu '22.
The COVID-19 pandemic is a crisis that nobody asked for, but the Carroll School community has adapted, carrying on management education across miles and time zones. Faculty and students say the transition took place with minimal turbulence thanks to early planning, online tools, and a school-wide resolve to pull together.
The initial shock
In less than a week in mid-March, after Massachusetts Governor Charlie Baker declared a state of emergency, Boston College managed an unprecedented disruption, as more than 7,000 students moved out of the residence halls and returned to far-flung homes. The logistical acrobatics were eased by BC faculty and staff who stepped up with accommodations, storage, and other assistance.
By the end of that week, all instruction had been moved online. To minimize the stress on students, the University lifted restrictions on pass/fail. (As late as the last day of classes, students can opt to designate all courses as pass/fail without harming their grade-point average.)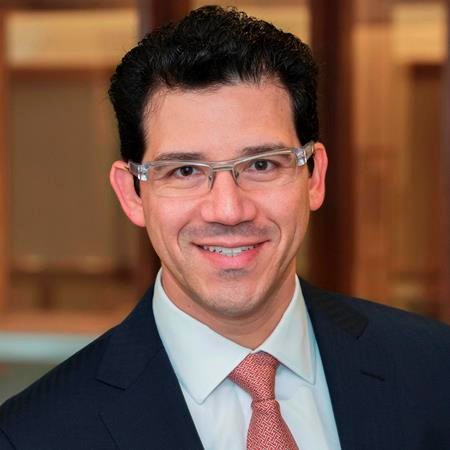 Now that "the initial shock has been absorbed," class attendance is at steady levels, says Senior Associate Dean for Faculty Ronnie Sadka, who is also chairperson of Finance and the Seidner Family Faculty Fellow.
Classes are continuing largely with a mix of recorded lectures posted on Panopto and, especially, interactive class meetings on Zoom. Participants appear in boxes on one another's screens (an effect that has been likened to the Brady Bunch opening). The professor who hosts a Zoom meeting can mute all participants except the one asking a question, selecting from those who have clicked the "raise hand" button. Or students can ask questions by typing text into a chat box. There's also a polling function, and virtual breakout rooms for small group work.
And for students who want to ask questions or clarify material after class, faculty hold regular "office hours" online.
"It's crazy how much of actual school they can mimic," says Connaught Burke '23, a finance student, referring to her professors and their digital tools.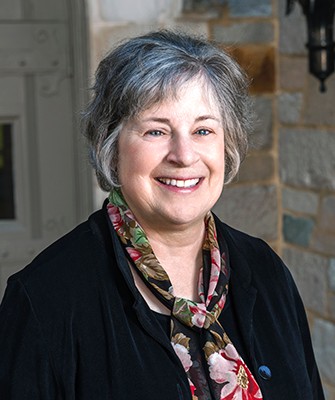 "All the feedback I've heard from faculty and students has been positive," says Professor Judith Gordon, chairperson of the Carroll School's Teaching Committee as well as of the Management and Organization department. "This has gone much better than anyone's anticipated. . . . There really weren't any hiccups—which is shocking, actually."
Or perhaps not so shocking, considering that "the faculty spent a whole week intensively preparing," Gordon adds. During the move-out period, Carroll School faculty, like their counterparts in other Boston College schools, worked with staff from the University's Center for Teaching Excellence, Center for Digital Innovation in Learning, and Information Technology Services to learn the digital tools. "They spent a great deal of time that week we didn't have classes preparing," says Gordon. "I've never seen such concerted effort, energy, and enthusiasm."
And that came on top of ten days of intensive planning by John and Linda Powers Family Dean Andy Boynton, Senior Associate Dean for Undergraduate Programs Ethan Sullivan, and other school leaders. "The dean held a meeting with department chairs on March 2, when I certainly hadn't processed this [crisis] yet," Gordon recalls.
"Communication and leadership are critical, especially early in a crisis," says Sadka, a concept well understood by scholars who study how organizations work. "You really see the quality of the professors here, because they have to be so adaptable and adept at learning new things."
Amy LaCombe, associate dean of undergraduate curriculum, points out that Jack Falvey '60, an octogenarian adjunct lecturer in Marketing, adopted the online tools quickly. "He said his first Zoom class went great," says LaCombe, "and that if he can do it, anyone can."
A "normal" schedule
More than just training on the software, faculty have made the effort to engage students.
"I told my colleagues, 'Don't get too fancy,'" says Gordon. "The basic thing is to make sure you meet with your class, make sure you know who's there, and make sure you get them involved."
That's why Zoom classes have been so effective, students say. "With the chat function and 'raise hand,' it's definitely the best way to hold classes of 40 kids and below," says Burke.
Small concurs. "The professors have been good about trying to make class engaging, and knowing you can't just try to give the same lecture you would in person," says the senior, an incoming deal advisory associate at KPMG. 
The results show in participation. "If anything, it's increased," Small says. Perhaps students who are shy about raising their hands in a classroom feel fewer inhibitions about typing a question into a chat field.
Having to "attend" live Zoom meetings (more so than being assigned to watch a video on their own time) also helps students maintain self-discipline, Burke adds. "Nothing's gonna be like the real thing," she says, "but at least that gives me some sense that class has to happen at this time, that this group is relying on me to show up."
Faculty help set those expectations in part by presenting an on-campus appearance. "I dress up," says LaCombe, "from the waist up at least, because that's what I do, to keep it professional."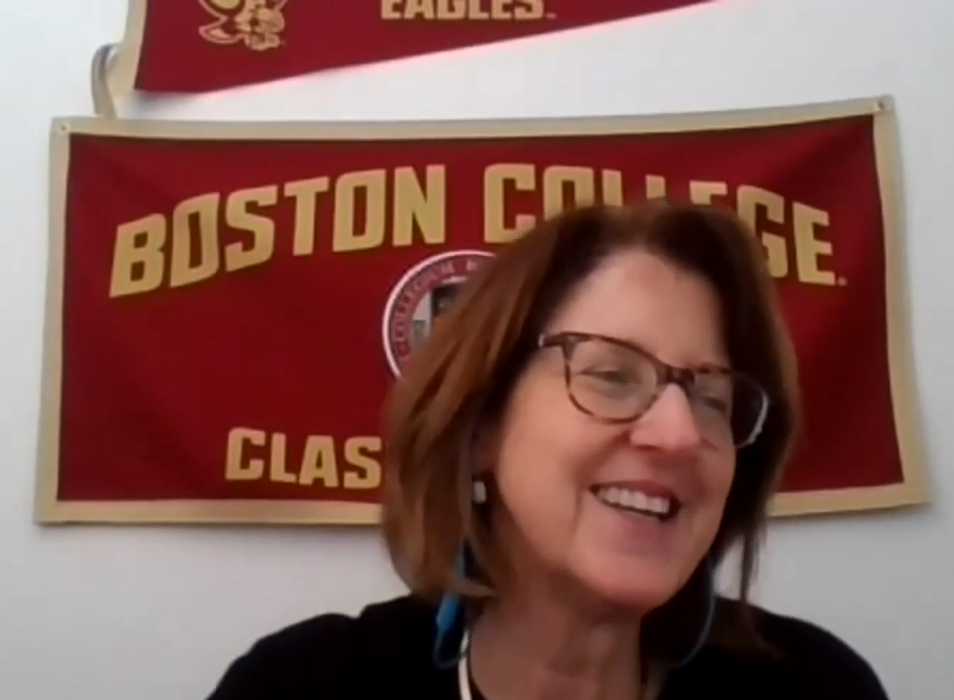 Accenture Professor Katherine Lemon teaches her marketing classes standing up, just like she does in front of a classroom, with a Boston College banner hung behind her, or sometimes with a photo of Fulton as a background, to convey some sense of continuity.
Indeed, across the Carroll School, faculty and staff are helping to retain a sense of normalcy simply by offering so many of the same resources as they were earlier in the semester. The regular This Week in CSOM email shows a slew of virtual networking events and skills workshops.
For example, Accelerate@Shea, an Edmund H. Shea Jr. Center for Entrepreneurship program that matches student startups with alumni mentorship and other resources, continued via Zoom meetings. Normally, when the students meet in person, the Shea Center provides pizza for dinner. To carry on that tradition, Shea Center Entrepreneur in Residence Duncan Walker '13 raffled off a pizza-delivery gift code each week. "That's helped keep the camaraderie alive," says Small.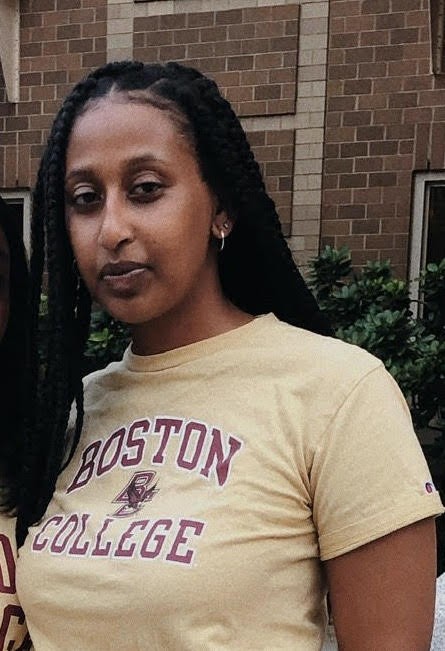 Looking forward
Of course, none of this is ideal. For many students, the sundering of the semester was a real hardship. "Being a first-generation, low-income black woman, it is harder for me to navigate these transitions," says Alemayehu. "My parents are immigrants without the resources to help me with the online stuff or even the flight home." And Alemayehu considers herself lucky. "I know a lot of people who were not able to go home, because of certain family situations or personal problems," she says.
The disruption itself, however, might be a kind of education for tomorrow's business professionals. "You have to have an understanding of how fast things turn over," Alemayehu says. "To be ready for what comes next. We can't control everything that happens; we can only control ourselves. That's definitely the mentality of a business student," not to mention the mentality of a student who has traveled across a continent and cultural barriers, she adds. "I've learned to be adaptable."
"The professors are aware that for many, this is much more than an inconvenience," says Burke. "They've been really communicative, on top of it, responsive to emails, holding extra office hours if students need help. They're all going above and beyond to make sure students have the resources to get everything done."
Faculty and students alike say that they benefited somewhat from the mid-semester timing of the crisis. "We had already had eight or nine weeks to get to know each other, to build a rapport," says LaCombe.
"You can do a lot of things online," says Sadka, "but at the end of the day, it's not going to be a substitute for the in-class experience. With this disruption in the world, some things will be permanent, some transitory. In terms of education, I think people will come back having realized how effective it is to come to class. I see it from the teacher side and the student side."
Student comments already bear Sadka out on this point. "I took for granted what it was like to sit in class and be able to talk to professors in person," says Burke. 
"I miss hearing people in real time, looking around to see the expressions on their faces—the little things like that," says Alemayehu. "I miss seeing my friends."
What has made the transition work is a shared sense of loss—and determination. "Everyone understands the severity of the situation," Sadka says. "Everyone understands that we're all in this together—and we're gonna pull through together."
Patrick L. Kennedy, Morrissey '99, is a contributing writer at the Carroll School and, for the duration, an amateur first-grade and pre-K teacher in a one-kitchen-table schoolhouse.